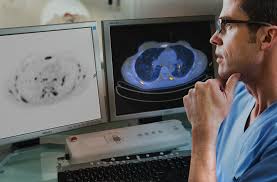 Image courtesy of Philips Healthcare
Diagnostic procedures have always been a cornerstone of early prognosis and patient triaging. With a mass preference shift to noninvasive disease diagnosis as well as treatment, molecular imaging has been gathering remarkable momentum over the past few decades. Although a relatively new area in the world of biomedical research, molecular imaging technology has traversed faster over the years to where it stands today, which prominently attributes to its readiness for noninvasive diagnosis. From atomic force microscopy which marks one of the first in the category, to the current most sought-after techniques such as positron emission tomography (PET) and magnetic resonance imaging (MRI), molecular imaging is indubitably leading the headway to improved disease diagnosis and extensive disease management.
Clinical molecular imaging currently focuses on mainstream modalities such as PET and single photon emission computed tomography (SPECT) imaging, as well as a few specific applications such as optical imaging (Raman), ultrasound imaging, magnetic resononace imaging (MRI) and magnetic resonance spectroscopy (MRS). While experts opine that the application of molecular imaging can potentially cater to all the facets involved in medical imaging and diagnostics — including early indication screening, disease diagnosis, delivery and monitoring of therapy and even the follow-up of the selected line of treatment — there is a notable leeway to extend the existing competencies to effectively cover all this.
Stakeholders in the medical imaging space are currently seeking innovations that would address the critical necessity of early diagnosis through improved screening protocols. Looking at the hottest research areas, such as personalized medicine, it is highly likely that the medical industry will observe an increasing role of molecular imaging techniques in precision medicine, targeted therapy and therapeutic target monitoring.
Hybrid Imaging Modalities
In addition to some of the most common chronic ailments, including cancers and cardiovascular diseases (CVDs), molecular imaging is perceived as a highly competent diagnostic means for a few neurological diseases as well, such as Parkinson's, Alzheimer's and multiple sclerosis (MS). While the neurological diseases entail a greater level of specificity in terms of diagnosis and treatment, it becomes imperative that advanced and reliable imaging modalities penetrate into the medical imaging landscape, which is currently dominated by MRI, MRS, PET, SPECT, photo-acoustic tomography, ultrasound and Raman.
SPECT, PET/CT and MRS equipment sales collectively account for over 60 percent share in the molecular imaging space. Considering the evolving trends, it is likely that hybrid modalities, such as PET/CT and PET/MR, will gain momentum and complement the conventional categories, such as SPECT. The molecular imaging landscape is likely to witness the proliferation of new technologies that can be easily applied to clinical settings. Improving overall success rate in terms of treatment, especially for diseases characterized by high mortality rates, remains the ultimate objective of stakeholders across the value chain.
Of all the hybrid/multi-modality imaging techniques, PET/CT has been a breakthrough for pediatric oncologic imaging, covering a wide range of cancers afflicting children such as sarcomas, lymphoma, neck cancer, head cancer and central nervous system tumors. Having impacted cancer staging of a sizeable pediatric patient pool, PET/CT demonstrates unparalleled competence in terms of disease management.
PET/MR, which gained regulatory approval in 2011, was specifically introduced as an innovative imaging modality for pediatric malignancies. In children, tumor identification is typically challenged by limited radiation exposure, so a high level of testing accuracy is required. Although PET/CT offers the required diagnosis data during single patient encounter, adoption of PET/MR can mitigate some of its shortcomings. Although PET/MR is yet to be adopted on a wide scale, researchers are optimistic about its potential, especially in pediatric care.
The growing demand for hybrid modalities such as PET-CT/MR and SPECT-CT/MR is underpinned by their functional advantages over the conventional, standalone modalities, such as PET, SPECT and MRI in terms of diagnostic and therapeutic accuracy. At present, hybrid modalities of molecular imaging are in limited pre-clinical and clinical usage; however, extensive research targeting introduction of new modalities in the category is underway and likely to encounter a myriad of technical challenges.
Advancing Beyond Cancers and CVDs
Surpassing cellular level, advanced diagnostic techniques are briskly moving to molecular and genetic level, which points to paramount importance of multi-modal or hybrid imaging techniques. The multi-modal imaging has been in routine use in both pre-clinical and clinical studies that help in assessment of cardiac structure and function in addition to several associated physiological parameters that further lead to effective, noninvasive diagnosis of CVDs.
While cardiovascular imaging is among the most important use cases besides oncologic imaging and cancer immunotherapy, the potential of molecular imaging stretches far beyond, achieving applicability in identification of pediatric malignancies and diagnosis of systemic diseases such as sarcoidosis and amyloidosis. A majority of demand for molecular imaging remains concentrated in oncology and cardiology applications. Dramatically increasing rate of prevalence of gastrointestinal (GI) and neurological disorders, however, prompt a lucrative yet relatively less tapped window of opportunity for stakeholders.
Studies have highlighted establishment of diffusion-weighted MRI as a promising diagnostic tool for patients with GI tract inflammations and bowel cancer. The principle of this modality is the Brownian motion of water molecules in a cellular environment, which helps radiologists comprehend the movement of water inside the tissues. Complementing the conventional MRI, diffusion-weighted MRI has been perceived as an efficient and effective tool for tumour detection and cancer staging at a higher accuracy level — which would eventually influence therapeutic decisions and the response of tumours to therapy. Noninvasive operation, restricted radiation exposure and easy integration with standard MRI protocol continue to position diffusion-weighted MRI ideal for diagnosis and management of GI disorders.
Ground-breaking Application Opportunities
SPECT myocardial perfusion imaging (MPI) has remained the preferred imaging technique for diagnosis of coronary artery disease, the most common type of CVDs. Recent findings have led to developments where the diagnostic competencies of SPECT/MPI could be enhanced with the help of next-generation technologies, such as artificial intelligence (AI). The AI enabled deep learning analysis of data provided by supine and upright SPECT/MPI can potentially deliver valuable insights that could lead to improved diagnosis of coronary artery disease. Recent developments in AI also hold promising potential to be leveraged in boosting accuracy of the currently used techniques in nuclear medicine. The development of AI algorithms will, however, need an extreme level of specificity before the commercialization for pre-clinical and clinical practices is defined.
Robotics has established a strong foothold in the medical industry, particularly in case of minimally invasive surgeries. Researchers are working on the possible integration of novel molecular imaging modalities with robot-assisted surgeries. Molecular imaging is supposed to assist the direction of robotic surgeries for clearer target visibility and greater accuracy. The concept of image-guided robotic surgeries is likely to preliminarily involve traditional imaging modalities, such as ultrasound. Although the practical applicability seems far-fetched, it is certain that this and more such revolutionary innovations will embark on a new trend wave along with a sweeping range of opportunities in the molecular imaging landscape.
A Sustainable Business Model
Despite invasion of several state-of-the-art innovations in healthcare and particularly diagnostic imaging industry, there are certain facilities and regions that still lack the access to advanced technology equipment necessary for timely diagnosis and triaging of patients. While this scenario seems to be more prominent across developing regions majorly owing to price sensitivity, a number of similar cases exist in emerging markets within developed regions as well. Inadequate reimbursements remain a primary restraining factor in the latter. In a nutshell, the decision-making power of a considerably large number of healthcare and diagnostics providers regarding capital investments in new imaging equipment remains highly influenced by economic constraints.
However, at the same time, the demand for a sophisticated imaging infrastructure is on a constant rise to cater to the ever-increasing need for quicker diagnosis and best-in-class treatment. This is where adoption of the circular economy highlights its significance. The concept of circular economy has been here for a while. With reviving interests in it, the medical imaging market is also heading toward optimization of the resource utilization. This is particularly being served by refurbishment of imaging equipment that aims at enduring the equipment's life so as to efficiently re-engage in medical imaging applications.
Research reveals that North American and European markets collectively account for more than 3/5th of the global revenues through imaging equipment sales, and looking at their primacy in the global molecular imaging industry, it is quite clear that their contribution toward pushing acceptance of refurbished equipment will be crucial over the years to come. Independent vendors and OEMs are both likely to serve a vital role in accelerating penetration of refurbished molecular imaging equipment, with a conclusive objective of enabling cost-sensitive service providers to deliver the highest level of disease diagnosis and care. This entire business will further uplift prospects of several market stakeholders, including components and services providers, research associations, distributors, remarketers and resellers.
Research further uncovers Asia Pacific's immense potential for the expansion of the market's refurbished imaging equipment branch, which squarely attributes to the alarming rate of chronic disease prevalence, criticality of early diagnosis, and improving investments and reimbursement scenarios in the field of healthcare and diagnostics. Almost 50-80 percent of the original costs has been identified to drive traction for refurbishment of imaging equipment in the near future.
The role of governments in terms of R&D funds, reimbursement policy framework and dedicated medical imaging spending is highly significant when it comes to evaluate the current market scenario of molecular imaging. The U.S. Food and Drug Administration (FDA) also remains a significant entity here and has recently released its premarket recommendations for the quantitative medical imaging — addressing manufacturers of imaging devices or equipment who are seeking successful premarket submissions. On the other side, frequent product recalls and prohibitive price point continue to influence the rate of adoption, worldwide.  itn
Sharvari Rale is senior content strategist at Future Market Insights (FMI), a global research and consulting firm. The insights included in this article are based on the report Molecular Imaging Market by FMI.
Related content:
---
If you enjoy this content, please share it with a colleague