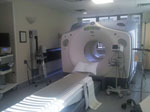 Hartford Hospital performs about 1,000 CardioGen-82 PET MPI scans per year.
As production of molybdenum-99 returns to normal with the Canadian Chalk River Laboratories reactor back online and the supply of 99m-technetium stabilizes, the nuclear cardiology community is anxiously waiting to see if procedure volumes will rebound.
However, before the technetium isotope shortage began 15 months ago, nuclear cardiology was already starting to experience a decline in single photon emission computed tomography (SPECT) myocardial perfusion imaging (MPI) procedure volumes due to the maturity of the modality, growing scrutiny and controversy about overutilization of imaging in medicine, as well as changes in the reimbursement landscape. Many insurance carriers began requiring precertification, limiting the clinical reasons for and requiring accreditation for outpatient facilities performing these procedures. This, combined with the drastic reductions in reimbursement rates, had many wondering about the future viability of SPECT imaging.
When the isotope shortage began, it was sporadic and unpredictable, but many were still able to receive technetium products on a regular enough basis to continue to schedule procedures somewhat normally. As it continued, many physicians and laboratories reported having to cancel procedures, refer patients to other diagnostic imaging modalities, such as stress echocardiography, or were forced to perform SPECT MPI with 201-thallium.
The suboptimal imaging characteristics of 201-thallium, however, make it unacceptable to use with obese patients and it increases the total radiation exposure per study by 25 to 30 percent. It also, not infrequently, produces a false positive study, which may result in other unnecessary procedures, such as cardiac catheterization. In some regions of the country, this had lead to suboptimal patient care and a decreased confidence by referrers in how to reliably diagnose and manage their patients with coronary artery disease (CAD).
For laboratories with access to positron emission tomography (PET) , the isotope shortage has not had as negative an impact. Facilities that were already performing cardiac PET MPI with rubidium-82 (Rb-82) or nitrogen–13 (N-13) ammonia, even on a limited basis, were able to shift many patients to PET. Others that had a PET scanner, but were not yet performing cardiac MPI, were able to purchase an Rb-82 generator in order to offer this procedure in lieu of SPECT. In both cases, labs were able to reduce the amount of cancellations, referrals to other imaging modalities and to unnecessary procedures.
A Blessing in Disguise?
Many believe the isotope shortage has been a blessing in disguise for cardiac PET. Although the capability existed and continued to undergo major advances in technology over the past several years, cardiac PET, for reasons including cost and space requirements, had not gained the same popularity or utilization as oncology PET. This was despite the demonstrated advantages of PET compared to SPECT.
Although SPECT MPI has been used for diagnosis and management of CAD for more than 30 years and is a reliable, cost-effective and well validated imaging technique, until recently it has seen little advancement in technology. SPECT also has several limitations, including long protocol times, it is prone to artifacts that may produce uninterruptible or false positive studies, it is not usually performed with attenuation correction, uses suboptimal tracers and may underestimate the extent of CAD.
When compared to SPECT MPI, PET imaging has demonstrated improvements in image quality and diagnostic accuracy. It produces less radiation exposure to patients and has faster acquisition protocols. PET tracers possess a higher (511 compared to 140 keV) imaging energy and are more linear to increases in myocardial blood flow when compared to the technetium agents, resulting in less attenuation artifacts. PET also has better spatial resolution and provides increased count statistics. PET is always performed with attenuation correction and the gains in image quality correlates into improved interpretive certainty.
There is also an advantage of diagnostic accuracy in PET over SPECT MPI.1,2 A recent meta-analysis by Nandular et al. demonstrated higher specificity and sensitivity of 95 percent for the diagnosis of CAD when compared to coronary angiography.1 Another study completed by Bateman et al. in 2004 compared SPECT MPI performed with 99mTc-sestamibi and PET with Rb-82.2 This study demonstrated that PET had a higher sensitivity, specificity and accuracy when detecting overall CAD and when detecting disease in individual coronary vessels. It also demonstrated that PET had a higher diagnostic accuracy when comparing gender, body mass index and multi-vessel disease.
Another major advantage of PET over SPECT is increased procedure efficiencies and patient throughput. A SPECT MPI, depending on type of stress performed, may take up to two and a half to four hours to complete. This time decreases the amount of procedures that may be performed on a daily basis and also may result in decreased patient satisfaction. With the current tracers being used to perform PET MPI, the overall acquisition time per study is about 30 minutes with a PET/CT scanner and 45 minutes with a dedicated PET system.
The only current disadvantage of PET compared to SPECT when using Rb-82 as the tracer is the inability to perform treadmill exercise. Due to the short (75-second) half-life, the only option is pharmacologic stress. This is not acceptable in all patients, as exercise tolerance and responses in blood pressure and heart rate are important diagnostic and prognostic indicators when determining course and type of treatments for CAD. Therefore, those patients who are capable of performing exercise stress may not be good candidates to shift from SPECT to PET as a diagnostic choice.
A Return to 'Normal'
Most in the nuclear cardiology community are anticipating and/or are hoping for a return to the status quo as the production and supply of isotopes ramps back up to normal capacity. Given some of the major changes that have occurred over the past 15 months — including national healthcare reform, continued scrutiny and debate of overutilization of diagnostic procedures involving radiation exposure and increased utilization of cardiac PET MPI — it may be time to reconsider what a "normal" landscape in nuclear cardiology should or will look like moving forward.
Even with a supply of isotope closer to normal levels, it will take time for the field to rebound. Physicians will have to regain confidences in ordering a study without worry that it will get canceled. Some will just continue to rely on the other modalities.
At the same time that efforts are being made to reposition SPECT as an available option, the Atomic Energy of Canada Limited (AECL) has scheduled another extended outage as part of the Chalk River Laboratories, National Research Universal (NRU) reactor's return-to-service activities for some time in spring 2011. As part of NRU's ongoing operations, the reactor will be operated on a 28-day cycle, which will include regularly scheduled five-day outages.
The extended outage in the spring will occur just in time for SPECT MPI to have regained some momentum. This, combined with the fact that the Chalk River Reactor may possibly be taken off line permanently some time in 2016, should prompt leaders in the field to evaluate options.
Even though there is considerable lobbying occurring to convince the U.S. government to create a domestic supply of medical isotopes, this may not be enough. In a political and societal environment that is demanding great healthcare in a much more cost-effective manner and doing so by performing diagnostic procedures with the least amount of radiation possible, it will almost be for us to redefine normal for the field of nuclear cardiology.
The good news is there are options to do this. The continued awareness and growth of cardiac PET MPI as a reliable procedure combined with continued efforts to improve and advance SPECT MPI technologies should give nuclear cardiology the new and improved normal that is needed to survive.
April Mann is currently the manager of noninvasive cardiology at Hartford Hospital in Hartford, Conn. She has been at Hartford Hospital for several years and her roles have included manager and supervisor of nuclear cardiology and staff technologist in nuclear cardiology and nuclear medicine. Mann received her associates degree in science for nuclear medicine technology at Springfield Technical Community College in Springfield, Mass., and her bachelor degree in arts for healthcare management at Elms College, Chicopee, Mass. Other accomplishments include several presentations and publications on a variety of nuclear cardiology and management topics.
Read the 2017 article "FDA Clears Path for First Domestic Supply of Tc-99m Isotope." 
References:
1. K.R. Nandalur, et al. Academic Radiology 2008; 15 (4):444-51.
2. T. M. Bateman, et al. Journal of Nuclear Cardiology 2006; 13 (1):24-33.