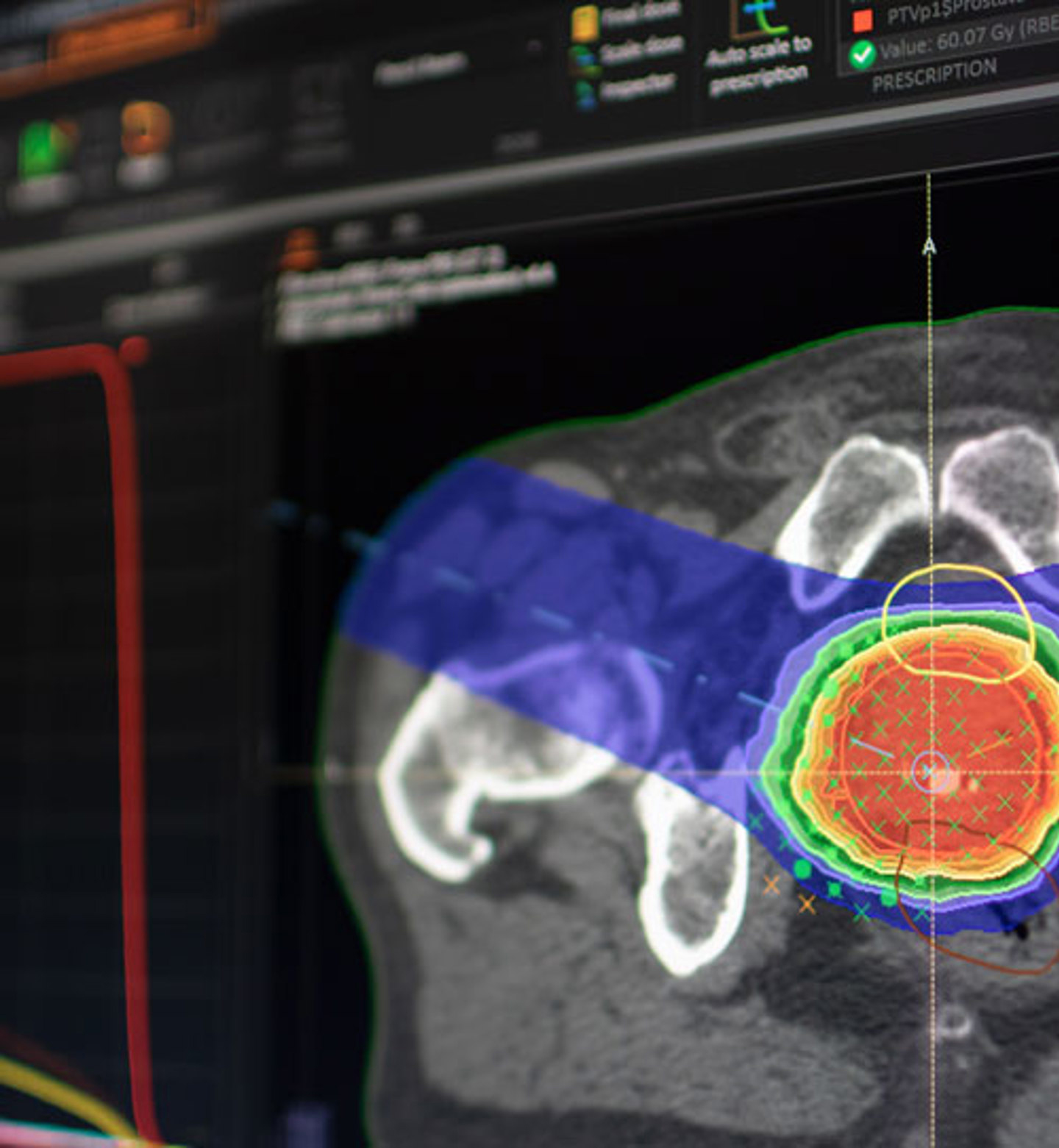 Image courtesy of RaySearch Laboratories
An overview of significant developments in proton therapy, over just the past six months, reinforces the pace of progress on proton therapy worldwide. For its part, RaySearch Laboratories AB, a Swedish medical technology company which develops software solutions for cancer treatment, has generated attention for multiple newsworthy developments.
In July, RaySearch signed an agreement with B dot Medical for development of advanced software solutions for proton therapy, aimed at advancing the field of proton therapy by development and validation of intregrations between RaySearch's treatment planning system RayStation, oncology information system RayCare, and B dot Medical's ultra-compact proton therapy system. B dot Medical is a Japanese company that develops ultra-compact proton therapy systems with a non-rotating gantry. The announcement reported B dot Medical is focused on achieving exceptional irradiation performance, including cutting-edge features such as high-speed scanning and respiratory-gated irradiation.
"By combining our respective expertise, we can drive innovation and contribute to the advancement of proton therapy technology. Together, we are committed to improving cancer treatment outcomes and making proton therapy more accessible to patients globally," said RaySearch founder and CEO Johan Löf, of the agreement, calling it a "groundbreaking collaboration." The aim is expanding the accessibility and availability of proton therapy technology to a wide range of healthcare facilities and regions worldwide. Ultimately, the goal is to benefit patients by making proton therapy more accessible.
In June, RaySearch Laboratories announced that New York University (NYU) Langone Hospital — Long Island (Mineola, NY) placed an order for the treatment planning system RayStation. The hospital is equipped with Varian linear accelerators, Accuray CyberKnife and Accuray Radixact systems, all of which are RayStation compatible. The installation will provide NYU with advanced automation tools
using machine learning techniques for efficient segmentation, according to the company statement.
"We seek to continually implement new technologies in the Department of Radiation Oncology at NYU," said Matthew Witten, MD, PhD, Chief Physicist, Department of Radiation Oncology at NYU Langone Hospital — Long Island. Witten, who also serves as Director of the hospital's Division of CyberKnife Radiosurgery, added, "RayStation will provide a unified solution for treatment planning across all modalities, including conventional linear accelerators, CyberKnife, Radixact, and high-dose rate brachytherapy. Our goal is to make our department even more efficient, and to further our ability to provide world-class care for our patients."
As is increasingly the case, proton therapy developers and major universities are leading the charge in establishing and incorporating advances for better treatment and broader access. In January, as reported by ITN, RaySearch announced that The Ohio State University Comprehensive Cancer Center — Arthur G. James Cancer Hospital and Richard J. Solove Research Institute (OSUCCC — James) placed an order for the RayStation treatment planning system RayStation. The announcement noted that the OSUCCC — James is the third largest cancer hospital in the U.S. and one of only 53 National Cancer Institute (NCI)-designated Comprehensive Cancer Centers in the nation. Further, Ohio State is the first hospital system to bring proton therapy to Columbus and the central Ohio area. The report noted the department of radiation oncology will utilize a Varian ProBeam 360 for proton therapy, and also has several Varian linear accelerators in service.
Growth in Global Advancements
Other updates include global innovators achieving advances. In April, 2023, P-Cure announced that it received US FDA clearance for US sales of its Proton Therapy System for treatment in seated position and will begin treating patients in Israel, where it is based. The company has been developing affordable proton therapy technology for targeted treatment of cancer with significantly reduced treatment related side effects, and reported that the P-Cure innovative upright solution is the world's first FDA-approved methodology for patient ready cancer treatment.
Treatment of cancer with proton therapy is considered the gold standard for treating many types of cancer sites with unique clinical capabilities, the company noted. However, it added, current legacy technology requires 200 tons proton equipment, and with the cost exceeding $50 million per single room (equipment and construction) significantly limits establishment of proton therapy services at most cancer care facilities globally. Until today, only less than 1% of hospitals offer proton therapy to their patients. P-Cure managed to reduce the size and the cost of the proton therapy equipment, enabling establishment of this long-awaited treatment modality virtually in all radiotherapy departments.
"P-Cure started by designing a patient-centric image guided adaptive positioning system, and has now expanded the offer by providing the most compact full proton therapy system that simulates, plans, positions and treats patients with enhanced patient comfort and clinical results, treating all indications with adaptive, personalized proton therapy protocols," said CEO Michael Marash, PhD. He added, "We truly believe that this is a new era of radiation therapy," noting the company's solution radically reduces the cost of installing a proton therapy system, eliminating large rotating gantries, allowing for faster installation, and reducing operational costs.
An August news update brought the spotlight on Switzerland. In its coverage, "Proton Radiotherapy to Treat Oesophageal Cancer," ITN published an update reporting that a 67-year old patient presenting with oesophageal cancer was treated at the Paul Scherrer Institute (PSI) with a form of radiation provided by protons, i.e. positively charged particles. This was noted as the first time this type of radiotherapy had been used in Switzerland to treat an oesophageal tumor. The five-week course of treatment is part of a European clinical trial involving both PSI and University Hospital Zurich (USZ), according to medical researchers who are investigating whether proton therapy is suitable for treating this type of cancer, as it could potentially reduce lung complications that typically occur with traditional radiotherapy.
"Today we have used proton radiotherapy to treat a patient with oesophageal cancer for the first time, within the framework of a collaborative European Phase III clinical trial," confirmed Damien Weber, senior clinician and Head of the Center for Proton Therapy (CPT) at PSI.
USZ and PSI are building on their long-standing collaboration in cancer treatment to investigate whether protons offer advantages for radiotherapy of the esophagus. This research is part of the pan-European PROTECT trial (PROton versus photon Therapy for Esophageal Cancer: a Trimodality Strategy) involving 19 research partners across Europe ­— including universities, hospitals and research centers — which are joining forces in the collaborative PROTECT trial.
"Because we work so closely together, we hope to be able to recruit several hundred participants, so the results of the study will carry far more weight," said radiation oncologist Dominic Leiser, Head of Clinical Studies at PSI. Aarhus University in Denmark is the main project coordinator. PSI was one of the study initiators at European level.
Future Forward
One of the first hospitals in the world to establish a proton radiotherapy program to treat cancer was Massachusetts General Hospital and the Mass General Cancer Center. As noted in an ITN article featuring the developments, and a Lancet Oncology article, the institutions have been pioneers in using and improving proton therapy for treating both benign and malignant tumors effectively while delivering a lower dose of radiation to tissue surrounding the target site. The MGH-published overview noted that its researchers "have led and continue to lead studies that are defining the best use of proton therapy, which is now being offered at 106 centers worldwide."
"Research and development over the past few decades have transformed proton therapy from an extremely rare treatment method to a more common one, although still quite rare," the authors wrote. "Combining the technological advances with efforts to engage hospitals, academia, industry, regulatory bodies, and funding agencies can make the global democratization of proton therapy a reality."
In the referenced article, "Global democratization of proton radiotherapy," published in the journal Lancet Oncology, authors presented a comprehensive overview of the evolution of proton therapy, addressing the benefits to patients and society. In the paper, Susu Jan, PhD, and Thomas Bortfeld, PhD, Division of Radiation Biophysics, Department of Radiation Oncology, Massachusetts General Hospital and Harvard Medical School, and others, zeroed in on proton therapy's challenges and possibilities.
Their summary offered these insights: "Proton radiotherapy is an advanced treatment option compared with conventional X-ray treatment, delivering much lower doses of radiation to healthy tissues surrounding the tumor. However, proton therapy is currently not widely available … developments have led to an exponential growth in the number of hospitals using proton radiotherapy worldwide. However, the gap between the number of patients who should be treated with proton radiotherapy and those who have access to it remains large. We summarize the ongoing research and development that is contributing to closing this gap, including the improvement of treatment efficiency and efficacy, and advances in fixed-beam treatments that do not require an enormously large, heavy, and costly gantry. The ultimate goal of decreasing the size of proton therapy machines to fit into standard treatment rooms appears to be within reach, and we discuss future research and development opportunities to achieve this goal."
---
If you enjoy this content, please share it with a colleague