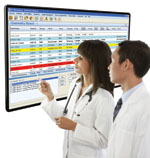 The Dosimetry-Summary board on Standard Imagings RT Workflow provides a snapshot of where a patient is in the planning process.
Perhaps there is no other area of medicine that requires as much of a team effort to deliver treatment as radiation oncology.
Throughout the entire radiation therapy (RT) process — from patient entry to plan approval to plan finalization — all of the clinicians involved must continuously work together. Any break in the workflow can result in delays in treatment, errors or costly repetition of work.
Whiteboard Solution
In a busy radiation oncology clinic, workflow can be improved through better communication and reduced waste.
One new workflow solution, RT Workspace, developed by Standard Imaging, is designed to improve efficiency. It features automatic notifications to alert each provider when a task requires his or her attention. Instructions and data appear on electronic whiteboards, which provide a snapshot of where a patient is in the planning process. When a process is finished, the professional assigned the next task is notified immediately. Allowing each stakeholder to reference the whiteboard once a task is completed may help prevent interruptions.
To maintain communication throughout the process, users place electronic sticky notes on the RT Workspace desktop, check a "to do list," or view a scheduling calendar. For more detailed instructions, a secure e-mail system is available.
RT Workspace supports lean management techniques designed to eliminate waste and increase efficiency. Detailed information about the time it takes to complete each step in the patient planning process allows clinicians to identify where improvements are needed the most.
There also are specialized boards for low-dose rate brachytherapy and radiosurgery to plan processes. On the whiteboard, physicists can collect, organize and analyze machine quality assurance (QA) and patient specific QA information.
By minimizing delays, omissions and errors during the entire radiotherapy process, both patient satisfaction and departmental resource utilization are maximized.
System Integration
Like most high-volume clinics, there comes a time to grow the business by expanding treatment options. This often requires installing a new linear accelerator (linac). Integrating a new system, however, can create bottlenecks and down time. It is important to look at both the linac and the supporting information technology (IT) infrastructure to assure a smooth transition.
The new linac should be capable of receiving information from a wide range of systems and software solutions. For example, one leading system, Hi-Art by Tomotherapy, is engineered to integrate fully into the radiation oncology department.
A linac should be standards based, using the digital imaging and communications in medicine (DICOM) protocol for images. Retrieving DICOM images enables clinicians to use its existing equipment, such as a computed tomography (CT) simulator and contouring solution. Notably, the first step in the routine Tomotherapy planning process is bringing a kilovoltage (kV) planning CT image set, along with target structures, into the linac system via DICOM import.
A single database unifies each step of the workflow. It connects treatment planning, optimization, image guidance, treatment delivery, record and verify, and the adaptation of plans.
The planning workstation, operator console, treatment unit itself, and a computing cluster are each directly connected to the database. Because treatment plans are saved to this central database, no operator controlled transfer of treatment delivery data is necessary. This minimizes the risk of data corruption and loss.
Once Tomotherapy treatment plans have been created for patients, clinicians can save it to a picture archiving and communication system (PACS) or radiation therapy PACS (RT-PACS). All of the image data – either the kV planning CT or the daily multivoltage CT images – can be stored. A clinician may want to export data for a clinical trial, such as to the Radiation Therapy Oncology Group (RTOG). The DICOM export option provides this capability. It allows users to export CT images as well as the RT-specific objects of a structure set, plan and dose.
Integrate Existing and Emerging Technologies
Open source and standards-based software allow clinics to purchase new technology and interface with existing equipment.
City of Hope, a research and treatment center for cancer and other diseases in Duarte, Calif., has used Mosaiq, an oncology information management system (OIMS), since 1999. When the center upgraded Mosaiq in September of 2009, the software's open-source architecture allowed the OIMS to interface with two existing Tomotherapy Hi-Art systems.
"Essentially, the Mosaiq and Hi-Art interface aims to improve patient safety and overall workflow. It aids in plan selection on the Hi-Art system and streamlines our department's efficiency by recording delivered treatments and charges," said Jeffrey Wong, M.D., chairman, department of radiation oncology.
He added, "The interface now allows us to schedule patient treatments for the Hi-Art in Mosaiq and transfer and record treatment delivery information from the Hi-Art in the Mosaiq patient chart. It further facilitates tracking the patient's accumulated dose and capture charges based on details exported from the treatment machine."
These vendor-neutral solutions, using standards-based protocols and open source IT, are critical for integrating disparate systems and streamlining the entire workflow.
---
If you enjoy this content, please share it with a colleague