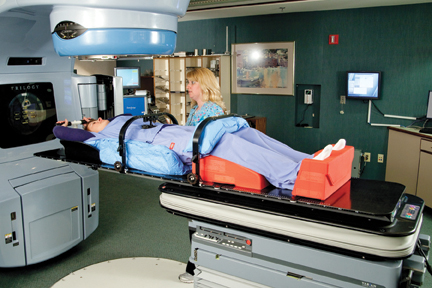 This Protura positioning system is set up for an SBRT treatment, which requires precise positioning.
Radiotherapy (RT) as a way to treat cancer is growing as a field, now that its accuracy has been improving. One reason for this improved precision has to do with patient positioning equipment and how the patient is immobilized during the treatment itself. By making sure the patient is always in the same position over multiple radiation treatments and that the patient stays comfortable enough not to shift during treatment, RT has been growing as a successful, accurate and fiscally sound way to treat cancer.
Early in RT's evolution, it was believed that "radiation treatment in cancer was a race," according to Michael LaLonde, regional account manager for Bionix Radiation Therapy.
"You would pump radiation into patients over a period of time and then allow healing to occur over weekends," LaLonde said. "Ablation, or obliterating a tumor, was proven to be a better approach."
Ablation is done using stereotactic body radiotherapy (SBRT) in three to five fractions, or sessions, as opposed to approximately 35 fractions, which was the former way of treating cancer with radiation.
"SBRT needs to be extremely accurate and reproducible," LaLonde said. "So the patient needs to be positioned very accurately."
With treatments like SBRT, image-guided radiotherapy (IMRT) and image-guided radiosurgery (IGRS), the tumor receives larger doses of radiation; hence the need for the radiation beam to be as precise as possible.
"In classical RT, you don't know exactly where the tumor is, so you have to irradiate a larger area just to be sure you hit the tumor, meaning you are also irradiating healthy tissue around the tumor," said Alexander Malesevic, regional marketing manager at Brainlab.
This uncertainty and extraneous radiation, Malesevic said, can be avoided with positioning equipment like Brainlab's ExactTrac system. Designed to keep a patient in place, it takes X-ray scans throughout the treatment to ensure the patient remains in the same position, using the original computed tomography (CT) scan as a comparison.
Positioning Equipment's Key Role
It makes more sense to give a patient more radiation in fewer sessions; in addition to saving time and money — plus getting better throughput at a facility — the patient is not inconvenienced by having to make multiple trips to a facility. But treatment options like SBRT, IGRT and IMRT would not be successful without proper positioning equipment.
"For example, in the case of the head and spine, IGRT has revealed a lot of errors in the day-to-day interfractional setup in the spine in relation to the cranium," said Bill Barnat, clinical specialist with Civco Medical Solutions. "Patients need to be in the right position relative to themselves before they are in the right position of the isocenter and beam."
The treatment is made more accurate by using immobilization equipment. To work best, it needs to be not only easy for the clinician to work with, but also comfortable for the patient, said LaLonde.
"If the patient is not comfortable, no matter how accurately you set him up or how well you can reproduce [the treatment], the patient will move," he said. Bionix's OMNI V SBRT system, for example, is a customizable full-body system that focuses on patient comfort by positioning, immobilizing and compressing the part of the body that is receiving SBRT, making it accurate and less traumatic for the patient.
Treating cancer with RT makes economic sense as well, said Barnat.
"If you had to treat a patient's lung 35 times, filling up a 15-minute slot each time, that takes up time on your machine," he said." A three-fraction SBRT machine takes twice, maybe three times as long per fraction, but you only need to do three fractions, meaning you can do more SBRT patients in the time you might have only treated one lung."
This is advantageous in terms of billing, said Barnat, because a facility will get more reimbursement for an SBRT treatment than for a single-fraction treatment.
Accuracy Over Multiple Visits
When patients are coming back for fewer treatment sessions with higher doses, making sure the radiation is concentrated directly on the tumor each time remains essential. There are three main options for achieving that goal, according to Barnat. The first is the positioning product itself.
"The equipment should be designed to help recreate the patient's posture as it was first realized in CT simulation, coupled with reproducible settings and indexing on the treatment table," he said. The clinician makes note of the treatment table's settings and makes sure the table is on these settings for each session.
Another option is to use a laser to tattoo marks on the patient and then line him up with real lasers that represent the isocenter of the linac in accordance with the positions determined in treatment planning, Barnat said.
A third option is employing an image guidance system to reference the target tumor internally, compare it with the CT scan from treatment planning and reposition accordingly, he said.
Barnat made a distinction between repositioning equipment and immobilization equipment due to differences in motion, but said that each supports the other. Interfraction motion happens between radiation sessions; intrafraction motion is when the patient moves during the session itself.
"Repositioning products ensure accurate interfraction motion, and good immobilization ensures good intrafractional accuracy," he said. "They work in tandem."
Current Trends and Future Directions
One technique about which positioning equipment experts seem divided is gating — when the radiation beam is turned on and off during treatment as the target moves in and out of focus. Malesevic believes this is a technique that will gain popularity.
"I think the future is going toward gated techniques," he said. "Taking a lot of images to see how the tumor is moving and then tuning the treatment beam to only shoot when the target is in range will be perfected over the next few years."
Barnat disagrees with this, however, and said that especially with lung RT, gating is not the best solution.
"One of the problems with [gating] is that it can become very inefficient in the department. So even in a gated environment, [clinicians] are still looking for something to reduce deep breathing and keep the target within acceptable parameters to keep the beam on as long as possible," he said.
Barnat said he believes equipment and treatment will continue to get more accurate, however.
"The imaging quality has improved so much that, especially in planning, we can really delineate where tumor borders should be, and we can see much more in the treatment room as to where that tumor site actually is relative to isocenter," he said. "What will prove tricky is correcting for what is out of position."
Civco's product is the Protura robotic patient positioning system and universal couchtop, which can make submillimeter corrections in six degrees or axes. Right now, most systems only correct to the millimeter, but the Protura system is geared to advance with imaging into the future, Barnat said.
Expanding use of SBRT, LaLonde said, could be what the future holds as well. "People are looking at how to apply SBRT to other sections of the body. It comes back to how to isolate the organ so it doesn't move, which is a challenge with gelatinous organs."
Moving from positioning equipment made of carbon fiber materials to equipment made of Kevlar or fiberglass could also be a part of the future, said Barnat, because clinicians will need to use a material that is compatible with magnetic resonance imaging (MRI).
All of these trends come down to choosing what works best for the individual patient and clinician, Barnat said. Manufacturers need to pay attention to feedback from the field, he added.
"Clinicians and therapists want products that address the need for efficient throughput without compromised accuracy, while also keeping it simple," he said. "They want positioning freedom in devices, but want it arrived at more simply."