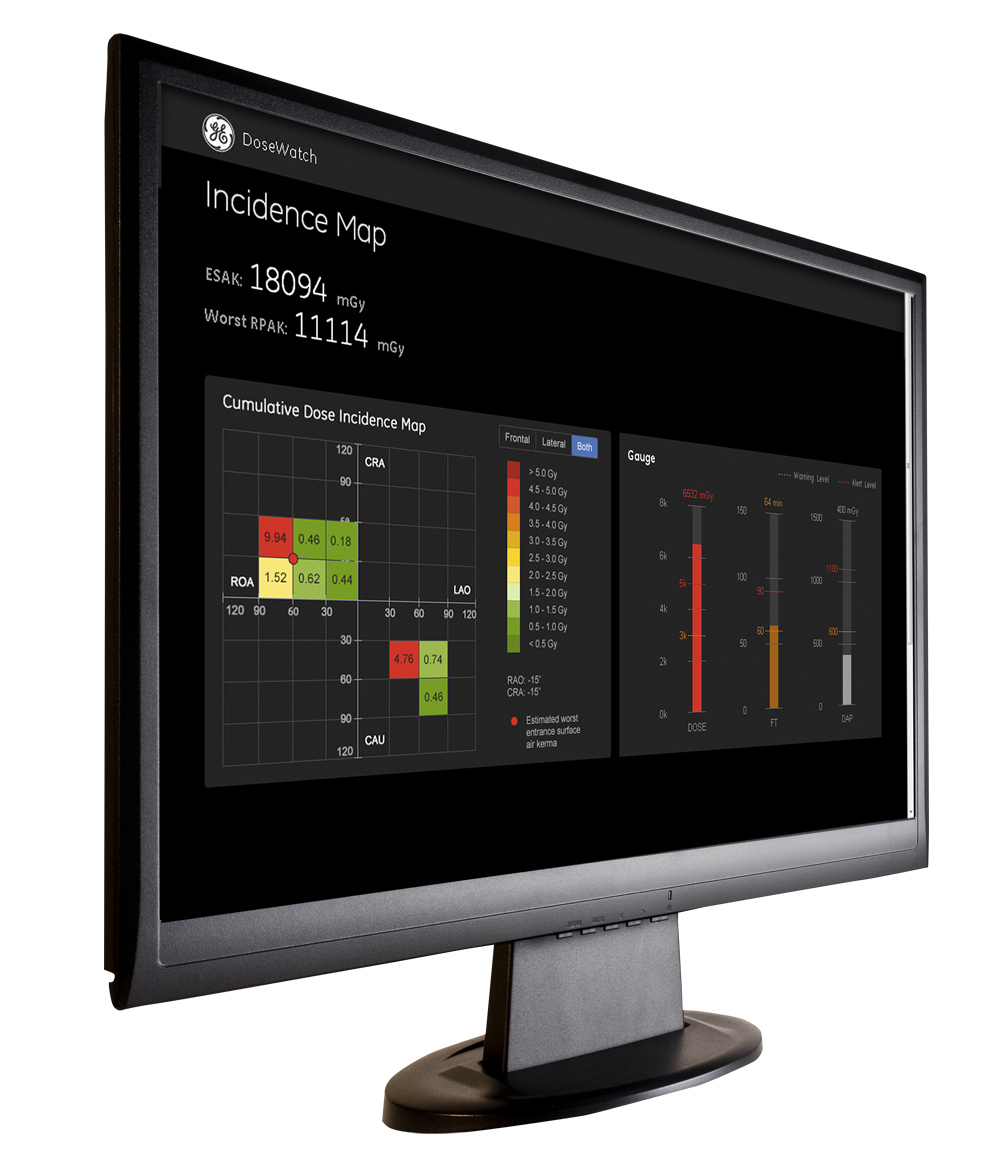 Better management of X-ray radiation doses starts with recording and tracking each exposure patients receive. Dose tracking has come to the forefront of medicine in recent years with the realization that medical imaging has doubled the public's exposure to ionizing radiation since the 1980s, largely due to the rapid expansion of computed tomography (CT) and minimally invasive procedures guided by angiography.[1,2] 
This fact, combined with popular media stories in recent years about patients receiving radiation burns from medical imaging and concerns about radiation exposure, has spurred California and Texas to legislate X-ray dose recording requirements for all patients. It is widely expected other states will follow suit and that dose guidelines based on exam protocol and patient size will eventually be specified by the American College of Radiology (ACR), based on data from its U.S. Dose Index Registry (DIR).
California's law may set the standard for what will be expected in the future across the country. It mandates that all facilities providing CT scans be accredited. It also requires the documentation of the dose of each CT exam, annual verification of each dose by a medical physicist, and reporting dose errors to patients and physicians. Dose management software helps meet all of these requirements.
Most medical professional organizations are now actively advocating dose reduction across medicine to improve patient safety through initiatives such as Image Wisely, Choosing Wisely,
ALARA
(
As Low As Reasonably Achievable
) and quality assessment guidelines set by accreditation organizations. The Joint Commission recently released new accreditation standards for diagnostic imaging services, effective July 2014. Its main focus is reducing CT dose, with efforts centered on recording and reviewing CT dose usage. 
The starting point for lowering dose at any facility begins with assessing how much dose is being administered, by tracking the dose and then comparing it to levels at other departments or facilities. This can help raise dose awareness and aid dose reduction education. The data can show areas where a facility is out of average ranges, possibly due to specific technologists turning up the dose for better image quality, use of older technology, scanners operating outside normal parameters or use of higher dose imaging protocols that might need revision. 
Basics of Recording Dose
The software is used to record the dose from numerous imaging modalities, which may include CT, angiography, fluoroscopy, standard X-ray, mammography and nuclear imaging. It can record dose-based industry standards, such as computed tomography dose index (CTDI), dose length product (DLP), tube current and exposure time. Some software also can record the type of exam protocol and the size of the patient for a more accurate dose estimate. 
Dose management software offers varying levels of dose information. Some offer patient level dose so it can be included in their electronic medical record (EMR) information. Others might only record overall dose for radiology department management purposes. Some software breaks down radiation levels by technologist, machine, exam protocol and modality. This data might reside separately from other systems, or might be able to interface with picture archiving and communications systems (PACS), cardiovascular information systems (CVIS), EMRs and the ACR's DIR. 
Due to the potential need to collect data from several modalities and imaging systems manufactured by different vendors, it is important the software is vendor-neutral. To facilitate this, Integrating the Healthcare Enterprise (IHE) created the radiation exposure monitoring (REM) software profile for easier IT integration. The profile defines programming for vendors so all radiation reporting systems can collect, evaluate and automate dose information in a similar manner and export it to centralized registries. 
Vendors Offering Dose-Tracking Software
Some PACS vendors are starting to incorporate dose reporting directly into their systems, but most software currently available is in the form of bolt-on modules that work with a PACS. Key vendors emerging in this area include Radimetrics, GE Healthcare and Sectra, but there are others. All display their products at the 2013 Radiological Society of North America (RSNA) annual meeting this past December.
Radimetrics, owned by Bayer Healthcare, offers the eXposure dose management software. It is a third-party solution that is resold by several PACS and CVIS vendors, including Philips, Siemens and McKesson.
GE's DoseWatch retrieves, tracks and reports the radiation dose administered to patients and automatically organizes the data for hospital management so they can easily monitor dose delivery in their institution. The system collects data by imaging device, the individual operator or by protocol so it can easily identify dose outliers. The software offers a dose comparison analysis tool where users can compare doses between facilities, across systems and among protocols. Its most recent version release at RSNA 2013 uses new log capabilities that can reduce the bandwidth requirement across the hospital network.
Sectra's Web-based DoseTrack automatically collects, stores and monitors data from all connected modalities. Sectra is a certified ACR software partner, approved to submit a hospital's dose data to the DIR.
PACSHealth's DoseMonitor automates dose monitoring and reports. It can help ensure imaging exam consistency, maintain regulatory compliance and manage radiation dose at an enterprise level from a single application.
Aware Inc. offers the AccuRad REM Server to collect radiation exposure data based on the IHE's REM profile to generate customized dosage estimation reports and upload data to the DIR. 
Selecting a Dose Management Solution  
When searching for a dose-monitoring solution, providers should make sure it integrates with other hospital IT systems to ensure smooth operation so it becomes a part of the daily routine.  To insure intraoperability, key selection criteria should include industry-standard HL7 connections and IHE profile compliance. It also should offer the ability to make changes in other IT systems to create a uniform dataset across the hospital, such as changing a patient's name. Data collection from each modality should also be automated. 
?Information provided should allow for comparison of dose levels between different equipment to help guide new purchase decisions, maintenance and utilization of low-dose equipment. Comparisons should also allow analysis of dose levels given by specific staff and departments. The system should allow dose alert thresholds to help identify potential problem areas. Systems also should allow diagnostic reference levels (DRLs) to identify unusually high radiation doses for imaging procedures.  
Comparison Chart of Dose Monitoring Software
This article served as an introduction for a comparison chart for radiation dose monitoring software in the March-April 2014 issue of DAIC. To access the chart, click on the "Comparison Charts" tab at the top of this webpage. The vendors participating in the chart include:
References: 
1. Schauer DA and Linton OW. "National Council on Radiation Protection and Measurements Report Shows Substantial Medical Exposure Increase." Radiology, 2009; 253: 293-296
2. National Council on Radiation Protection and Measurement, "Ionizing Radiation Exposure of the Population of the United States: NCRP REPORT No. 160," Radiation Protection Dosimetry, vol. 136, no. 2, 2009.
---
If you enjoy this content, please share it with a colleague