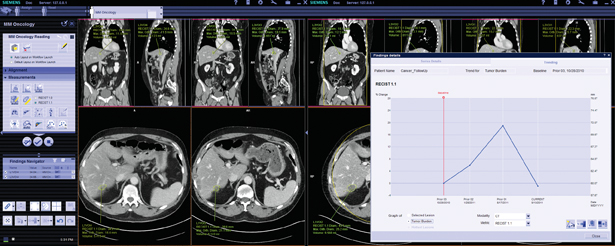 Imaging is pivotal for detection, staging and evaluation of tumor response to treatment. It is instrumental in determining which treatment is best suited to a patient and may be used to help guide surgery and radiation therapy. With chemotherapy, follow-up imaging exams are used to track tumor response and determine if different drugs should be used. 
"Imaging really has an important role to play in chemotherapy and cancer, because a change in size can help evaluate the efficacy of the treatment," said Jeremy Erasmus, M.D., professor, department of diagnostic radiology, University of Texas MD Anderson Cancer Center, Houston, Texas. He and others offered insights for assessing tumor response during sessions at the Radiological Society of North America (RSNA) 2014 meeting in December. "Chemotherapy agents are very expensive, so the cost of a CT scan may be justified if it means discontinuing a chemo treatment." 
Challenges With Assessment Criteria 
For computed tomography (CT) anatomic imaging of tumor response, the most common standard is the Response Evaluation Criteria in Solid Tumors (RECIST). This evaluates the size of the tumor to note changes — growth is an indication a treatment is not working, and a decrease in tumor size shows a successful treatment. 
In nuclear imaging of metabolic tumor response assessment with 18F-FDG positron emission tomography (PET), the standard is the PET Response Criteria in Solid Tumors (PERCIST). However, these two sets of guidelines were originally developed for use in clinical trial evaluation and have limitations, said Elena Korngold M.D., Oregon Health and Science University and Portland Veterans Affairs Medical Center, Portland, Ore. 
"Cancer treatment is evolving," she said, so while it is important to know these criteria, it is necessary to understand their limitations. For this reason there are now alternate criteria for specific diseases (i.e., Cheson for lymphoma, EASL/mRECIST for HCC). She said the role of radiologic assessment will continue to evolve with the introduction of new cancer treatments, especially targeted chemotherapy agents.
Erasmus said one issue with cancer evaluation, especially with progressive disease where several monitoring exams will be reviewed by various radiologists, is a lot of intraobserver variability from reader to reader. While various methodologies have been created to standardize measurements as much as possible, he said these criteria are not perfect and are only used because there is nothing better. 
"There are inherent limitations with anatomical response criteria, including when the imaging occurs, who is making the measurements and what is being measured," Erasmus stated. 
With nuclear imaging, assessing standardized uptake value (SUV) max may not show a correct assessment of a tumor because it only considers the maximum uptake in one part of a tumor. He said the uptake may have decreased elsewhere in the same tumor. For this reason it is important to try to assess tumors 2 cm or larger. Erasmus is also an advocate for metabolic tumor volume, which he feels is a better measurement than SUV. 
Erasmus said there are other variables with PERCIST. He explained that PET images need to be segmented, but there are several ways this can be done. There also is no general consensus on the selection of a threshold level, which again can lead to variation depending on who reads the study. 
Korngold suggests a few tips when evaluating tumors:
• Keep lesion measurements consistent and save the measurements in the picture archive and communication system (PACS).
• Make sure "new" lesions are actually new and make sure "stable" lesions are truly stable.
• Pick measurable lesions to track, at least one or two per organ. 
• Use the electronic medical record (EMR) for additional information. It can tell you about the various treatments the patient is receiving, the tumor and tumor markers so you know more precisely what you are looking at. 
• Consider how you are counting. Count both lungs or all lymph nodes as a single organ. 
Evaluating Newer Targeted Chemotherapy Agents
The current guidelines for tumor response are based on the traditional cytotoxic chemotherapy agents that target dividing cells on a systemic level throughout the body. However, these rules do not apply to newer, targeted agents that only effect specific genes or proteins of cancer cells, explained Yves Menu, M.D., chairman of radiology, Saint Antoine Hospital, Paris, France. He said the treatment process presents very differently on imaging, where tumors may stay the same size or actually increase in size rather than showing signs of shrinking. Menu said the cancer might continue to grow because some agents take time to affect the ability of the cancer's cell division. It may sometimes take months before the tumor size begins to decrease with targeted agents. 
There are several targeted agents now being used for cancer treatment. Monoclonal antibodies (MAB) bind only to cancer cell-specific antigens and induce an immunological response against the target cancer cell. Tyrosine-kinase inhibitors (TKI) prevent the actions of enzymes responsible for the activation of many proteins. Menu said there also are immunosuppressors and immunomodulators to induce, enhance or suppress an immune system response to cancer.
In addition to the growth of a primary tumor, Erasmus said with targeted agents there might be several additional tumors that appear on imaging prior to the body building a sufficient immune response to suppress new tumor growth. 
RECIST and PERCIST were designed to assess cytotoxic treatments and do not address the needs for assessing targeted agent response, so new criteria needs to be drafted, said Menu, adding, "We don't have guidelines or solid rules for these agents." 
For example, in the case of gastrointestinal stromal tumors (GIST) treated with the tyrosine-kinase inhibitor imatinib, the tumor may actually increase in size, but with this agent, Menu said size does not matter. Instead, he suggests measuring the contrast attenuation inside the tumor. If it decreases by 15 percent or more, the treatment is a success, he explained. If attenuation is difficult to measure, he said PET/CT can be used to give a clear answer if there is decreased tumor metabolism. However, he said the higher cost of PET limits its wide use for all follow-ups.