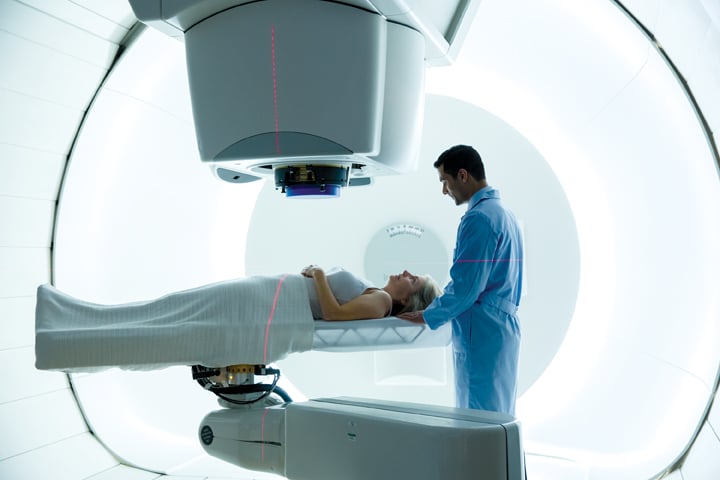 CDH Proton Center utilizes a gantry that rotates completely around a patient as well as robotic patient positioners that put the patient in the right position.
Proton therapy is becoming more prevalent in cancer treatment as it is the most advanced form of radiation available. Proton beams are more precise, treating complex tumors while avoiding healthy tissues and critical structures. Proton therapy centers are beginning to spring up around the United States as physicians continue to see the benefits in cancer treatment. One center that has garnered much attention is the CDH Proton Center in Warrenville, Ill. 
Located in the western suburbs of Chicago, the CDH Proton Center was the idea of a group of radiation oncologists from Radiation Oncology Consultants Ltd., who began talking to multiple academic centers around the Chicago area in the early 2000s. Working with ProCure, a company that has built four similar centers thus far, the oncologists partnered with Central DuPage Hospital, a member of Cadence Health, to create a center where patients could receive state-of-the-art care. ProCure was responsible for all of the initial planning and raising capital, and the oncologists planned out the medical aspects. The CDH Proton Center is the only proton center in Illinois, the second center in the Midwest and one of only 14 proton centers nationwide. Since opening its doors in October 2010, the center has treated 1,500 patients from 28 states and 13 countries. The center's 90 staff members include radiation oncologists, anesthesiologists and pediatric oncologists from the Ann & Robert H. Lurie Children's Hospital of Chicago. 
Treatment Offerings
The four-room center has one room with a gantry that rotates completely around the patient. The second room is a fixed-beam room that transmits protons in one direction. This room also has pencil-beam scanning, which allows for more precision. "If a tumor is perfectly round, you don't need pencil beam scanning, but the pencil beam will help with complex tumors that curve around structures like the spinal cord or the brain stem," said William Hartsell, M.D., radiation oncologist, Radiation Oncology Consultants Ltd., medical director, CDH Proton Center. The third and fourth treatment rooms have multiple beams called inclined beam lines, as well as robotic patient positioners that put the patient in the right position — either lying on a treatment couch or in a chair. The center uses a cyclotron that generates up to 230 million electron volts of protons. The cyclotron allows physicians to manipulate protons to release their energy at precise depths, which delivers high doses of radiation, spares vital tissues and organs near the cancer site, minimizes side effects and maximizes long-term function and quality of life. 
Road to Proton Therapy
According to Hartsell, there were several significant challenges during the development and construction of the center. While many radiation oncologists around the city were very interested in working together to build a center, Hartsell said it was harder to convince hospitals and administrations to work together to build a facility. "We basically just tied ourselves with Cadence Health, even though we would have been happy to have a multihospital facility," he said. 
Another challenge that the oncologists faced was getting through the state regulatory process. It took about a year and a half before Radiation Oncology Consultants Ltd. was able to get permission from the state to even begin building in October 2008. The construction of the facility itself also proved to be very complex, taking about two years to complete.
Once the center was finished, the administration found that there was initially a lot of skepticism. "There are only 14 of these centers in the U.S., and when we opened, I think we were the ninth. So, there is a lot of either misinformation or lack of information that drives skepticism." This challenge is slowly being overcome as the community is educated on proton therapy. "It's been a process of education and getting to know what uses are appropriate for protons," he said. "There were some people who were initially worried that all patients would be coming to us for treatment, but proton therapy is not the appropriate treatment for all patients. But for certain patients, it is an excellent treatment option."
Participation in Research and Clinical Trials
In addition to treatment, CDH Proton Center participates in a number of clinical studies and research through national groups, such as the Children's Oncology Group and the Radiation Therapy Oncology Group, that have research studies in hospitals and academic centers throughout the country. The center is also a part of the Proton Collaborative Group, which includes seven proton centers and three academic centers in the U.S. Through this group, the center has clinical trials on a number of different disease sites, including lung, breast and prostate cancer, as well as a registry study that tracks and reports patient outcomes. "We also have a couple of studies with Northwestern University in Chicago," Hartsell said. "We have a study that's being done though the Massachusetts General Proton Center of all children who are being treated with proton therapy around the country, and there is another study we're participating in that looks at proton therapy versus standard radiation therapy for prostate cancer."
In addition to clinical trials, the center is conducting unique research and working with treatment in a different way than other centers. "We are working on treatment for lung cancers with people sitting up in their chair — every other place they are laying flat on a table — and within in the next year we will be treating patients with lung cancers and tumors in the mediastinum in the seated position. We think there is a big potential to spare even more tissue by doing that," Hartsell explained. The center also serves as a training ground for physicians, physicists, dosimetrists and radiation therapists. Residents from multiple radiation oncology training programs around the country have spent time at the center, as well as international physicians. 
Throughout all of the clinical trials and research, the center follows every patient to document how well the treatment is working in controlling cancer, as well as any side effects. 
Focus on Pediatrics
According to Hartsell one of the unique features of proton therapy is its focus on pediatrics. Proton therapy's ability to spare vital tissues and critical structures enables children to develop normally after treatment. The CDH Proton Center has a combined clinic with Lurie Children's Hospital, and is the only proton therapy center that participates in the pediatric brain tumor consortium. "Cadence has had a cooperative program with Lurie Children's Hospital for longer than we've been involved," explained Hartsell. "About three and a half years ago, when the proton center was being built, we started talking with Lurie Hospital physicians about how we could work together to treat these patients, because many of them were being sent elsewhere for treatment." 
Today, about 15 percent of patients at the center are pediatric patients, and about half of those patients are young enough that they require anesthesia during treatment. Radiation oncologists at the proton therapy center go to the brain tumor clinic at Lurie Children's Hospital one day a week. Pediatric oncologists from Lurie Children's Hospital come to the proton center one day a week for a clinic, and participate in the brain tumor conference another day of the week. "Most days of the week we're in communication with the brain tumor team from Lurie Children's Hospital," Hartsell explained. "This collaboration has allowed radiation oncologists at the center to work closely together with pediatric oncologists, and also to work with other pediatric oncology programs in the area to treat children at the center as well," he said. "The great thing about that is we review every child prospectively, so that when we are making decisions about treatment, it's a team effort." 
It Takes Time
For those organizations interested in developing a proton center, Hartsell cautioned there are specific things to be aware of, including expense. "A lot of expense was involved, including the cost of keeping the center operating," he said of the $130 million facility. While the center currently has a good cash flow to help pay off its debts, Hartsell stated that expense is not always the primary focus in proton therapy.
"You go into proton therapy because of the advantages it will give to your patients. This is not something that is going to make a lot of money for a hospital or a university," he explained. And while the cost may be high, the reward is as well. "What this is going to do is offer a unique, very valuable treatment for patients. As long as that's the goal that you have in mind, then putting in a proton center will work," he said, adding that there are some additional factors that organizations should take into account. "It depends on the number of patients that are treated and the patient mix. If you have a strong pediatric program, it makes a lot of sense."
Finally, Hartsell encouraged organizations to be patient with the process. "It is a long arduous process, but in seeing the results that we get, it is definitely worth it. You just have to be in it for the long run," he said. "This is not something you can decide that 'today we are going to put in protons,' and then tomorrow you have a proton center. It takes multiple years of planning, multiple years of construction and a lot of groundwork to get things going."
SIDEBAR:
Home Away From Home 
Central DuPage Hospital (CDH) in Winfield, Ill., a member of Cadence Health, has a large pediatric population, stemming from its partnership with the Ann & Robert H. Lurie Children's Hospital of Chicago, as well as its newly constructed proton center. "We have about 400 long-stay pediatric patients a year that stay with us at least seven days," said Chris Hensley, president of the Cadence Health Foundation. "And the proton therapy center offers outpatient treatment that is particularly effective for pediatric patients. We treat about 70 pediatric patients a year with proton therapy, and each of those treatment cycles can last between six and eight weeks." These long-stay and proton therapy pediatric patients and their families often travel great distances and incur hotel costs on top of travel and treatment expenses, making CDH a prime location for a Ronald McDonald House where children and their families could have a home away from home during treatment.
The Ronald McDonald House near Cadence Health — CDH Campus will be one of more than 330 houses around the globe; however, it will be the first one not at an academic center. "The goal is to bring families who are facing similar situations — a sick little one — together so that they can serve as kind of a support group for one another," Hensley said. The 19,000-square-foot house will have 12 rooms — four suites with a bedroom and separate living area to accommodate proton therapy patients and their families, and eight regular rooms. The house will also include an executive kitchen where different volunteer organizations will cook lunch and dinner for the families every day of the year. Additional features will include a dining room, a living room with a two-story fireplace, a children's playroom with games and televisions, and a library. The grounds of the facility will be located in a park-like setting with a garden, walking path, and play areas for younger patients and their siblings. While Ronald McDonald Charities does ask for a $10 donation per night, if a family cannot afford it they are allowed to stay at the house, no questions asked. "That comes back to the charitable nature of this endeavor. This is there for patients and their families as a way to help the sickest and smallest among us," Hensley explained.
The house, which will be located exactly 371 steps from the CDH's pediatric wing and just five miles from the proton therapy center, will also have shuttle buses to transport patients to and from the proton center, should families not have a car. "That way they don't have to be saddled with the additional expenses of renting a car for six weeks," said Hensley.
The house will cost about $6.5 million to build — the Cadence Health Foundation has committed to raising $6 million, and Ronald McDonald Charities will raise the additional $1.5 million, which includes $1 million to operate the facility during the first year after construction — and will be completely funded through charitable donations from individuals, corporations and foundations. Fundraising efforts are already fully underway, and the Cadence Health Foundation has raised $5.4 million since its kickoff event in February 2013. "The community has really come together to support this house," Hensley said. "Our auxiliary, the Cadence Health Auxiliary, has committed in excess of a million dollars. We also had a family foundation called the Topfer Family Foundation commit a million dollar gift." CDH employees have also raised $290,000 through a workplace giving campaign. 
Once the house is totally funded and open, it will be operated and staffed by Ronald McDonald House Charities, and guests will be selected mostly on a first-come, first-served basis. "The one stipulation is if you live within 10 miles of the house, you are not able to spend the night," Hensley explained. "You are still able to utilize the house during the day, but if you live within 10 miles, you aren't able to stay the night because the assumption is that you live close enough." 
The groundbreaking ceremony for the house took place March 18, 2014, with construction beginning shortly after. Hensley said that the house should be completely framed before next winter, at which point interior work will begin. The projected opening date is Feb. 14, 2015 — Valentine's Day. 
"We are looking forward to partnering with Ronald to enhance the experience and increase the satisfaction of our patients that are at the proton center and at our hospital," Hensley concluded.