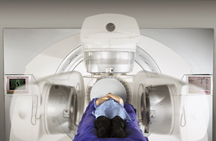 Elektas VMAT system employs volumetric-modulated adaptive technology.
Michael R. Kuettel, M.D., MBA, Ph.D., is professor and chair of Roswell Park Cancer Institute, and current president of the American College of Radiation Oncology (ACRO).
The aim of every radiation oncologist when treating a patient is to deliver radiation dose as accurately as possible. To better hit their mark, clinicians are relying increasingly on imaging to guide them to the target, which in the case of prostate cancer is often a moving target. Accordingly, the role of imaging in this year's NCCN Prostate Cancer Guidelines was a critical component.
Some of the key mandates in the updated NCCN Prostate Cancer Guidelines, which are established by the National Comprehensive Cancer Network (NCCN), include the use of three-dimensional conformal radiation therapy (3D CRT) and intensity-modulated radiation therapy (IMRT) with image-guided radiation therapy (IGRT) for more precise radiation delivery. For daily localization of the prostate, using CT, ultrasound implanted fiducials, electromagnetic targeting/tracking and endorectal balloon use is recommended.
To find out how the treatment guidelines for prostate cancer are taking shape, Imaging Technology News spoke with Michael R. Kuettel, M.D., MBA, Ph.D., professor and chair of Roswell Park Cancer Institute, a National Cancer Institute (NCI) designated comprehensive cancer center and member of the NCCN, and current president of American College of Radiation Oncology (ACRO).
ITN: Has the mandate to use 3D CRT or IMRT for prostate cancer, been widely adopted since it became a suggestion in the guidelines from 2008?
Dr. Kuettel: The 2009 guidelines state that 3D conformal radiation therapy was changed to 3D CRT/IMRT with IGRT.
Furthermore, the accuracy of treatment should be improved by attention to daily prostate localization with techniques such as IGRT, using CT, ultrasound implanted fiducials, electromagnetic targeting/tracking and endorectal balloon.
The purpose of conformal treatment is to deliver higher doses of radiation to the prostate and reduce side effects by reducing dose to the normal surrounding tissue.
The doses that the guidelines specify is 70–79 Gy for patients with low risk, but 75-80 Gy for patients with intermediate to high risk. When delivering a higher dose of radiation, these newer techniques allow improvement in focusing the radiation specifically to where you want to deliver it. Image-guidance localizes the prostate prior to treatment so that you are actually modifying the field, based on where the prostate is, prior to treatment.
ITN: Are clinicians effectively meeting the guidelines calling for the use of IGRT for more precise radiation delivery?
Dr. Kuettel: It varies. Certain centers do have the latest equipment and may be following the guidelines based on technical criteria, but could fall short on following the specific recommendations. Guidelines, however, are just guidelines.
To vary from them, however, would require some sort of justification. Current treatment options for prostate patients can be quite expensive, including robotically assisted surgical suites and linear accelerators. For instance, a new linear accelerator with all the bells and whistles can easily cost $3 million or more.
ITN: Volumetric-modulated adaptive therapy is a technology designed to enhance the performance of linear accelerators. Does this improve the accuracy and allow for a higher delivery of dose?
Dr. Kuettel: It doesn't allow for higher dose delivery. Rather, volumetric modulated adaptive therapy allows for treatment delivery during an entire full rotation of the gantry, delivering radiation 360 degrees. The other IMRT techniques deliver radiation from multiple angles. There are pluses and minuses to each, and one must review all plans prior to deciding on the best technique.
At present, the time limiting step is optimizing the best plan. This means working together with the medical dosimetrist and physicist constructing computerized treatment plans and reviewing all options. With newer treatment techniques and equipment, the time on the linear accelerator with "beam on" may be shortened (rotation arc versus multiple angles may take a little less time to deliver the dose), but the total time from the patient entering the room, setting them up, ensuring they are correctly on their marks, checking through one of the IGRT techniques to visualize where the
prostate is, that really takes quite a bit of time. The actual beam on delivery, whether or not it is a little shorter using one technique over another, overall is not the major factor.
ITN: How are treatment plans changing as a result of the guidelines to calculate estimates of a patient's life expectancy as part of their overall risk?
Dr. Kuettel: Yes, expected patient survival is one of the keys for determining initial therapy for patients.
If you review the guidelines, we do look at expected patient survival, and what we reference to that is the Social Security administrative tables for life expectancy.
If you are in the top quartile or lower quartile for health, you either add or subtract 50 percent to that number respectively. Life expectancy is important to know in that it assists us with initial therapy options – especially when initial therapy can be active surveillance versus treatment (radiation or surgery).
If the patient has clinically localized disease with all favorable risk factors (low PSA, stage and Gleason score) and life expectancy is less than 10 years, an option would be for active surveillance alone. In order to calculate what the patient's expected survival is, we rely on the readily available Social Security tables.
Reference:
The NCCN Clinical Practice Guidelines in Oncology – the recognized standard for clinical policy in oncology — are the most comprehensive and most frequently updated clinical practice guidelines available in any area of medicine.
Covering 97 percent of all patients with cancer and updated on a continual basis, the NCCN guidelines are developed through an explicit review of the evidence integrated with expert medical judgment by multidisciplinary panels from NCCN Member Institutions.
Treatment recommendations are specific and are implemented through performance measurements.
NCCN Guidelines Panels address cancer detection, prevention and risk reduction, workup and diagnosis, treatment and supportive care.
When the NCCN released new guidelines this year for the treatment of prostate cancer, the emphasis was placed on delivering radiation dose with greater accuracy.
For more information, the complete library of NCCN Clinical Practice Guidelines in Oncology is available free of charge at www.nccn.org.