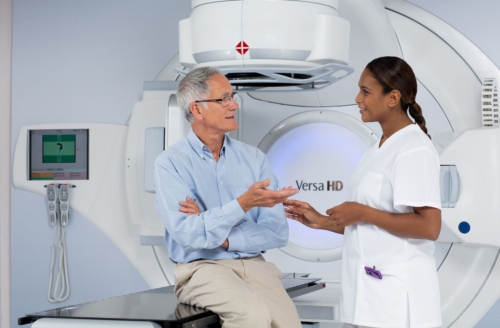 July 16, 2013 — The U.S. radiation therapy market appears to be rebounding after a major decline in 2009, with radiation oncology centers budgeting more money for capital equipment purchases this year compared to four years ago, according to a new study published by IMV Medical Information Division.
The average capital equipment budget per site for 2013 is 30 percent higher than the average 2009 budget, according to IMV's 2012/13 Radiation Therapy Market Summary Report. The report also found that patient volume has been relatively stable over the years. "The estimated number of courses of treatment — a measure that corresponds to patient volume — was at a level of 965,620 in 2012," observed Lorna Young, senior director, market research at IMV. "This level of patient volume has been relatively stable over the past decade, increasing at an average annual rate of less than 1 percent."
While the numbers of patients have been relatively consistent, improvements in radiation therapy technologies are continuing to drive capital purchases. IMV reports that managers of radiation oncology centers are budgeting for new equipment purchases that incorporate treatment technologies such as image-guided radiation therapy (IGRT), stereotactic body radiation therapy (SBRT) and rotational arc therapy, which help to deliver safe and effective radiation treatments to patients.
The research indicates that more than one-third (38 percent) of the radiation therapy sites in the survey are planning to purchase external-beam radiation therapy (EBRT) units as replacement or additional units over the next three years, including linear accelerators, CyberKnife, Gamma Knife, TomoTherapy and proton therapy units.
Nearly half (45 percent) of radiation therapy sites are planning to acquire or upgrade their oncology information systems (OIS) over the next three years, with 80 percent of the planned implementations and upgrades of systems incorporating electronic medical record (EMR) data.
"Additional drivers for purchasing activity by radiation therapy facilities are to increase the IT [information technology] capabilities of information systems and to incorporate imaging into all phases of the radiation therapy workflow, with the goal of improving the accuracy of radiation therapy treatments," Young said. "As a result, we are seeing that the proportion of radiation therapy sites budgeting capital budgets of $2.0 million or more is expected to grow, from 13 percent in 2012 to 24 percent in 2014."
The report describes trends in the adoption of therapeutic techniques, equipment and radioactive agents. Equipment types covered include external-beam therapy units, simulators [including computed tomography (CT), positron emission tomography/computed tomography (PET/CT), magnetic resonance imaging (MR) and X-ray simulators], treatment planning systems, IGRT, record and verify/OIS, and brachytherapy equipment. Other technologies covered include intensity-modulated radiation therapy (IMRT), inverse planning, rotational arc therapy, stereotactic radiosurgery (SRS) and prostate seed therapy. Equipment and software vendors covered in the study include Accuray, Brainlab, Elekta, GE Healthcare, Philips Healthcare, Siemens Healthcare, Toshiba America Medical Systems and Varian Medical Systems.
For more information: www.imvinfo.com