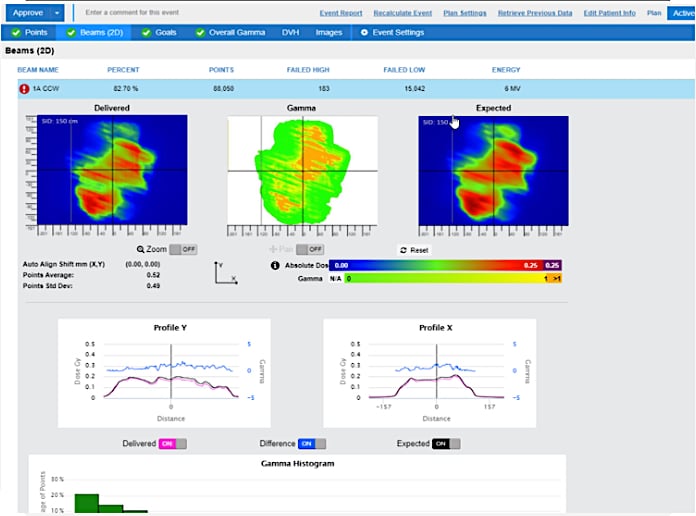 Sun Nuclear's SunCHECK Patient QA uses calibrated EPID data to enable true dosimetric in-vivo monitoring, creating a fully independent absolute dosimetric QA of patient treatments.
To maintain safety in radiation therapy (RT), every machine performance and patient delivery measurement must be as accurate as possible. For the Medical Physics department, Patient Quality Assurance (QA) begins with treatment planning, and continues through pre-treatment delivery and in-vivo monitoring. Likewise, the Medical Physics department is also responsible for Machine QA, including daily, monthly and annual QA testing, as well as imaging, VMAT and MLC QA. Put together, all these steps ensure treatments are being delivered safely and as intended to the patient. Recently, we surveyed companies that offer QA software platforms to learn about the different offerings available. See the Radiation Therapy Quality Assurance Platforms Comparison Chart to understand how they stack up. 
Given the comprehensive QA workflow just described, automation and integration are of key importance for QA. There is a movement toward embedding QA within the radiation therapy delivery systems, or providing it as an integrated aspect of what a delivery system provider sells to the customer. This sometimes includes a partnership with a third-party QA solutions vendor. Third-party vendors provide risk mitigation to hospitals and cancer centers, as an independent QA measurement resource, rather than putting all trust into a single vendor that built the treatment system.  
"The reason why independent checks are important is firstly because it avoids bias error, both in design and, very importantly, in risk assessment," said Jeffrey Kapatoes, Ph.D., senior director of research and regulatory for Sun Nuclear, in a Physics World webinar titled Independent QA and the Necessity of Data Access. "QA that is not independent is a self-check, and self-checking is inherently biased."
As RT systems become more complex, Kapatoes reinforces that the likelihood of testing and verifying every configuration and option scenario as part of a self-check becomes more remote. 
These points are part of the reason why current guidelines from the American College of Radiology (ACR) and the American Society of Radiation Oncology (ASTRO) recommend independent verification.[1,2,3,4] All of these recommend irradiating a mass of material similar to human tissue, or a phantom, prior to the start of treatment as an independent verification of beam delivery as planned.
At the same time, Medical Physics teams must work efficiently for the operational continuity of their facility(ies). The focus of newer generation QA solutions is standardizing and centralizing workflows. These systems also offer additional efficiencies to increase functionality and offer independent oversights of diverse radiation therapy treatment delivery systems.
Integration of Independent QA In Radiation Oncology IT Platforms 
Sun Nuclear is a leading independent provider of QA solutions, delivering patient safety solutions for radiation therapy and diagnostic imaging centers globally. The company advocates for independence in QA as a necessity for ensuring patient safety. This independence depends on separating the therapy system from the verification process to ensure that the system is meeting safety parameters and delivering the treatment as intended. This separation provides unbiased assurance that issues will be caught while allowing for simplification, standardization and automation of workflow.
To support these needs, the company provides SunCHECK, which is an integrated, independent patient and machine QA software platform, with the added benefit of direct QA device connectivity and control. It integrates with virtually every combination of oncology information system (OIS), treatment planning system (TPS), linac and clinical implementation to provide Medical Physics teams standardization and workflow efficiency. Independent QA available through SunCHECK removes bias, assuring more treatment and machine issues will be caught. It integrates patient and machine QA into one solution, securely accessed from anywhere, for centralized data management and a convenient overview of the quality management program. The system's automation helps cut the time consumed by manual tasks and eliminates the need for multiple applications. It also offers browser-based visibility to insights necessary for RT departments to run smoothly, regardless of their location.
SunCHECK leverages the EPID panel for enhanced risk management. It can verify and track dose throughout the treatment course to catch the most common types of errors, including patient setup errors, anatomy changes and machine errors. For Machine QA, SunCHECK integrates these tasks into a convenient, template-driven database, in the same system as the user's Patient QA.
More than 1,000 users worldwide have chosen SunCHECK for their Quality Management programs. At the ESTRO 2021 Congress in August, members of Sun Nuclear's SunCHECK Platform Customer Advisory Board presented key findings from multi-year use of SunCHECK. A main interest among the SunCHECK Customer Advisory Board is implementing in-vivo dosimetry with SunCHECK software to efficiently uncover errors during the radiation therapy treatment course.
At GZA Ziekenhuizen – Iridium Kankernetwerk, Belgium, Evy Bossuyt, M.S., was instrumental in implementing in-vivo dosimetry with SunCHECK Patient, and using the insights to catch and correct errors for improved treatment protocols. She offered an analysis of 7,000 patients from 2019 and 2020 and showed a year-over-year decrease in overall failed treatment fractions. She illustrated how data-driven insights from the SunCHECK software informed corrective actions taken to achieve these quality improvements.
Greg Martin, M.Sc., of Clatterbridge Cancer Centre, England, presented on his department's experience with SunCHECK Machine for automated daily, monthly and annual QA. His study looked at the five-year experience with SunCHECK Machine. This included initial viability, sensitivity testing, commissioning, long-term use and significant time-savings realized across nine linear accelerators per system, per year.
To learn more about SunCHECK's capabilities, check out the QA Comparison chart, or visit sunnuclear.com/suncheck for technical details and more user stories.
Other QA Solutions
An up-and-coming company in the RT and QA space is Radformation. The company was founded in 2016 by three medical physicists who left their jobs working as medical physicists in a cancer clinic.
"The increased complexity of radiation cancer treatments has led to an increase in the number of ways for clinicians to make mistakes in the cancer clinic as well as an increase in the amount of time it takes to create a patient treatment plan," said Kurt Sysock, co-founder and CEO of Radformation who previously worked at Memorial Sloan Kettering Cancer Center in New York City. "Radformation's FDA 510(k) cleared software allows clinics to catch errors quickly at the source and automate generation of high-quality treatment plans much faster than today's current manual methods."
ClearCheck, an automated plan check and documentation software, ensures high quality treatment plans and helps clinics save time with in-depth plan checks, quick plan comparison and instant documentation. It performs a variety of constraint checks, including 19 different dose constraint types. It also performs seven types of structure checks, and conforms to departmental standards to identify deviations in patient treatment plans with more than 80 plan checks, including the option to create custom plan checks. Prescription checks also quickly verify that treatment plans match the prescribed treatment.
ClearCalc is an independent calculation software, and efficiently validates plan accuracy for radiation therapy, including photon, brachytherapy and electron therapy. It offers independent plan calculations that can be time-consuming and an error-prone process as radiation oncology grows in complexity. Eclipse users save time with direct plan import — eliminating the need to import/export plan data — and those without Eclipse can export DICOM files with the standalone option.
LAP's RadCalc QA verification software has more than 2,300 installations worldwide. RadCalc is an advanced platform for independent and unbiased patient QA. LAP, a supplier of systems that increase quality and efficiency, said it seamlessly integrates into existing workflows, helping to increase efficiency and safety. Comprehensive documentation and plan analysis tools offer the features medical physicists need. The algorithms offer manufacturer independent calculations.
It provides collapsed cone convolution superposition and Monte Carlo-based algorithm modules that deliver fast, easy and accurate 3-D dose volume verification for most commonly used treatment planning systems. It supports MR-linacs, tomotherapy, cobalt 60 systems, linacs, CyberKnife, Halcyon, Ethos, Gamma Knife and brachytherapy.
The RadCalc software includes comprehensive institution and physics data setup, import of radiation therapy plans, automated dosimetric calculations, and export to record and verify systems.
Radiation Therapy Quality Assurance Platforms Comparison Chart
References:
1. ASTRO Model Policy for IMRT (2019). https://www.astro.org/ASTRO/media/ASTRO/Daily%20Practice/PDFs/IMRTMP.pdf
2. ASTRO Model Policy for SBRT (2020). https://www.astro.org/ASTRO/media/ASTRO/Daily%20Practice/PDFs/ASTROSBRTModelPolicy.pdf
3. ACR Practice Parameter for IMRT (2016). https://www.acr.org/-/media/ACR/Files/Practice-Parameters/imrt-ro.pdf
4. ACR Practice Parameter for SRS (2014). https://www.acr.org/-/media/ACR/Files/Practice-Parameters/stereobrain.pdf.
---
If you enjoy this content, please share it with a colleague