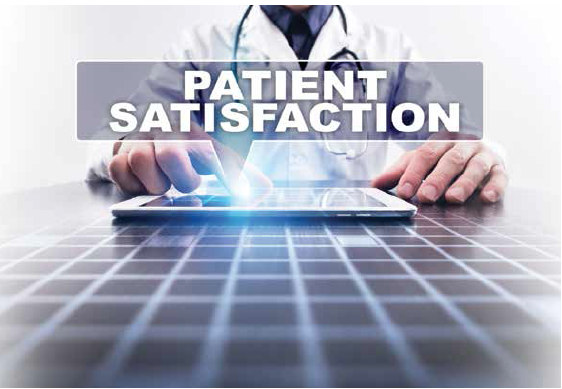 While patient welfare has always been the guiding principle of the healthcare system, patient satisfaction has only become a priority recently. Reform efforts of the last several years have focused on fixing aspects of the system that have been headaches for patients — namely high costs and care process inefficiencies. As the healthcare system continues to change, the importance of patient satisfaction will continue being a guiding metric for progress — a reality that could have a major impact on healthcare providers.
Those at the leading edge of change have stressed the importance of practicing patient-centered care. What this means and how it is done are driving discussions, including during the 2016 annual meeting of the Radiological Society of North America (RSNA) last November in Chicago. Several presenters there addressed why patient satisfaction is important, how the system is changing to accommodate it and what it means for the future of radiology. 
Why Patient Satisfaction is Important
At first thought, one might believe patient satisfaction and patient welfare are interchangeable concepts, as improved health is the primary reason patients seek out medical care. The reality, however, is that patient health is just one part of a larger picture. Practicing patient-centered care and prioritizing patient satisfaction requires providers to look beyond health outcomes and other clinical benchmarks to the overall patient experience. 
"Imagine you don't know anything about healthcare; how would you want to interact with the healthcare system? Would you want to be 50th in a queue at the on-call center to schedule a radiology test?" said Ella Kazerooni, M.D., professor of radiology, associate chair for clinical affairs and director of cardiothoracic radiology, University of Michigan Health System, to an audience of healthcare professionals at RSNA 2016. 
This traditional radiology experience (dubbed "Radiology 1.0" by Kazerooni), from scheduling an exam all the way through to results communication and billing, has placed little emphasis on patient involvement, with patients being shepherded from one place to the next with little to no explanation. This has slowly given way to what Kazerooni calls "Radiology 2.0," where more patients are coming into the radiology department via referrals from other physicians. Patient portals emerged in this era, allowing online scheduling of appointments, and viewing of imaging and lab results. 
Through both phases of the radiology experience there have been various metrics to measure performance and guide improvement efforts. Kazerooni pointed out, however, that the majority of these metrics have focused on clinical quality. 
"We've always thought quality was a CT with the lowest radiation exposure for the question being asked, or the fastest report turnaround time and access to a test this afternoon," she said. "But in the value world, you see that quality as perceived by the patient includes a lot of the patient experience. This disconnect is very real." 
Financial Incentives for Quality
Bridging this divide has been one of the driving forces in the transformation of the healthcare industry the last several years from a volume-based culture to a value-based one. Perhaps the most significant legislation in this arena has been the Medicare Access and CHIP Reauthorization Act of 2015 (MACRA), which will provide financial incentive for hospitals and healthcare providers to practice quality and value in medicine. 
Under the guidelines of MACRA, the Centers for Medicare and Medicaid Services (CMS) announced in 2016 it would be creating a Quality Payment Program to develop new incentives to focus on quality care and patient satisfaction. One of the primary mechanisms of the program will be the Merit-Based Incentive Payment System (MIPS), which will provide financial incentives for Medicare physicians based on four performance categories: Quality, Advancing Care Information, Clinical Practice Improvement Activities and Cost. There will be an option for physicians to include patient experience data in their annual reporting for additional incentive pay. While MIPS reimbursements are not scheduled to begin until 2019, performance evaluation under the new criteria does begin this year. 
Reaching Radiology 3.0
With MACRA, MIPS and other changes yet unknown in the future, radiology is poised to enter yet another phase, which Kazerooni calls Radiology 3.0. This next evolution will center on the healthcare "team," on which patients will play an integral role. "People demand a lot and radiology costs a lot, so we need to reassociate with our patient base," she said. 
To establish a philosophy of patient- and family-centered care, Kazerooni told the audience there are four core concepts that must be practiced: 
•    Respect and dignity;
•    Information sharing;
•    Participation; and
•    Collaboration. 
Most importantly, these tenets must be integrated throughout all parts of the patient experience. For example, if a department wants to optimize its CT operations, the project team should start by speaking to the patient check-in desk and ask questions about those procedures — i.e., are the exam request processes easy to access, understand and navigate? Do the people working the call center have good customer service skills? 
Kazerooni emphasized that it is important to collect data — be it through surveys, patient satisfaction scores or other metrics — throughout the process. Then, as changes are implemented, the same metrics should be used to remeasure the effects of the changes. 
Remembering the difference between professionally centered metrics and patient-centered metrics is key. For example, a provider may believe that if a patient needs multiple tests, it would be best to schedule them all in one day so the patient does not have to come back multiple times. This type of schedule can be exhausting for patients, though, and they may actually prefer to come back and do one test at a time. 
Five Keys to Quality Improvement Success
While the idea of a quality improvement project as described may be exciting, it is important for the project team and its leaders to come in with a solid plan, said David B. Larson, M.D., MBA, associate professor of radiology and associate chair of performance improvement, Department of Radiology, at Stanford University School of Medicine. "If you've made no preparations and you just start into it, you're probably going to fail," Larson told his RSNA audience, "and that's OK. You can learn from that failure and move on." 
To minimize the chances of failure, however, Larson noted that every successful quality improvement (QI) project considers five factors: 
1. Leadership: In order for change to fully set in, the team must understand the leadership hierarchy of their organization to know who is best suited to help facilitate the change(s). The leader's role is not to solve the problem, Larson stressed, but rather enable their team to solve the problem. 
2. Method: Knowing how the team is going to approach the project is critical to ensure everyone is on the same page. While those with a healthcare/science background may be more familiar with the scientific method (centered on answering a question), Larson said QI projects are more suited to an engineering-design approach (centered on solving a problem). "You should be developing solutions to a problem and refining them as you go," he told the audience. 
3. Resources: The project team must have a strong knowledge of all of the resources at their disposal before they begin, or they will be unable to overcome obstacles along the way. Larson gave the example of calling a team meeting, but attendance is sparse because people are unable to break away from their other work. "Ask leadership up front, 'What resources are we going to have available to us?' and 'If we need more personnel/equipment/other resources along the way, are you willing to make that commitment?' " he said. 
4. Culture: Every organization has its own unique culture — the way people interact, what informal procedures are in place and who talks to whom. "You have to ask yourself: Who will be impacted by the change and is everyone who will be impacted included in the process?" Larson said. 
5. Execution: Ultimately, the project team must have the ability, desire and perseverance to execute the improvement plan. The key, according to Larson, is choosing the projects and project roles wisely. 
The Future of Quality in Radiology
As healthcare reform continues forward in the future, providers must ask themselves, "How can we think more like patients, what information will they want to know, and what measures can we use?" said James Duncan, M.D, Ph.D., professor of radiology in the Division of Interventional Radiology at Washington University School of Medicine in St. Louis. Duncan wrapped up the RSNA session by considering these questions and offering two predictions:
1. Patients will want "more" and "better" from all aspects of healthcare. Maintaining patient satisfaction, in Duncan's mind, will require more predictable processes and outcomes throughout the healthcare system — as well as more transparency on pricing and expertise. The ultimate goal, he said, should be better integration across the system and care better tailored to individual patient needs. 
2. Providers will be working with more data. In order to provide the level of care patients will expect, Duncan warned providers will need to rely on traditional sources — speaking with and observing patients — as well as newer ones like patient monitors and patient-entered data. "Other industries have figured out how to get around it and maybe we should too," Duncan said of allowing patients to contribute their own information.
The ultimate goal will be to use all of this data and information to reduce uncertainty in the process of patient care. Duncan said patients are more aware of how much data is collected but that they are often frustrated with how it does not seem to be used. By prioritizing patient satisfaction throughout their entire experience, providers can begin to build the relationships that will be key to successful outcomes moving forward. 
---
If you enjoy this content, please share it with a colleague