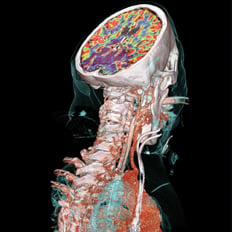 August 27, 2012 — The growth rate of positron emission tomography (PET) and PET/computed tomography (CT) medical imaging scans in the United States began to slow in 2011, with an estimated 1.85 million clinical PET patient exams performed in 2011, down from a double-digit growth rate reported in previous years, according to a new market research report by IMV Medical Information Division.
"The estimated 1.85 million clinical PET patient studies performed in 2011 represent a 6 percent increase over IMV's estimate of 1.74 million patient studies performed in 2010," observed Lorna Young, senior director, market research at IMV. "This represents a continued slowing in the annual growth rate for PET patient studies."
The current numbers compare to annual growth from 2008 to 2010 of about 7 percent, and to annual growth between 2005 and 2008 of 10 percent. Young noted that in 2011, most of the growth was from an increase in the number of sites providing PET services; the average procedure increase per site was only 0.6 percent when compared to 2010. These PET studies were performed in 2,210 hospital and nonhospital sites, using fixed or mobile PET/CT or PET scanners.
Oncology continues to drive the use of PET imaging procedures, as hospitals open cancer treatment centers and install PET/CT scanners to support their oncology services. The study found that about 94 percent of all PET studies in 2012 were for cancer, distributed between diagnosis (19 percent), staging (38 percent), treatment planning (13 percent) and followup (30 percent). Neurology and cardiology applications make up the remaining 6 percent of procedures, divided evenly between the two.
Used for 96 percent of all PET procedures in 2011, fluorine-18 fluorodeoxyglucose (FDG) is still the mainstay of PET imaging. Rubidium-82, the next most frequently used radiopharmaceutical, was used for about 2 percent of all procedures, as problems with the supply of the radiopharmaceutical continued to limit its use for cardiac perfusion studies.
The report describes trends in PET and PET/CT patient exams by procedure type, PET and PET/CT installed base by manufacturer and year of installation, planned purchases and market scenarios for unit scanner sales through 2016, radiopharmaceutical utilization and expenditures by supplier, and site operations characteristics.
Other report highlights include:
• 44 percent of all PET imaging studies were performed using a mobile PET or mobile PET/CT scanner.
• 14 percent of all PET and PET/CT users plan on purchasing a new system in the next three years.
• 95 percent of PET patient studies used radiopharmaceuticals purchased from an outside supplier, and 5 percent were obtained from cyclotrons on site.
• The top four cancer types imaged with PET are respiratory, lymphoma, breast and colorectal.
• The five states with the highest PET patient study volume are California, Florida, New York, Texas and Pennsylvania.
IMV's 2012 PET & PET/CT Census Database provides comprehensive profiles of the identified PET imaging sites in the United States. The database can be licensed by qualified subscribers and includes contact and site-specific information. IMV's 2012 PET Imaging Market Summary Report is available with the database license or as a separate purchase.
For more information, visit http://PETReport.imvinfo.com
 
---
If you enjoy this content, please share it with a colleague