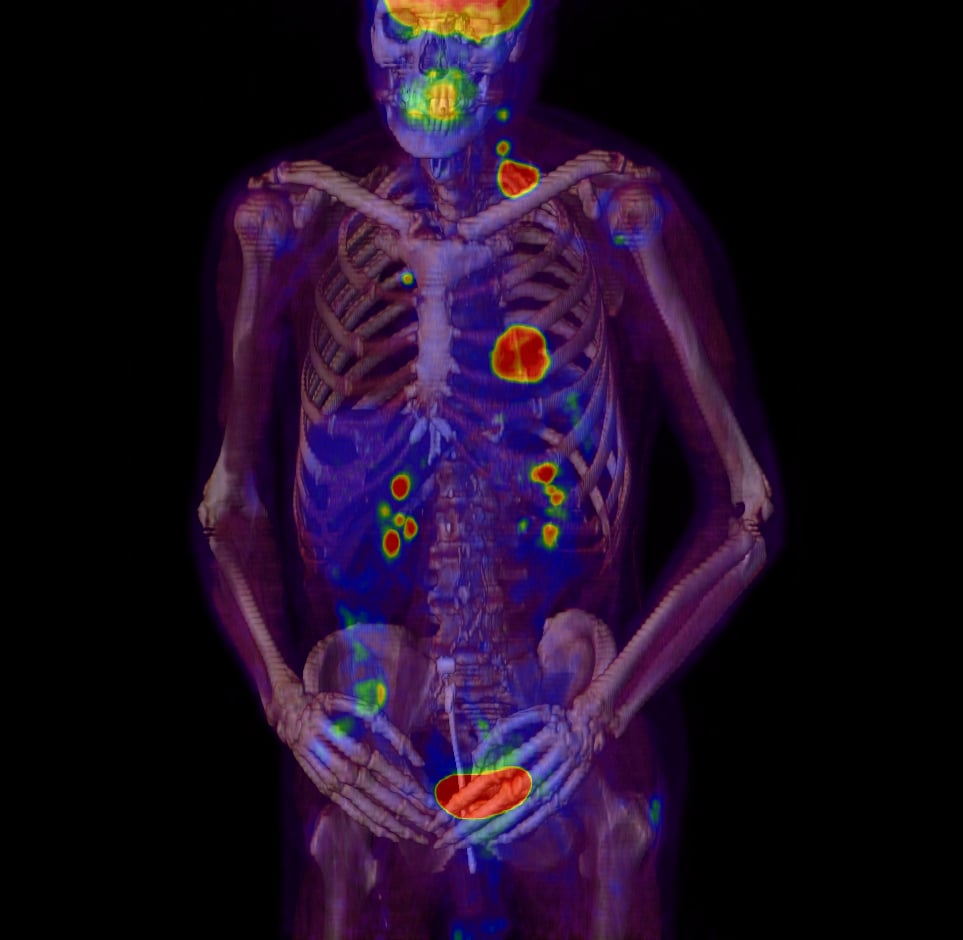 This PET/CT shows metastasis of tumors, taken with the Philips TruFlight Select.
Technological and scientific advances in radiation oncology are allowing practitioners to put patients first in profound new ways. So exciting are these advances that the American Society for Radiation Oncology (ASTRO) themed its 2017 annual meeting, Sept. 24-27 in San Diego, "The Healing Art and Science of Radiation Oncology," and centered the meeting on discussions about value-based care and patient perspectives. In a conversation with Imaging Technology News, David Beyer, M.D., then chair of ASTRO's board of directors, identified the three biggest thought trends in radiation oncology right now, as well as what ASTRO is doing to increase the value of radiation oncology for patients and bring the practice to the forefront of the cancer treatment field.
Rethinking Treatment Time
When thinking about what is truly best for patients and how they can get the most out of treatments, it is worth considering how much radiation they actually need. Why give a patient more treatment, and for longer, when the same or better results could be achieved with hypofractionated therapy?
In the aftermath of the START A and B trial results published in 2013, which found that dose fractionation had no deleterious effect on chemotherapy or cardiac mortality, many practitioners are choosing hypofractionation, particularly for patients receiving whole breast irradiation. This is a reversal of the recommendations ASTRO released in 2011, which the chair of ASTRO's Clinical Affairs and Quality Committee, Benjamin Smith, M.D., now calls well-intentioned, but conservative.
"Two to three extra weeks of radiation may be very problematic to a patient — in terms of lost work, lost wages, lost time in caregiving roles and higher healthcare spending," Smith wrote in an Oct. 2017 ASTRO blog post on hypofractionation.[1] "In addition … patients treated with conventional fractionation suffer a higher burden of acute toxicity, and they still have more fatigue six months post-radiation than patients treated with hypofractionation. These findings strongly underscore the relative harm of conventional fractionation relative to hypofractionation."
A study presented at ASTRO 2017, "Hypofractionated Radiation Therapy After Mastectomy for the Treatment of High-Risk Breast Cancer: Five-Year Follow-Up Results of a Randomized Trial,"[2] showed that radiation therapy following mastectomy in intermediate-stage, high-risk breast cancer can be shortened by as much as three to five weeks while still maintaining tumor control rates.
"Some of our long-held beliefs, they're not right, and we need to abandon them," Beyer said.
Rethinking traditional treatment plans does not always mean less is more, however. A paper presented at ASTRO 2017, "Analysis of Outcomes Using External Beam Radiotherapy Plus High Dose Rate Brachytherapy (4 x 7 Gy or 2 x 9 Gy) for Cervix Cancer in a Multi-institution Trial,"[3] showed that in treating immediate-stage cervical cancer, four fractions of 7 Gray (Gy) brachytherapy was significantly more effective at tumor control than two 9-Gy fractions of high-dose-rate (HDR) brachytherapy.
"There are certain things you can't do without," Beyer said. "It may be harder to do, may take more effort, may take more cost, but it's more value if it actually cures more patients."
Treating Metastasis
Treating metastasized cancer is another source of inspiration for radiation oncologists right now, with new research showing that patients with as many as five or six sites can respond positively to treatment.
A study on radiotherapy for non-small cell lung cancer (NSCLC), "Consolidative Radiotherapy for Limited Metastatic Non-Small Cell Lung Cancer (NSCLC): A Randomized Phase II Trial,"[4] shows that treatment failure rates tended to increase in patients with six or more metastasis sites, and those with five or fewer saw greater success.
Beyer said some patients with significant metastasis would have previously been considered incurable and untreatable, but that is all starting to change. "Maybe there is some value in treating these," he said. "Maybe we don't cure these patients. Maybe they just live longer — but just living longer, again, speaks to the issue of providing value. I think that is a very valuable thing."
Combining Immunotherapy and Radiation
As important as these other advances are, however, immunotherapy might be the way of the future. Beyer said the conversations taking place today about combining immunotherapy with radiation therapy remind him of the 1990s, when people were first talking of combining chemotherapy and radiation. Now, it is a basic part of cancer treatment.
"We don't know where that's going to end up, but I know it's going to play a role in the future," Beyer said.
Another new study presented at ASTRO 2017[5] found that combining radiation therapy with immunotherapy can stimulate the body's immune system to attack the cancer, thereby halting tumor growth. Between 30 and 60 percent of the patients found their cancer stopped spreading, despite having end-stage cancer that had spread to the lungs or liver.
"This combination of immunotherapy and radiation therapy was safe and well-tolerated by patients with late-stage cancers. We were surprised that a large percentage of patients achieved stable disease several months after treatment — meaning that while their tumors didn't shrink, they did stop growing," said James Welsh, M.D., lead author of the study and an associate professor of radiation oncology at The University of Texas MD Anderson Cancer Center in Houston.
Additionally, immunotherapy and genomics can now allow practitioners to identify how well a patient may respond to radiation therapy. A study, "Novel Associations Between the Immune Landscape of Prostate Cancer and Post-operative Radiation Response,"[6] found that examining the body's immune response to prostate tumors can indicate not only the patient's potential response to radiation therapy, but also the likelihood of disease recurrence and survival outcomes.
"We're talking about identifying those patients who do need radiation or don't need radiation based on genomic markers, so that personalized medicine is becoming a part of the radiation oncologist toolkit," Beyer said. "This is really very exciting for us."
What Is The Million Gray Question?
As part of ASTRO's mission to advance the field of radiation oncology and promote excellence in patient care, the organization asked meeting attendees to answer "The Million Gray Question," defined as the most important research question that must be answered in the next three to five years.
Not surprisingly, the answers reflected the advances Beyer identified as being most exciting in the field, with the most frequently submitted theme being, "How do we best integrate immunotherapy with radiotherapy?"[7] Following that were research questions about the cost and effectiveness of radiation treatment, treating oligometastatic disease and the role of proton therapy.
To answer these questions, ASTRO announced a new strategic plan just before the annual meeting, and recently debuted its 2018 research agenda. The strategic plan has four main goals:
•    Establish radiation oncology as an equal partner in the cancer field;
•    Retain and foster the intellectual research talent currently entering the field of radiation oncology;
•    Shape the health policy environment to support radiation oncologists' ability to practice medicine to the fullest extent to benefit their patients; and
•    Consistently deliver the highest quality and value care to cancer patients.
Additionally, the research agenda focuses on six key areas, each working toward the overarching goals of curing cancer and maintaining high quality of life for patients:
•    Patient reported outcomes and health services research;
•    Normal tissues and reducing side effects;
•    Imaging and innovative technologies;
•    Genomic influences and targeted therapies;
•    Immunotherapy, tumor microenvironment and combination therapies; and
•    Big data analytics and bioinformatics.
"We want to identify and empower the young faculty, the young researchers and the physician-scientists who are going to take the field forward," Beyer said. "I practice in a community setting, but I can't do what I do without that cutting-edge research."  
Emily Clemons is a Florida State University alumna and current master's candidate at Northwestern University's Medill School of Journalism.
References:
1. https://astroblog.weebly.com/blog/to-hypofractionate-or-not-to-hypofractionate-that-is-the-question. Accessed Jan. 18, 2018.
2. www.astro.org/uploadedFiles/_MAIN_SITE/News_and_Publications/News_and_Media_Center/Press_Kits/2017/Annual_Meeting/Content_Pieces/ASTRO17%20News%20Briefing_Refining%20Treatments.pdf. Accessed Jan. 18, 2018.
3.  www.itnonline.com/content/trial-confirms-effectiveness-high-dose-brachytherapy-pelvic-radiation-cervical-cancer. Accessed Jan. 18, 2018.
4. www.astro.org/uploadedFiles/_MAIN_SITE/News_and_Publications/News_and_Media_Center/Press_Kits/2017/Annual_Meeting/Content_Pieces/ASTRO17%20News%20Briefing_Innovative%20Approaches.pdf. Accessed Jan. 18, 2018.
5.  www.itnonline.com/content/radiation-immunotherapy-combination-can-slow-tumor-growth-some-metastatic-late-stage-cancer. Accessed Jan. 18, 2018.
6. www.astro.org/uploadedFiles/_MAIN_SITE/News_and_Publications/News_and_Media_Center/Press_Kits/2017/Annual_Meeting/Content_Pieces/ASTRO17%20News%20Briefing_Refining%20Treatments.pdf. Accessed Jan. 18, 2018.
7. https://astroblog.weebly.com/blog/astro-members-weigh-in-on-the-million-gray-question-at-astro17. Accessed Jan. 18, 2018.
---
If you enjoy this content, please share it with a colleague