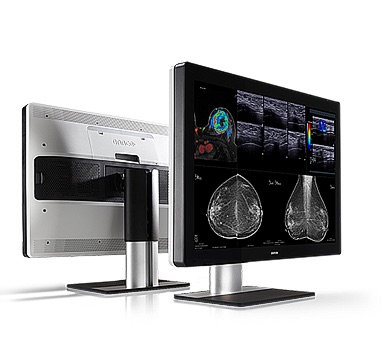 Photo courtesy of Barco
The global flat panel display market is predicted to reach $177.3 million by 2027, according to a new report titled "Flat Panel Display Market: Global Industry Analysis & Opportunity Assessment 2017-2027" from Future Market Insights. The market is anticipated to grow from $115.3 million in 2017 to $177.3 million by 2027, expanding at a compound annual growth rate (CAGR) of 4.4 percent in terms of revenue during the forecast period. According to the report, the increasing demand for higher resolution and larger display for mobile phones is boosting revenue growth of the global flat panel display market.
Although the market shows signs of maturing, many new applications are available that help to streamline workflow and enhance productivity for clinicians. Several new state-of-the-art displays were highlighted at the 2017 Radiological Society of North America (RSNA) annual meeting and also at the recent 2018 Healthcare Information and Management Systems Society (HIMSS) conference.
LED Backlit Displays
Double Black Imaging and its Image Systems Division released the Gemini Series 6 MP and 8 MP large format LED backlit flat panel display solutions at RSNA 2017. The Gemini Series Color LED backlit displays double the resolution and eliminate the gap between screens in a multi-head display configuration. Allowing the eye to seamlessly glide between images uninterrupted increases efficiency and improves productivity. The Gemini Series of displays comes complete with advanced auto-calibration technology, and enables multimodality imaging from a single display, including breast imaging (mammography and tomosynthesis) on the 8 MP. The large wide-screen displays are equipped with built-in front sensors for hands-free automatic DICOM 3.14 calibration, backlight sensors to maintain stability over time, ambient light sensors, CFS calibration software for remote calibration, conformance, report generation and non-conformance alerts via the web.
5-megapixel Color Medical Monitor
Also at RSNA 2017, Eizo Corp. displayed the RadiForce RX560, which received U.S. Food and Drug Administration (FDA) 510(k) clearance for breast tomosynthesis and digital mammography for its 5-megapixel color medical monitor in November.
Breast cancer screenings increasingly combine the use of mammography and ultrasound to view patients with high breast density. If breast cancer is suspected, various other tests may also be needed such as biopsy, breast magnetic resonance imaging (MRI) and computed tomography (CT). Because of this, monitors that can accurately display tomosynthesis, mammography and general radiology are becoming increasingly important.
The RX560 uses a low temperature polysilicon (LTPS) liquid crystal display. Because of this, the color monitor can reach a brightness of up to 1100 cd/m2, similar to that of monochrome monitors. In order to detect the smallest structures within breast tissue, the monitor offers a high contrast ratio of 1,500:1. The monitor has a response time of 12 milliseconds, making it ideal for enlarging and panning medical images, as well as quickly displaying 3-D breast tomosynthesis, which is comprised of several images in each shot. The 5 megapixel (2,048 x 2,560) resolution is ideal for viewing the fine details in breast images.
Mammography Display
Barco showcased its full line of radiology and mammography display systems with online quality assurance (QA) software at HIMSS 2018. Barco's mammography and radiology display systems visualize subtle details, helping radiologists improve detection at the earliest stages of disease. Intuitive workflow tools help enhance reading speed and accuracy, while the MediCal QAWeb online service conveniently automates QA and compliance.
The Coronis Uniti multimodality breast imaging display allows viewing of picture archiving and communication system (PACS) images. Radiologists can view grayscale and precisely calibrated color, and clearly see subtle details to improve clinical decision-making. Complete studies can be conducted without multiple monitor set-ups, boosting workflow efficiency and reducing cost.
The Nio Color 3 MP brings hospital-quality imaging to radiologists' home office desktops. It offers high image quality, helping clinicians discern even the tiniest details, thanks to high brightness (500 cd/m2) and contrast ratio.
CRT Monitor Replacement
In January, Ampronix released its Modalixx G202MDL flat panel display, a new grayscale High Bright medical LCD solution for modality cathode ray tube (CRT) monitor replacement, with the ability to autosync to any legacy grayscale or color analog modality and up-scale it to megapixel resolution. With a complete set of input options, the device is compatible with nearly all medical modality applications. Modalixx G202MDL covers cath lab, MRI, CT, RF rooms, C-arm, and portable X-ray, applications.
The display is capable of accepting any combination of BNC connections, including single to 5 BNC, as well as DVI-D. At any resolution from 525-1,600 horizontal pixels, G202MDL can accept from low line to high line video signals through BNCs or DVI-D inputs.