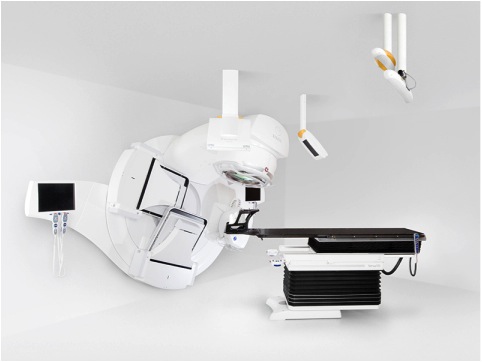 March 24, 2015 — Brainlab announced first patient treatments on a fully integrated radiation oncology solution that combines ExacTrac patient positioning with the delivery precision of the Elekta Versa HD linear accelerator (LINAC). These technologies work in synergy to determine positioning and treatment accuracy for cancer patients.
By streamlining treatment workflow, ExacTrac and Versa HD increase patient positioning efficiency and provide highly accurate solutions for frameless stereotactic radiosurgery (SRS) and stereotactic body radiotherapy treatment (SBRT). The accuracy is further enriched with the ability to detect and manage intra-fractional patient motion during treatment delivery.
The integrated ExacTrac/Versa HD solution is currently in routine clinical use at Ludwig-Maximilian University Hospital in Munich, which is ranked one of the top five medical institutions in Europe and No. 29 worldwide. To date, the hospital has treated 12 patients with a range of indications and has plans to expand their ExacTrac/Versa HD program.
"The LMU Medical Center prides itself on offering advanced technology and finding new ways to optimize our existing infrastructure. Combining these innovative cancer treatment technologies – Brainlab ExacTrac and Elekta Versa HD – allows us to maximize the benefits of both systems for our patients, including intra-fractional verification," said Prof. Claus Belka, medical director of radiotherapy and radiation oncology at LMU Medical Center, Grosshadern and Innenstadt clinics and polyclinics. "The integrated solution allows us to perform SRS and SBRT cases with submillimetric accuracy and the seamless workflow has allowed us to provide comfortable and fast treatment for patients."
ExacTrac and Versa HD enable treatment of conventional as well as complex cancers that require highly accurate targeting precision.
For more information: www.brainlab.com
---
If you enjoy this content, please share it with a colleague