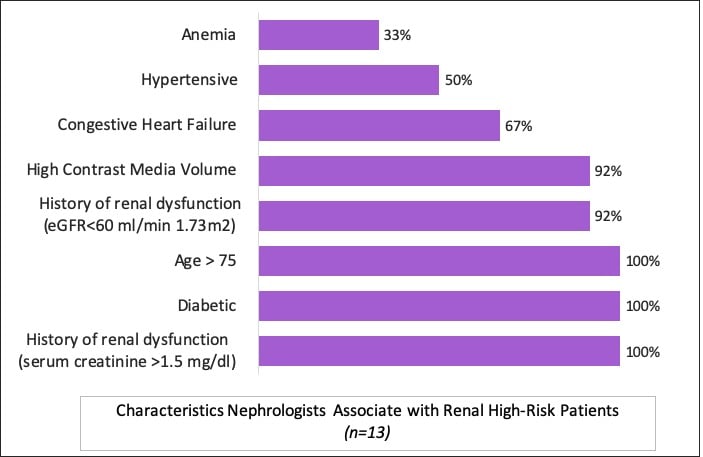 Characteristics nephrologists associate with renal high-risk patients. (n=13)
The global rise in chronic disease has significantly increased demand for diagnostic imaging procedures, and in turn, contrast media to enhance those images. More than 30 million imaging procedures are performed each year in the U.S., and 60 percent of contrast imaging agents sold are iodinated contrast agents.1 Although considered safe for the general population, iodinated contrast agents may place patients at an increased risk for nephrotoxicity, especially those with certain risk factors undergoing cardiac interventional procedures. Renal function impairment due to nephrotoxicity can be temporary or permanent, with potentially life-threatening complications requiring rehospitalization or dialysis — or even resulting in death.
Acute deterioration of renal function shortly after administration of iodinated contrast material is known as contrast-induced acute kidney injury (CI-AKI). It occurs most frequently following coronary angiography, percutaneous coronary intervention and contrast-enhanced computed tomography, especially in patients where advanced age, diabetes or heart failure increases renal injury risk.2 With more than 50 perecent of cardiovascular imaging procedures being performed on patients 65 and older, CI-AKI is an issue with broad visibility.3
Although the Acute Kidney Injury Network (AKIN) has standardized criteria for diagnosis of CI-AKI, there is no consensus on the serum creatinine level or eGFR beyond which a patient's risk should contraindicate contrast media use. Without specific guidelines, management of at-risk patients varies and is driven mostly by clinicians' individual judgment.
Physicians Want A Safer Contrast Media Option
A recent survey of 63 hospital specialists involved in contrast-enhanced angiography was fielded to understand their concerns and decision-making in selecting contrast agents.4 Results were presented at FASEB-AKI in July 2019. As specialists with input or decision-making roles in contrast selection — radiologists, interventional cardiologists, radiopharmacists or nephrologists — all respondents were familiar with current contrast agent options, including iohexol and iodixanol.
The need for safer contrast agents emerged as a common theme.
Ninety-eight percent of survey respondents reported pre-screening prospective patients for elevated renal risk. Nephrologists estimate 23 percent of patients have elevated risk, with associated conditions ranging from anemia and hypertension, to diabetes and history of renal dysfunction.
Fully 90 percent of responding clinicians reported deferring patients from contrast imaging because of renal risk with, on average, 12 percent of all patients being deferred. Not surprisingly, nephrologists defer considerably more patients than do other specialties (18 percent vs. ≈11 percent).
When risk mitigation measures are employed for high risk patients, on average 86 percent of physicians reported using hydration protocols, 82 percent use reduced contrast agent volume/reduced repeat dosing and 72 percent use alternative contrast agents.
Increased safety in general was the most desired improvement for IV contrast agents, followed by reduced cost, and effectiveness.
Renal toxicity reduction, specifically, was identified as the single most important improvement needed with contrast agents.
The Need for Renal Safe Contrast Agents
Iodinated contrast agents are highly water-soluble and carbon-based, with the most common types used today either low-osmolar nonionic monomers (iohexol, iomeprol, iopamidol and others) or iso-osmolar iodixanol. It is thought that the higher the osmolality or particle concentration in the contrast solution, the greater the vascular symptoms of warmth or pain during injection, as well as risk of CI-AKI.5 After completed IV procedures, there may be stasis of contrast within the kidneys, and nephrograms have shown contrast media in the kidneys of CKD and diabetes patients up to eight days after it was administered.6
The primary strategies for reducing this risk for patients are to select less toxic iodinated contrast agents and to use doses as low as reasonably achievable. But in patients with high-risk profiles, there is no absolute safe limit of contrast dosage. In a 2016 study, it was reported there were no adjunctive pharmaceuticals proven effective at preventing or treating CI-AKI.7
The Development of Captisol-enabled Iohexol
With this in mind, a team of scientists at Verrow Pharmaceuticals (acquired by Ligand Pharmaceuticals in January 2018) studied the effects of reformulating iohexol (the most widely used iodinated contrast agent) with Ligand's Captisol, a patent-protected, chemically modified cyclodextrin (sulfobutylether-β-cyclodextrin, or SBECD). Captisol solubilizes insoluble drugs for IV injections and improves stability, bioavailability and dosing of active pharmaceutical ingredients.
Preclinical studies demonstrated that when Captisol is added to iohexol and administered to rodents, significant reductions occur in tubular dilation, vacuolization and loss of brush border.8 Serum creatinine levels in mice were observed to increase after contrast administration and were then mitigated by addition of Captisol. Rats did not show the same increase in serum creatinine, but did show significant functional benefit of Captisol and survival was increased from 50 percent to 88 percent. Iohexol with Captisol showed reduced kidney injury to rodents from contrast doses similar to those used in clinical human settings. The addition of SBECD showed no adverse effects, instead acting protectively and blocking damage to the kidney.
In July 2019, Ligand announced positive top line results from a Phase 1 clinical trial of its Captisol-enabled (CE) iohexol program.9 Based on top line data, the trial achieved the primary endpoint demonstrating pharmacokinetic bioequivalence between CE-Iohexol injection and a reference Iohexol injection (OMNIPAQUE) after IV administration in healthy adults. CE-Iohexol injection was safe and well tolerated, and adverse events were in line with the known safety profile of OMNIPAQUE. Details and data from the Phase 1 trial have been submitted for presentation at future scientific conferences.
With a large potential market and lack of viable alternative options for reducing the risk for CI-AKI, Captisol-enabled iohexol is anticipated to potentially establish a new safety standard in the clinical use of iodinated contrast agents.
About Ligand Pharmaceuticals
Ligand develops or acquires technologies that help pharmaceutical companies discover and develop medicines. The company creates value for stockholders through a diversified portfolio of biotech and pharmaceutical product revenue streams, supported by an efficient and low corporate cost structure. Ligand offers investors an opportunity to participate in the promise of the biotech industry in a profitable business with lower risk than is typical in the industry.
Ligand's business model is based on doing what they do best — drug discovery, early-stage drug development, product reformulation — and partnering with other pharmaceutical companies to leverage what they do best — late-stage development, regulatory management and commercialization. Ligand has established multiple alliances, licenses and other business relationships with the world's leading pharmaceutical companies including Amgen, Merck, Pfizer, Celgene, Gilead, Janssen, Baxter International and Eli Lilly.
References
1. Contrast Agents/Media Global Market – Forecast to 2025 IQ4I Research & Consultancy Pvt. Ltd., 2018
2. McCullough P, J Am College of Cardiology 2016;68:1465-73
3. Weisbord SD, et al. New England Journal of Medicine 2017;378:603-614
4. Survey presented by Ligand Pharmaceuticals at Federation of American Societies for Experimental Biology - Acute Kidney Injury Conference in Pacific Grove, CA, July 2019.  Survey conducted by Giles & Associates Consultancy, Lake Bluff, Illinois, in October 2018.
5. McCullough P.A., Capasso P.  BMC Med Imaging2011;11:12
6. Mehran R., Aymong E.D., Nikolsky E., et al.  J Am Coll Cardiol 2004;44:1393-9
7. McCullough P.A., et al.  J Am Coll Cardiol 2016;68(13):1465-73
8. Rowe ES, et al. Journal of Neuroimaging 2016; 26(5):511-8
9. See: https://investor.ligand.com/press-releases/detail/387/ligand-announces-positive-top-line-results-from-phase-1
---
If you enjoy this content, please share it with a colleague