Medrads Avanta fluid management injection system for the cath lab offers fixed or variable flow contrast and saline delivery on demand, replacing the manual manifold and syringe. The system can help improve workflow and reduce contrast consumption.
Medrads Avanta fluid management injection system for the cath lab offers fixed or variable flow contrast and saline delivery on demand, replacing the manual manifold and syringe. The system can help improve workflow and reduce contrast consumption.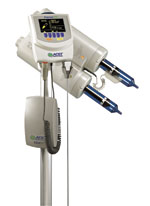 Bracco Diagnostics' Empower CTA injector.
Automated contrast media injectors are used in cardiac imaging to help improve patient safety and enhance image quality. These devices can control contrast dosage, record the amount used, speed injections to keep up with faster computed tomography (CT) scanners, and warn clinicians of potential hazards, such as air embolisms or extravasations. There are some key differences buyers should be aware of between injector systems used for angiography, CT and magnetic resonance imaging (MRI).
Key Differences in Injectors
CT systems use a dual-head injector with two syringes for initial and follow-up contrast doses during imaging. Angiography injectors are single head injectors using one syringe. The second major difference is where the contrast is injected. CT systems all use venous access. Air embolisms are not a major issue because any small bubbles injected into a vein are expelled through the lungs. Angiography systems inject contrast into arteries, where air embolisms can present a serious risk. For that reason, many cath lab injectors have air embolism detectors, warning of bubbles in the line before they reach a patient. CT imaging studies usually require high-flow, high-volume, fixed rate injections delivered with relatively high pressures. However, in the interventional suite, procedures need low, variable flow rate injections. Contrast injector systems used with MRI systems are engineered to prevent electrical interference in the magnetic field. Devices may either use a hydraulic control system or include shielding of its electrical controller.
Injectors Offer Advantages in CT
When contrast injectors were first introduced with CT about 20 years ago, single head angiography injectors from the cath lab were employed, said Carter Newton, M.D., FACC, assistant professor of radiology, assistant clinical professor of cardiology, University of Arizona Health Sciences, Tucson, Ariz. However, dual head injectors specifically designed for CT have since replaced the single head devices. Newton said the double syringes allow a large, fast initial bolus of contrast, and a second syringe filled with a follow-up saline-contrast flush to keep the contrast flowing in the body. "The key advantage is you can optimize the bolus injection into one or more phases," Newton said. In cardiac CT, a quick injection is needed to image both sides of the ventricular septum. He said this helps identify shunts, evaluate septal thickness and enlargement of the right and left ventricles. The contrast delivery is more controlled and efficient when using a dual-head power injector, Newton said. These devices also are required with the extremely quick imaging times now possible with new multidetector CT scanners.
Workflow Improvements
Automated systems allow the operator to enter the injection rate and include features to aid clinicians. Newton said some systems offer extravasation sensors to warn if the injector needle is imbedded in tissue instead of inside the vessel. "It takes out all the uncertainties," he said. Injector control of contrast delivery timing also can be leveraged to optimize imaging. If timed properly, Newton said this could help limit the number of scans necessary due to problems with insufficient contrast delivery. Data management systems are offered for several injector systems. These provide data to measure workflow efficiencies, imaging optimization and patient safety. The systems can integrate preprogrammed multidetector CT protocols. Other features may include intuitive auto initialize, auto fill and auto purge features, air embolism protection, and on-the-fly flow rate manipulation.
Lowering Angio Contrast Dose
Automated contrast injectors were first introduced in the cath lab as a way to conserve contrast media in an effort to save money, Newton said. However, using less contrast has now become an important patient safety issue. There is increasing concern over patient contrast dosage during procedures, particularly in patients with renal impairment. The iodine-based imaging agents used in angiography and CT can cause contrast-induced nephropathy (CIN). Automated contrast injection systems help physicians monitor the dosage used. Some systems also allow physicians to set the precise amount of contrast used during each injection. Manual devices, and some automated systems, do not allow for meticulous control of the flow rate, amount and peak pressure.
About seven years ago the Krannert Institute of Cardiology in Indianapolis converted from manual to power injectors in its cath labs. Since the migration, contrast use in the cath labs dropped about 60 percent. "That was a huge change in our practice," said Jeffrey Breall, M.D., director, cardiac catheterization laboratories and interventional cardiology, Krannert Institute of Cardiology, Indiana University, Clarian Health. "Our number of contrast-induced nephropathy cases dropped significantly. I think it is an expense that is well worth it," he explained. The previous manual injection system required a 6 French diagnostic catheter, but a smaller 4 French catheter is used with the automated injector. Breall said the smaller catheter also helps reduce bleeding issues.
Angiography Injectors
Krannert and Clarian physicians use Acist power contrast injectors, which automatically capture contrast usage information during a procedure. The information is used to generate a report. Breall said the staff is now well accustomed to interacting with the device and individualizing the various controls to optimize the images, while minimizing the contrast. "The one-time up-front cost for the injector system pays for itself in no time," Breall said. The opacification and clarity using the Acist device in combination with 4 French catheters is every bit as good as that seen with 6 French catheters. We have also saved thousands of dollars on closure devices for diagnostic cases." Medrad's Avanta fluid management injection system provides similar functionality in the cath lab. It offers fixed or variable flow contrast and saline delivery on-demand, replacing the manual manifold and syringe. The system can help improve workflow and reduce contrast consumption.
Access to PET/CT Imaging Agents
There is an overall trend toward better patient outcomes when using molecular imaging in diagnostic work up.

In nuclear medicine, physicians have primarily used single photon emission computed tomography/computed tomography (SPECT/CT) for cardiac imaging.

However, doctors are discovering the benefits of using positron emission tomography/computed tomography (PET/CT) for diagnosing cardiovascular disease. Yet, a significant factor hindering the adoption of PET/CT in cardiac imaging has been access to radiopharmaceuticals.
Reimbursement

The Centers for Medicaid and Medicare Services currently reimburses existing agents for myocardial PET/CT imaging. This includes [13N]Ammonia, fluorodeoxyglucose (FDG) and rubidium-82 (82Rb). However, each agent has it's challenges.

With ammonia, the half-life is just 10 minutes, requiring an onsite cyclotron, which is expensive. FDG also requires an onsite cyclotron. Similarly, the rubidium tracer requires a generator, which carries with it a fixed overhead cost of $35,000 to $40,000 per month. To cover this cost, a center must perform between seven and eight exams a day consistently.
Affordable Agent

In an effort to produce an affordable and accessible imaging agent for PET/CT, Lantheus Imaging is developing a fluorine 18-labeled (18F) agent with a two hour half-life.

The novel 18F PET/CT tracer is designed for myocardial perfusion imaging (MPI).

Like FDG, the new agent, called BMS747158, can be manufactured by a regional cyclotron and then shipped to several PET/CT imaging centers.

This eliminates the need for an onsite cyclotron or generator, according to Jamshid Maddahi, M.D., FACC, professor of molecular and medical pharmacology, professor of medicine at UCLA's David Geffen School of Medicine.

The data from a phase I study showed high myocardial uptake at rest that significantly increases with pharmacologically induced stress. The ratio of myocardial to background radioactivity is favorable and improved over time.

These findings suggest BMS747158 has potential to be used as a myocardial perfusion PET/CT agent for patients both at rest and under stress.

"More that 80 percent of the U.S. population is within the range of a regional cyclotron," said Maddahi. "Like technetium, BMS747158 can be shipped to imaging centers as a unit dose. Therefore, you do not need a minimum number of patient studies per day to make the cost of the tracer economical."

In preliminary phase 2 studies, Maddahi and his team found BMS747158 detects more ischemia than technetium SPECT/CT imaging.
Driving Adoption

The increased use of PET/CT for oncology among nuclear medicine physicians will facilitate the transition to 18F PET/CT imaging in the future.

"Centers that have consistent volumes of seven to eight patients a day will start by using rubidium PET/CT for MPI, and then transition to BMS747158," said Maddahi.