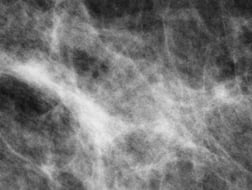 September 24, 2012 — Governor Jerry Brown has signed a bill to improve breast cancer detection in women with dense breast tissue. Senate Bill 1538, authored by State Senator Joe Simitian (D-Palo Alto), will require that following a mammogram, women with dense breast tissue be informed of the following:
• They have dense breast tissue;
• that dense breast tissue can make it harder to evaluate the results of a mammogram;
• that it is associated with an increased risk of breast cancer;
• that information about breast density is given to discuss with their doctor; and
• that a range of screening options are available.
Roughly 40 percent of the women who have mammograms have dense breast tissue. Because dense breast tissue appears white on a mammogram, and cancer also appears white, it can be difficult to see the cancer. A January 2011 study by the Mayo Clinic found that in women with dense breast tissue, 75 percent of cancer is missed by mammography alone.
"This is a life saver," Simitian said. "I'm tremendously thankful for the Governor's support of this measure and for his willingness to listen to and work with us on this issue over the past year." Despite broad bipartisan support last year, a similar Simitian bill was vetoed by Governor Brown in 2011.
Since Brown's veto last year, however, New York and Virginia have joined the roster of states with breast density notification laws, and two separate studies from the first year of a similar law's implementation in Connecticut have shown a 100 percent increase in breast cancer detection rates in women with dense breast tissue who had supplementary screenings.
This year, SB 1538 was amended to include notice language negotiated with the Governor's office and a range of healthcare interests.
As Simitian moved SB 1538 through the Legislature this year, the bill gained broad-based support from a number of groups, including the California Radiological Society, the California Nurses Association, Planned Parenthood Affiliates of California, the California Affiliates of the Susan G. Komen Foundation and the Breast Cancer Fund.
"I'm pleased that all our work and efforts this year got us to 'yes,'' Simitian said. "This is about a patient's right to know. Patients with dense breast tissue need to know that it can hide a cancer and that additional screening options are available. Early detection is the key."
Amy Colton, a Santa Cruz resident, registered nurse and cancer survivor, suggested the idea for the bill in 2011 in Simitian's annual "There Oughta Be A Law" contest. Colton was never informed of her breast density during years of routine mammograms and only discovered that she had dense breasts after completing her treatment for breast cancer.
Over the past two years, Colton made numerous trips to the State Capitol to testify in support of the bill. Simitian said Colton's efforts were "nothing short of heroic. Amy Colton could have walked away from her experience in anger or frustration, but she didn't. She was determined that other patients would have access to the information she never got. Month after month she came to the Capitol to tell her story – taking time away from her work and her life to make this happen."
"I'm thrilled that the Legislature and the Governor have recognized the importance of SB 1538 to the women of California," said Colton. "This new law will provide women with important information about their physiology; and with that information they can be better advocates for their own health."
The National Cancer Institute estimates that one in eight women will develop breast cancer. The risk for women with extremely dense breast tissue is five times greater than the risk for women with low breast density. Yet, the overwhelming majority of women are unaware of their own breast density.
Brown's signature makes California just the fifth state with a breast density notification law (following Connecticut, Texas, Virginia and New York). Legislation is also under consideration in a dozen other states and in Congress.
The law will take effect April 1, 2013. A copy of Simitian's letter to the Governor urging his signature can be found online.
For more about SB 1538, visit www.senatorsimitian.com/legislation. For more information about dense breast tissue, visit www.areyoudense.org.
---
If you enjoy this content, please share it with a colleague