Contura MLB from SenoRx features built-in vacuum ports, which help remove excess seroma fluid and air from the lumpectomy cavity.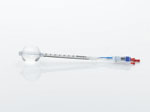 The MammoSite ML catheter from Hologic allows the radiation oncologist to shift the radiation dose to the areas that need it the most and shift the dose away from areas that do not require it.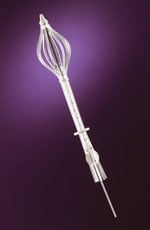 Cianna Medicals SAVI multi-catheter applicator offers an alternative for patients whose tumor cavities were too close to the skin for treatment with previous balloon methods.
In the ongoing battle for breast conservation, the arguments in favor of brachytherapy, a form of radiotherapy where a radiation source is placed inside or next to the area requiring treatment, are compelling. Unlike conventional external beam, whole-breast radiotherapy, this type of targeted radiation not only minimizes damage to surrounding healthy tissue, but it dramatically shortens treatment time from the standard six to seven weeks to a mere five days.
On top of these advantages, a recent groundbreaking study presented at the 2009 American Society of Clinical Oncology found that cancer recurrence rates in patients who underwent partial breast irradiation mirrors that of patients who chose whole-breast irradiation. The latest accelerated partial breast irradiation (APBI) devices — a brachytherapy technique that uses catheters to precisely radiate a tumor from within the breast — have addressed the limitations of previous models, making this treatment a more effective and attractive option for a greater number of candidates than ever before.
Reshaping Radiation
Martin Keisch, M.D., a radiation oncologist at the University of Miami Hospital's Cancer Healthcare Associates in Florida, believes the APBI technology has finally caught up with its clinical potential. "We've been doing this for quite a while now. It seems like it's taking forever to win this battle, but for those of us that are convinced, we are big believers," said Dr. Keisch. "There are 70,000 women a year who are candidates for this procedure. If you don't need radiation to the whole breast, why get it?"
Dr. Keisch has been performing partial breast irradiation procedures for over a decade, using the Hologic APBI device, MammoSite. The latest evolution, the MammoSite ML (multi-lumen) is by far the most exciting model, he says. With its multi-lumen design, this new device gives radiation oncologists the ability to shape the radiation dose for typical cases and treat patients who are otherwise not appropriate candidates for traditional brachytherapy.
The MammoSite systems are comprised of an inflatable balloon catheter, in which a radioactive source is introduced for therapy delivery. The inflatable balloon is inserted into the surgical cavity remaining after a lumpectomy. This local placement of the balloon provides for therapeutic delivery of a five-day course of radiation to the tissue most likely to contain residual cancerous cells following surgery, while minimizing radiation exposure to adjacent healthy tissue. This results in fewer side effects, such as skin discoloration or scarring.
The multi-lumen catheter allows the radiation oncologist to shift the radiation dose to the areas that need it most and shift the dose away from areas that do not require it. This ability to "steer the dose" by 3 or 4 millimeters is significant, said Dr. Keisch, because it can make the difference between a woman being a candidate for the treatment vs. not qualifying due to skin spacing criteria.
The device's transformation over the past several years from ultra complex in its infancy to a "super simplistic" balloon with a single tube device has posed a challenge for surgeons, he said. "If you had a great surgeon and a reasonable patient, you could use it all the time. If you had an average surgeon and patient, it wasn't always great."
Dr. Keisch has treated approximately 20 patients with the new model, which was released late last year. "It is doing everything that we had hoped," he said. "It's comfortable for the patient, and we've been able to treat patients whose skin spacings — a critical criteria — we would have considered unacceptable or marginal."
The recurrence rate for patients who undergo partial breast irradiation with the previous MammoSite model is in the neighborhood of 3.5 percent, including high-risk patients. The rate is based on the results of more than five years of follow-up on 1,500 patients in the ASBS (American Society of Breast Surgeons) registry trial, Dr. Keisch indicated.
The new balloon, while steering dose away from the skin and chest wall, maintains excellent coverage of target. "We anticipate the recurrence rate will be identical," he said.
Catheter Control
Advances in partial breast irradiation devices, including 3D conformal treatment and interstitial type devices such as SenoRx's Contura Multi-Lumen Balloon, have provided an effective option for patients undergoing breast conservation therapy, said Daniel Reed, M.D., a radiation oncologist with the Arizona Center for Cancer Care, who has performed partial breast irradiation procedures using the Contura balloon.
Historically, brachytherapy balloon devices have consisted of single lumen catheters, which inhibit any significant modulation of the radiation dose. The development of multi-lumen catheters allows for significant modulation and shaping of the radiation dose distribution, which in turn has allowed a larger number of women the opportunity to undergo breast brachytherapy, he explained.
He added, "Prior to multi-lumen catheters, many patients were unable to undergo breast brachytherapy due to the significant potential of excessive radiation dose to the skin and/or chest wall. This is no longer the case with multi-lumen devices."
In July 2009, SenoRx released the catheter, designed to deliver brachytherapy to the surgical margins following lumpectomy for breast cancer. The design enables improved dosimetric coverage of targeted tissue, while minimizing dose to healthy tissue and lungs. The built-in vacuum ports, which help remove excess seroma fluid and air from the lumpectomy cavity, provides superior conformance of the breast tissue around the balloon device, and is a unique feature of the Contura MLB," said Dr. Reed. "These advancements have significantly decreased the side effects of breast brachytherapy to patients, and should ultimately result in an increased cure rate."
In addition to benefiting from a five-day brachytherapy treatment, Contura's dose-shaping balloon design may allow physicians to treat women who are not normally candidates for APBI because of location of the lesion and their breast size.
All the long-term breast brachytherapy studies for Contura have shown a less than 5 percent risk of local recurrence, he added.
Treatment in Tight Spaces
To treat patients whose tumor cavities are too close (typically within 7 mm) to the skin with conventional balloon methods, the SAVI multi-catheter applicator from Cianna offers an alternative.
Unlike other brachytherapy devices, SAVI requires very little spacing between the cavity and healthy tissue. In fact, a new study of breast cancer radiation treatment performed at 21st Century Oncology found that the SAVI applicator delivers "excellent cosmetic results with minimal side effects" for women who had not qualified for breast conservation therapy using other balloon devices.
SAVI is a single-entry multi-catheter device that allows the physician to customize the radiation dose, depending on the patient's anatomy and precise configuration of the surgical site. This shortened course of high-dose radiation is designed for early-stage breast cancer patients following lumpectomy surgery.
The most significant strides in accelerated partial breast irradiation has been the adjustment of dose to maximize target coverage and minimize dose to normal structures, said Catheryn Yashar, M.D., associate professor of radiation oncology, chief of breast and gynecologic radiation services, director of medical school education, and co-director of brachytherapy at the University of California San Diego (UCSD) Moores Cancer Center. The new devices launched may vary in whether they include a balloon, and the distance and shape of the struts, but they "have all been developed to better modulate dose," Dr. Yashar said.
While the potential of these revamped APBI devices such as the SAVI applicator is very promising, the jury is still out. "To be fair, partial breast irradiation is still in its infancy and there is much work to be done before it can be called the standard of care," she said. "We await information from NSABP B-39 for the outcome of 3D conformal therapy, and there are several international trials looking at IMRT, but still pending."
Breast Conservation vs. Mastectomy
For patients torn between breast conservation and mastectomy, partial breast irradiation offers comparable survival rates, a reasonable treatment schedule, and the opportunity to keep their breasts. Many women choose mastectomy over radiation therapy because they fear recurrence — and because they cannot meet the daily demands of a five-to-seven week radiation treatment schedule. "You can put up with a lot of inconvenience if you only have one week [of radiation treatment] versus a month-and-a-half," said Dr. Keisch.
He said that while it's always a difficult decision and the best option depends on each individual case, he hopes APBI can lead women to a breast conservation approach rather than mastectomy. "We maintain a very high level of care and identical survival rates, but they're also left intact physically and emotionally," Keisch said.
Dr. Reed agreed that the treatment provides an equivalent overall cure rate to the more drastic mastectomy approach. Dr. Yashar takes a more pragmatic stance: "As more data accumulates on the efficacy of partial breast [radiation] more women feel comfortable that it is an alternative that is more convenient and treats only the amount of tissue necessary," she said. "There are guidelines on who can be reasonably treated until studies become more mature, but this requires a very frank informed consent with the patient."
Room For Improvement
Looking ahead, Dr. Reed says the biggest challenge and opportunity in the future is developing brachytherapy devices to accommodate the many diverse clinical scenarios, such as lumpectomy cavity size, skin distance and chest wall distance. "By doing this, the therapeutic ratio increases, allowing a larger number of patients to be candidates for breast brachytherapy, along with better radiation dose coverage and lower side effects," he said.
Of the 70,000 women that are potential candidates for this procedure, only about half that number have received APBI brachytherapy, points out Dr. Keisch. To widen their reach and improve efficacy of breast brachytherapy treatment, he points to the doctors themselves — not the technology. "The next step for us is not improving the radiation delivery, but in fact, improving the quality of the lumpectomy," Dr. Keisch said. "Not all surgeons are created equally. By improving surgical techniques, we can improve radiation delivery."