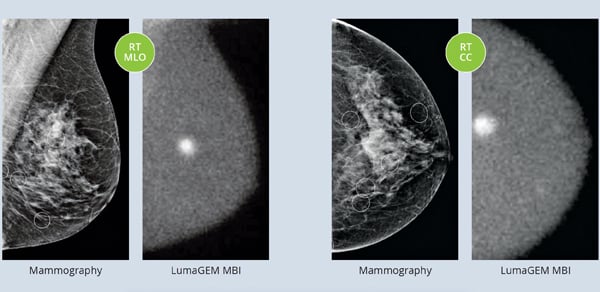 A side-by-side comparison of mammography vs. molecular breast imaging.
Breast cancer is the second leading cause of cancer deaths among women in developed countries.[1] It is estimated that about 12 percent of women in the United States will develop invasive breast cancer over the course of their lifetime and more than 200,000 new cases of invasive breast cancer are expected to be diagnosed in 2015.[2] It is important to know the risks and warning signs of breast cancer, and having the benefit of early detection is invaluable, but sometimes that's easier said than done.
Typically, women have routine mammograms to screen for breast cancer every one to two years. However, having dense breasts, which affects up to 40 percent of women in the United States, can cause complexities in detecting cancer through these routine mammogram screenings. Dense breast tissue causes images to appear white, the same color a potential tumor would be, and this masking can cause results to come back inconclusive. Unfortunately, because cancerous tumors aren't initially picked up in screening, this can lead to the belief of being cancer-free. Research has shown that women who have dense breast tissue may also be more likely to develop cancer. A recent online article "What It Means to Have 'Dense Breasts' and Why It Matters"[3] said, "One of the biggest issues with current screening protocols is that the younger a woman is, the harder it is to tell if she has cancer because her breasts are denser." Half of women under the age of 50 have dense breasts, while one-third of women over 50 do. The article reiterates that "Denser breasts not only make it harder to detect cancers, they are also linked to an increased risk of developing cancer in the first place." 
To increase awareness of dense breast tissue, there are currently 21 states that have enacted the breast density notification law,[4] requiring doctors to inform patients of dense breast tissue. Though this helps to educate women, the challenge of screening for breast cancer with this condition still remains, as traditional mammography screenings may not detect cancers in women with dense breast tissue and widespread adoption of secondary screening options is only now starting to become more common.
MBI Shows Positive Results
A new technique, molecular breast imaging (MBI), has shown positive results as an adjunct method to the traditional mammogram, especially in women with dense breasts. MBI uses a short-lived radiotracer, injected into the arm of a patient, which is attracted to any areas of cancer inside the breast. This form of imaging is able to see through tissue density and highlight tumors that are not always detected in mammography images.
When paired with mammography screening, MBI plays a significant role in detecting cancers in women with dense breasts. In the past, many studies have investigated the use of MBI as a secondary screening technique to mammography, to which researchers have noted the necessity for lower dose imaging technology needed before MBI could be broadly accepted for screening. A recent Mayo Clinic study, "Molecular Breast Imaging at Reduced Radiation Dose for Supplemental Screening in Mammographically Dense Breasts,"[5] published in the American Journal of Roentgenology, further investigates this topic and addresses the question of MBI performance at a lower dose. The study confirms that the use of MBI not only provides better imaging, but at low radiation exposure for women with dense breast tissue. This study confirms that when added as a secondary technique to mammography, MBI screening quadrupled the cancer detection rate for invasive cancer. 
Other Supplemental Screening Tools
Other techniques, such as magnetic resonance imaging (MRI) and ultrasound, have also been discussed as alternative supplemental screening tools for women with dense breast tissue. However, both have been criticized because of the number of false positives that lead to unnecessary biopsies. In addition, MRI is complex and expensive for both the equipment and procedure, and ultrasounds only detect a small fraction of cancers in secondary screening at an increased cost. MBI has proven to be a more effective option for secondary screening because of its high sensitivity and high specificity, which lead to significantly more cancer detection with higher true positive biopsies.
As awareness continues to spread around the risks of breast cancer in women with dense breast tissue and the notification act gains traction at the state and federal level, it is important to continue educating women about dense breast tissue and the potential risks related to breast cancer. As important as educating women about the risks of dense breasts is, it is equally important for women to know the available options for secondary screening techniques when they are notified that they have dense breasts. As MBI continues to prove itself as a beneficial screening method at both a low radiation dose and low cost, this technique will truly help save lives through earlier breast cancer detection.
Read the related article "Pros and Cons of Molecular Breast Imaging Tools."
 
References:
1. http://time.com/3694662/lung-cancer-breast-cancer/, accessed Feb. 24, 2015.
2. www.cancer.org/cancer/breastcancer/detailedguide/breast-cancer-key-statistics, accessed Feb. 24, 2015.
3. www.yahoo.com/health/what-it-means-to-have-dense-breasts-and-why-it-105535296837.html, accessed Feb. 24, 2015.
4. www.govtrack.us/congress/bills/113/s2622, accessed Feb. 24, 2015.
5. www.ajronline.org/doi/abs/10.2214/AJR.14.13357, accessed
Feb. 24, 2015.
Jim Calandra is president and CEO of Gamma Medica. He has more than 20 years of management experience in the healthcare industry as an officer and director of several healthcare companies. Prior to joining Gamma Medica, he was a founding partner of Birch Hill Partners LLC, a management consulting firm specializing in advising private equity portfolio companies.