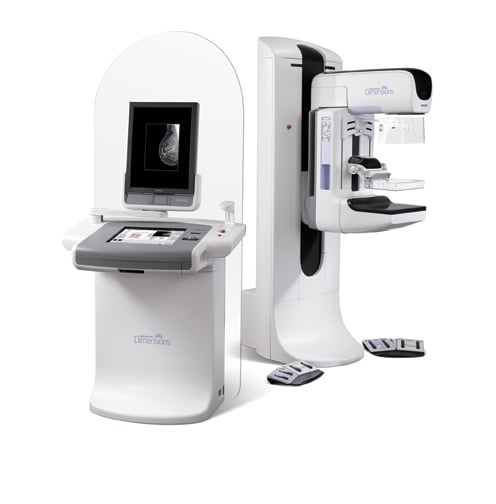 Photo courtesy of Hologic Inc.
Advances in digital mammography are evolving as clinicians look to improve breast cancer screening in women. In recent years, new technological trends have emerged; notably, the addition of 3-D breast imaging, or tomosynthesis, which was approved by the U.S. Food and Drug Administration (FDA) in 2011. But as technology improves, questions remain over the recommended frequency of screening for breast cancer.
A multicenter study published November 2012 in the journal Radiology found that adding tomosynthesis to standard digital mammography screening "significantly increases radiologists' diagnostic accuracy while reducing false positive recall rates." The results show that tomosynthesis can be used to address major concerns with mammography, particularly missed cancers and false positive rates, according to lead researcher Elizabeth A. Rafferty, M.D., director of breast imaging at the Avon Comprehensive Breast Center at Massachusetts General Hospital in Boston.
Breast tomosynthesis is a recent technology that captures multiple, low-dose images from different angles around the breast. The captured images are then produced into a 3-D reconstruction. Both digital mammography and breast tomosynthesis can be performed on the same equipment in rapid succession.
The study's authors found that when compared to digital mammography alone, the use of the combined exam resulted in increased diagnostic accuracy for all participating radiologists. There also was a rate of increase in diagnostic sensitivity — the rate at which cancer present in the breast was correctly identified — and a decrease in false positive recall rates. "In the clinical setting, we would expect that type of reduction in recall rate to translate into a substantial number of unnecessary diagnostic tests being avoided," said Rafferty.
Despite the evolution of conventional mammography and 3-D breast imaging, there are concerns about the frequency of examinations and the recommended age at which women should begin screening. Traditionally, routine screening mammography has been recommended annually for all women over 40. In 2009, the U.S. Preventive Services Task Force (USPSTF) issued new guidelines, recommending screening mammography every two years for women 50 to 74, citing concerns over false positive recall rates, radiation exposure and the potential for unnecessary follow-up exams that may be invasive. The American Cancer Society (ACS) continues to support the traditional recommendation of annual screening starting at 40.
At the 2012 meeting of the Radiological Society of North America (RSNA), researchers presented an analysis of the impact of the new USPSTF guidelines on women between 40 and 49. Researchers found that 19 percent of breast cancers detected — among 43,351 screening exams that were analyzed — were in women between 40 and 49. Of those cancers, more than 50 percent were found to be invasive.
"Nearly 20 percent of cancers detected with screening mammography were found among women in their 40s," said researcher Elizabeth Arleo, M.D., assistant professor of radiology at NewYork–Presbyterian Hospital/Weill Cornell Medical College in New York City. "It seems unacceptable to potentially miss nearly 20 percent of the breast cancers we are identifying. Our data favor the [ACS] recommendations of annual mammograms starting at age 40." 
The subject of potential "overdiagnosis" remains one of the key issues in digital mammography and breast tomosynthesis. The updated USPSTF guidelines reflected an evaluation of screening mammography as currently practiced in the United States, wrote Henry G. Kaplan, M.D., and Judith A. Malmgren, Ph.D., in the January 2013 issue of the Annals of Internal Medicine. The conclusion of the USPSTF was that there are more harms than benefits for women 40 to 49, and "that screening could be reduced to every other year for women 50 to 59 years," Kaplan and Malmgren said.
While shown to have reduced death from breast cancer in populations that have routine screening, mammography also can be associated with needless work-ups and attendant complications, they noted. Patients may become distressed over waiting for follow-up and exam results, and "overdiagnosis" could lead to unnecessary tests and procedures, further driving up healthcare costs. Kaplan and Malmgren argued that instead of debating on the merits of early cancer screening, physicians should improve the treatment of early cancer found on mammography. "We believe that the term 'overdiagnosis' in the context of breast cancer places this problem in an appropriate light, suggesting that these patients do not have cancer," they said.
The advantage of routine screening mammography is to detect cancers early before they become invasive. Early detection reduces the need for aggressive chemotherapy or radiotherapy. But many see frequent mammograms as resulting in high recall rates and benign biopsy results, adding more anxiety for patients. "The conundrum is that to save lives and reduce treatment-related toxicity, tumors need to be found at an early, more treatable stage," Kaplan and Malmgren wrote.
Despite these debates, digital mammography continues to make advances as companies work to improve their technologies. The addition of breast tomosynthesis to traditional 2-D mammograms improves the diagnostic accuracy of exams, ultimately resulting in better patient care.   itn