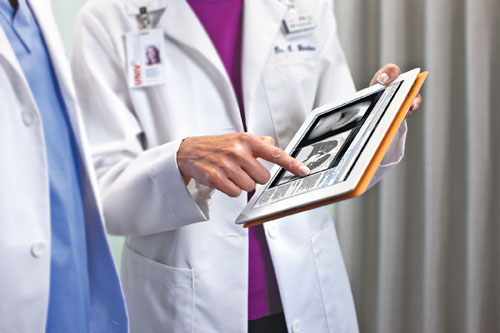 Photo courtesy of Carestream
Healthcare has been "taken to school" and is now rethinking health information technology (HIT) investments with a return to Business 101 fundamentals. We are seeing a renewed focus on clinical departments that have historically reaped enterprise-wide benefits and returns. Departments that are profitable, crucial to strategic growth, built on HIT platforms, and that support the fluid and agile exchange of patient data will be the primary targets for the next era of healthcare innovation. 
As we have engaged some of healthcare's leading providers, we have seen some repeating criteria that fundamentally improves the quality of patient care and the outcome of enterprise initiatives. Here are some insights to consider as you chart your enterprise imaging transformation. 
Insight: Discovery Blueprint
Know thyself … Prior to any investment it is critical to evaluate and map your current health system's core, peripheral technology and supporting IT infrastructure. The resulting blueprint will provide a clear and comprehensive picture of the "as-is" or legacy environment across enterprise service lines that receive and utilize patient imaging data. This discovery and analysis phase encompasses a full inventory of systems utilized at each site including clinical systems, modalities, reporting and the user experience. Supplement the blueprint with workflow observation and documentation that verify "actual" workflow for all departmental staff to determine the true needs and requirements of all "to-be" solutions under consideration.
The workflow and stakeholder documentation will provide a concise picture of the gaps, inefficiencies and frustrations that impede workflow, data accuracy and patient care. The blueprint and survey will prioritize the opportunities for replacement technologies or workflows that improve outcomes.
Insight: Strategy and Governance
Enterprise imaging transformation requires innovative strategy followed by iterative and phased adoption efforts. Utilizing previous imaging initiatives including picture archiving and communication systems (PACS), PACS replacement and peripheral system implementations will not provide an effective roadmap for your enterprise imaging initiative. Complexities of enterprise imaging run much deeper and are more convoluted than departmental project work. The challenges related to system replacement, cross-specialty stakeholder buy-in, cost and budget models, chronology and project planning, and ultimately program and data governance, require a detailed and thoughtful strategy. This strategy or "roadmap" should project out five years for resourcing, budgeting, system decision-making and data management planning and may include:
• Departmental prioritization: rollout of enterprise systems with timeline and chronology of events.
• Workflow optimization: comparing and contrasting workflow models that fulfill department needs while meeting enterprise standardization requirements.
• Integration and interoperability: Governance body must understand data integrity as data is created, stored, updated and archived, and keep in context of patient record over time.
• Rules of engagement: Weigh options when encountering systems that don't meet the enterprise clinical systems requirements (age, design, source code, policies, etc.).
Insight: Market R and D
Healthcare vendors are continuously designing and deploying features and functions designed to benefit business and ultimately patient care capabilities. As your health system considers enterprise-scale solutions, the decision team and stakeholders must have a comprehensive and objective knowledge of existing technologies and how their evolving development roadmaps and support correlate with your organization's future state requirements. The team must continuously evaluate key vendors on the technical, but also the clinical and business components. Develop a short list of top/innovative vendors and consider some of the following objectives as you track:
• Establish stakeholders and governance requirements 
• Engage both healthcare consultancies and vendors for education
• Research comparison charts and industry analysts reports
• Develop detailed criteria to shake out ambiguous claims and/or vaporware
• Evaluate each vendor's research and development roadmap
• Seek industry peer reviews and lessons learned
• Leverage conferences/expos for ease of access and time efficiency 
• Determine potential disruption based on market consolidation and mergers and acquisitions
• The market is hungry so negotiate for win/win deals
• Neutralize the political agendas as much as possible
Insight: Engage and Leverage
If you think the pace of change has been fast … it's only going to get faster. New era healthcare (NEH) must be built on the organizational capacity to rapidly innovate across technology, people, processes and strategy. As your health system embraces innovation, learn to codify the processes and activities. Building your organization's ability to adopt and leverage enterprise solutions across the continuum of patient care is invaluable and necessary. Mergers, digital health, regulations, competition and other environmental factors will require a savvy ecosystem that is comfortable with being "uncomfortable."
Leadership and key department stakeholders must be involved by not only supporting the implementation, but at times driving the process. Enterprise imaging is not another HIT or software/hardware project. It is a transformative business project, in which top management must participate as a key stakeholder and driving force. An engaged organization will provide important feedback, financing and resources to the  implementation team. The clinical user's involvement is also necessary to implement changes as they are more likely to have insight into the people within the department and what they can handle if significant workflow change is involved. 
Healthcare is realizing the additive value of experienced consultants and leveraging their skills to analyze, design and deploy enterprise initiatives. Engage as needed, for their assistance can increase the speed of adoption and significantly reduce disruption. Within the organization's team there may be gaps in knowledge or experience, or lack of current training. Consultants can add tremendous value to the implementation team during the project. 
Rule of Thirds
Successful and timely implementation of an enterprise imaging solution is possible with the right goals, the right technology, the right people/governance and the right company. The long held axiom of the "rule of thirds" still exists, and is very evident after the recent electronic health record (EHR) activities: One-third of organizations will be widely successful regarding cost and benefits, one-third will muddle through with some advantages being captured and one-third will fail miserably. Insight and execution will determine which category your organization will represent.
Hjalmer Danielson is a VP at Ascendian Healthcare Consulting and a frequent contributor to the subject of health information technology. 
Jef Williams is the chief operating officer at Ascendian Healthcare Consulting. He is a frequent speaker and writer on enterprise imaging transformation and healthcare technology topics spanning people, process, strategy and technology.