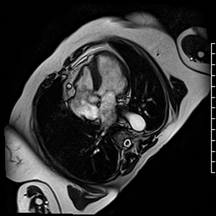 Using the Vantage Atlas MR system, Dr. Albert diagnosed a large heart attack affecting the lateral wall, but live (viable) territory in the area which caused concern for ischemia.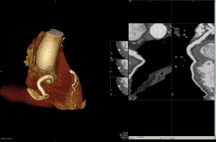 In the same patient as above, the coronary CTA exam also showed a severe enlargement of the RCA.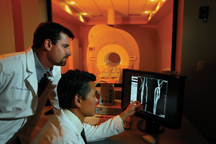 Medical Director Timothy Albert, M.D., and Associate Medical Director Christopher Oh, M.D., use the Vantage Atlas MR system to help diagnose and treat patients at the Cardiovascular Diagnostic Center.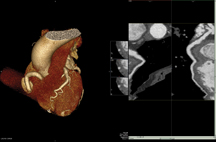 Using the Aquilion ONE for a coronary CTA, Dr. Albert diagnosed proximal to mid LAD enlargement, but no significant downstream blockages in one of his patients.
To improve the diagnosis and treatment of patients with cardiovascular disease, Salinas Valley Memorial Healthcare System, an integrated healthcare network, wanted to create the Cardiovascular Diagnostic Center (CVDC) at its Ryan Ranch Outpatient facility in Monterey County, CA. Led by Medical Director Timothy Albert, M.D., a leading cardiologist and assistant consulting professor of medicine at Duke University, the CVDC's goal was to use advanced medical imaging technology to diagnose and develop treatment plans for patients with cardiovascular conditions.
To become a national destination for cardiac research, treatment and technological advancement, CVDC would use a variety of medical imaging systems, from computed tomography (CT) to magnetic resonance (MR), to diagnose cardiac conditions. This multimodality approach would allow Dr. Albert to select the right imaging system for the patient's specific need, resulting in safer, more effective diagnosis and improved patient care. However, before diagnosis and treatment could begin, Dr. Albert was tasked with selecting the right mix of imaging technology.
The Multimodality Approach to Cardiovascular Disease
By utilizing multiple modalities at one facility, Dr. Albert can select the most appropriate imaging system for the patient's cardiovascular condition. Important for today's healthcare environment, this eliminates unnecessary and repetitive exams and reduces overall costs.
"Using a combination of the latest CT, MR and ultrasound technologies allows us to offer the most effective and safest patient care to the community," said Dr. Albert. "When a patient is displaying a specific set of symptoms, we are capable of imaging them right away using the most appropriate technology. That way, we can reduce both the contrast and radiation dose a patient receives."
Taking into consideration the criteria for the center and after researching and reviewing medical imaging systems from various vendors, Dr. Albert selected a full suite of imaging equipment from Toshiba America Medical Systems Inc. The CVDC would use Toshiba's Aquilion ONE CT system and the Vantage Atlas MR system to diagnose heart disease. Additionally, Dr. Albert acquired the Aplio Artida ultrasound at his professional practice for further evaluation of cardiac patients. As the only facility in California exclusively using Toshiba technologies side-by-side, the CVDC is able to provide imaging with low doses of contrast and radiation.
Aquilion ONE
The CVDC acquired the Toshiba Aquilion ONE dynamic volume CT system to perform advanced cardiovascular CT imaging. Dr. Albert uses the Aquilion ONE for imaging of the coronary arteries because of the high image resolution of the system.
The Aquilion ONE utilizes 320 ultra-high resolution detector rows (0.5 mm in width) to image the heart in a single gantry rotation. The unparalleled result produces a 4D clinical video showing up to 16 cm of anatomical coverage, enough to capture the entire heart, and show its movement such as blood flow. The ability to image the heart in a single rotation significantly reduces radiation dose as it limits exam time and eliminates multiple exposures to radiation.
"CT is the gold standard for coronary imaging because of the high-quality image resolution and fast acquisition time," stated Dr. Albert. "The rapid, efficient cardiac imaging and the lower radiation dose of the Aquilion ONE CT system are the perfect fit for the new cardiovascular center. The Aquilion ONE is able to lower radiation dosage by up to 80 percent, making CT imaging safer for patients."
Vantage Atlas MR
The CVDC uses Toshiba's Vantage Atlas MR system for cardiovascular imaging without exposure to X-ray radiation. Similar to the Aquilion ONE, MR shows both anatomy and function, such as blood flow. It is used in imaging valve structure, heart function, heart attack patients and when there is heart failure for unclear reasons.
"Prior to the inception of the CVDC, advanced cardiovascular MR imaging was generally limited to academic centers," explained Dr. Albert. "Cardiac MR has revolutionized the way we look at the heart as it creates movie-quality images, similar to the difference between black and white television versus today's high-definition television. MR also completely eliminates radiation dose, making it a safer option for patients."
The CVDC also employs Toshiba's industry leading, proprietary contrast-free MR techniques, including Fresh Blood Imaging (FBI), Contrast free Improved Angiography (CIA), Time-Spatial Labeling Inversion Pulse (Time-SLIP) and Time and Space Angiography (TSA). Gadolinium-based contrast agents recently have been found to be unsafe – especially for patients with renal insufficiencies. These contrast-free protocols open up medical imaging to these patients and are important in imaging vascular disease and patients with kidney dysfunction.
Aplio Artida
At Dr. Albert's professional practice, he uses the Toshiba Aplio Artida ultrasound to determine heart function, specifically ischemic cardiac disease. Echocardiography provides important heart imaging information and is a noninvasive, less expensive test without radiation. Artida's capabilities enable Dr. Albert to measure LV volumes, ejection fraction, regional and global quantification by means of 3D echocardiography in the same heart beat. The 3D wall motion tracking feature is an industry first and provides quantification of wall motion used to assess abnormal motion often seen in ischemic heart disease. 3D wall motion tracking provides an objective assessment and the possibility of earlier detection. Together with SmartSlice, plane selection and i-style ergonomics that improve workflow and increase productivity, the Artida provides improved performance with advanced applications for any clinical setting.
Future Leader in Cardiac Care and Medical Education
The full suite of Toshiba imaging technologies is allowing the CVDC to diagnose and provide treatment plans for a variety of cardiovascular diseases without using invasive procedures. This multimodality approach improves patient safety and reduces healthcare costs as it allows patients to be imaged on the most efficient imaging system for their condition. The high image quality across all modalities and industry leading technology is paving the way for innovations in cardiac imaging and diagnosis. In addition to helping patients, the multimodality approach is positioning CVDC as a leader in cardiovascular medical education.
Since opening the center, Dr. Albert has been involved in creating a cardiac MR education series for physicians and technologists through an education grant sponsored by Toshiba. The educational series, one of the first cardiac MR programs in the country, focuses on the latest techniques in cardiovascular MR imaging.
"The new cardiac MR course will help expand the number of physicians and technologists utilizing cardiac MR at their practices," said Dr.Albert. "The breakthrough technology of the Vantage system allows us to teach advanced MR applications and expand the ability to diagnose cardiovascular disease."
Additionally, CVDC and Toshiba conducted a demonstration with physicians in Japan to operate the Vantage MR system remotely to aid in diagnosing a patient with an arrhythmic heart condition. This remote technology will allow Dr. Albert to provide consultation for studies conducted anywhere in the world and bring specialized medical care to local communities.
CVDC has become a national destination for cardiac research, treatment and technological advancement thanks to its multimodality capabilities and patient-focused approach.