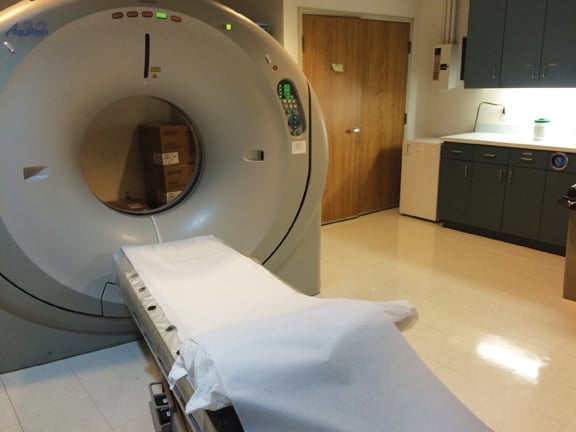 A view from inside the CT Suite at Hawaii Radiology Associates.
Established more than 30 years ago, Hawaii Radiologic Associates (HRA) has grown from its modest beginnings as Hilo Radiologic Associates to the Big Island of Hawaii's most advanced radiology group. Today, the group of nine specialty trained radiologists provides diagnostic imaging services in four outpatient imaging centers located in East and West Hawaii and also provide professional interpretation services at four hospitals/medical centers around the island. Each of the radiologists are board-certified by the American Board of Radiology and many have fellowships or additional training in subspecialties such as musculoskeletal radiology, neuroradiology, body imaging, women's imaging, nuclear medicine and vascular and interventional radiology. Because of their experience and skill, the radiologists ensure that each patient's exam is performed quickly with accurate results. With the latest technology, the radiologists and technologists of HRA provide an array of diagnostic imaging procedures. Services at HRA include CT and CT angiography with multi-slice technology, high-resolution open MRI and breast MRI, digital mammography, high definition ultrasound, and digital X-ray and fluoroscopy. 
Ming Y. Peng, M.D., graduated from the University of Southern California, Keck School of Medicine, and continued his training at the Los Angeles County Medical Center. A partner radiologist with HRA since 2004, he is affiliated with hospitals throughout the Big Island. Peng is one of three interventional radiologists on staff at HRA and is currently head of HRA's Quality Improvement Committee.
At Hawaii Radiology Associates in Hilo on the Big Island, Peng initiated a new Performance Quality Improvement (PQI) project for his radiology group to improve the quality of their diagnostic reports for routine thoracic CTs by including the documentation of coronary artery calcification in the report. 
Q: What was your primary reason to implement a quality workflow solution? 
A: The American Board of Radiology is introducing a process of "continuous certification" for new certificates in diagnostic radiology, radiation oncology and medical physics to replace the 10-year MOC cycle that requires a valid medical license and a passed MOC exam in the previous 10 years.
Under the new continuous certification process, radiologists are required to meet four requirements: a valid unrestricted license to practice medicine; obtain at least 75 AMA CME Credits Category 1 of which at least 25 must be for self-assessment every three years; pass an MOC exam or an ABR initial certification exam in previous 10 years; and, finally, Practice Quality Improvement (PQI) by completing at least one PQI project every three years. Certified radiologists are responsible for updating their profile with the American Board of Radiology each time they complete any of these requirements.
Q: How did you get started? 
A: To set a baseline for measuring improvement, Peng collected data from 100 previously reported thoracic CT exams. The relevant cases were gathered on a worklist in QICS and distributed among four participating radiologists (QA Committee) for review. Upon opening an exam from this worklist, the radiologists were prompted to complete the survey and enter for each report if there was a presence of coronary artery calcifications, and if so, whether or not it was documented in the report.
Q: What outcome did you receive/expect? 
A: The survey was completed within 14 days in April 2014. The results of the baseline survey reported that
56 percent of the thoracic CT reports documented the presence of coronary artery calcification. To help increase the reporting on CAC, users were reminded to include it in the report. "If the radiologist opens a study and the CPT codes are related to thoracic CT procedure, QICS will prompt the user, asking them if CAC information was documented in the report. It serves as a reminder and now is an integral part of the workflow," Peng explained. After three months, Peng reported on the quality improvement of his team: "We went from 56 percent to 100 percent compliance." 
Q: How was it received? 
A: The workflow was very straightforward and we received no issues from the participating radiologists. We were asking and tracking one item: "Did you comment if the CAC was present?" 
It was a binary response: a simple yes or no — it was easy to respond and we got 100 percent compliance from the team.
Q: What was the value of this project/what would you tell your peers?
A: The purpose of documenting the presence or absence of coronary artery calcifications in routine thoracic CTs is to indicate the presence of coronary artery disease and help determine if the patient requires preventative care or treatment. "The value of this project is qualitative. It demonstrates that Hawaii Radiology Associates is improving the quality of our evaluation and performance. The QICS product did help to facilitate that and make it a lot easier," Peng said.
Q: What are you going to do next? 
A: The project qualifies as a PQI project for Maintenance of Certification. "We added the outcome to the ACR for certification," said Peng. "We just hired a new radiologist on our team and going forward, new radiologists have a time-limited license and are required to be part of the continuous certification process of the MOC program. We are already looking for other ways to improve. We want to use QICS for hospital trauma certification to help document that the imaging department has a quality program for trauma service."
Note: QICS is now Conserus Workflow Intelligence. 
Case study supplied by McKesson.