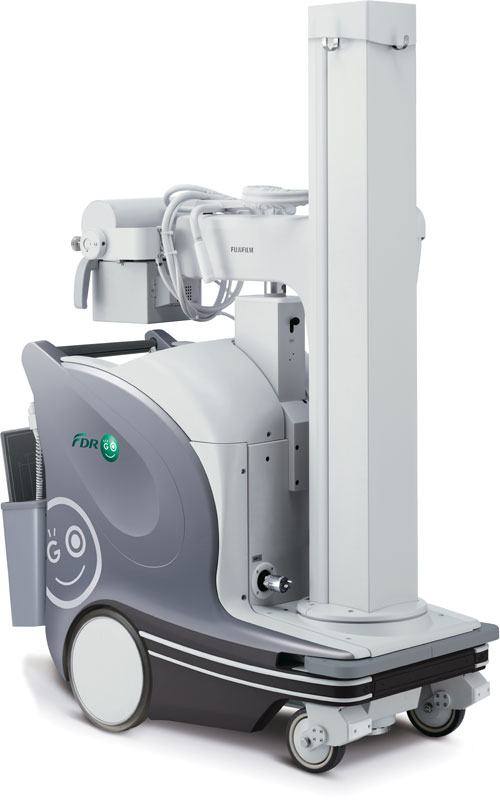 The FDR Go's user-friendly platform helps to make the technologist's job easier and improves the patient's experience.
Beginning Jan. 1, 2017, the Centers for Medicare and Medicaid Services (CMS) will begin enforcement of the Consolidated Appropriations Act of 2016, a piece of legislation that incentivizes healthcare providers to transition imaging departments to digital radiography (DR). 
"[CMS will] reduce Medicare reimbursements for film X-rays by 20 percent in 2017 and for computed radiography (CR) by 7 percent in 2018. In 2022, it will be cut by 10 percent for outpatient classified exams," said Robert Fabrizio, director of strategic marketing for digital radiography and women's health at FUJIFILM Medical Systems U.S.A., Inc.
The legislation will affect at least half of hospitals in the United States, due to their continued use of CR, and many more private practices and outpatient facilities that still use analog film. "Revenue from exams that are performed under the HOPP billing codes, such as outpatient and ER patients that don't stay overnight, will be impacted by this legislation," Fabrizio explained. "Hospitals and, more specifically, outpatient and private practices, will be financially impacted, especially if they have a high concentration of Medicare patients." 
The Benefits of DR
The main motivation for the new legislation is in reducing the costs of Medicare funding, however to healthcare providers there can be many benefits beyond simply preventing reimbursement reductions. 
"There are many benefits in upgrading to DR, such as new equipment reliability, patient safety in dose reduction, productivity in treating patients faster and more efficiently, better image quality and more positive patient experiences," said Fabrizio.
This was the experience of East Texas Medical Center (ETMC), a 534-bed, level 1 trauma center in Tyler, Texas, that recently upgraded its CR systems to newer Fujifilm DR solutions in order to achieve dose reduction and departmental efficiencies for patients and physicians.
According to William Tobin, radiology director at ETMC, the hospital has seen as much as a 50 percent reduction in dose, which was especially important within the center's trauma bays, where many of the patients they treat are younger.
Because DR images are captured immediately, the center was able to increase efficiency, which is especially critical in the emergency room, allowing physicians to salvage vital minutes. Instead of having to move a CR cassette from one area of the department to another in between exposures to process the image, technologists can simply move the DR detector within the trauma stretcher itself, directly moving it the length of the patient to shoot multiple exposures during the exam, saving significant time. 
"We saved about three minutes per image by converting to DR," Tobin explained. "In the trauma setting, those three minutes are crucial."
Utilizing DR has also improved patient care in the outpatient setting. Since DR images are acquired immediately, "the technologist can have more eye contact and more face time with the patient versus being behind a wall removing and processing a cassette after each exposure," Tobin explained.
The Conversion Process
While the benefits of DR are apparent, many healthcare providers are still unsure about the feasibility of the upgrade in both cost and functionality. However, there are several cost-efficient options that can make the transition to DR relatively painless. For instance, Fujifilm worked closely with ETMC to ensure that the DR systems were phased in using small steps at first, creating less stress on the institution's budget.
In addition, Fujifilm offers a variety of rooms, detectors and mobile solutions. The company can retrofit any third-party room to convert it from CR to DR, allowing healthcare providers to leverage the remaining life of existing X-ray rooms, which lowers cost compared to investing in a complete new room. Later on when those rooms are ready to be replaced, the detectors can be used with any newer equipment they choose to purchase down the line. 
Because the user acquisition workstation that powers Fujifilm CR remains largely the same when converting to Fujifilm DR, there is very minimal cost associated with it because little-to-no training of technologists is needed. Technologists are up to speed and running on the new DR in no time. With Fujifilm, radiologists are even able to keep many CR features, including the PACS hot key functionality that so many physicians find they can't live without. "Departments should assess their environment strategically and, in some cases, may be able to reallocate some of their CR to inpatient uses or areas that have very low patient volume and upgrade areas in most need," said Fabrizio.
ETMC has converted its outpatient center, Private Outpatient Building, trauma bays and trauma area in the emergency department, and the imaging center at the center's South Broadway Suite. Last month, ETMC Tyler (Tobin's facility) took the final step in transitioning from CR to DR. This included the addition of two more FDR Go portables and retrofitting five radiology rooms (four in main radiology and one in ER West). There are five additional ETMC facilities that have chosen Fujifilm as their partner in the DR conversion and are awaiting budgetary approvals.
What's Next?
The conversion to DR is a process that most healthcare providers will have to undertake in order to prevent reimbursement reductions with the new CMS legislation. Although this transition can seem like a daunting task, selecting a vendor that supports department needs allows use of existing workstations and provides a long-term commitment that will facilitate a smooth transition and ensure that healthcare providers are receiving reimbursements and seeing the benefits of DR as soon as possible.
---
If you enjoy this content, please share it with a colleague