BLOG: Improving Productivity and Simplifying Patient Eligibility for Imaging Practices
Integrations add more productivity to patient and provider experience.
The eligibility and responsibility landscape for imaging practices can be complex and confusing for patients and providers. New automation integrations within the imaging workflow are helping streamline insurance-related tasks by verifying eligibility for patient exams, identifying patient responsibility at the time of service, enhancing scheduling processes, and meeting the upcoming CDSM mandate for Appropriate Use Criteria.
"When we look at what you can do with software to improve imaging center productivity, we want to reduce the amount of time it takes to do any task," said Kevin Borden, Vice President of Product, HCIT, for Konica Minolta Healthcare Americas. "Specifically, we look for ways to add in automation for the end user so that the software becomes more efficient."
Verifying Patient Eligibility and Estimation for Imaging Procedures
Konica Minolta's Exa Platform now includes a fully automated, real-time medical insurance and billing submissions processing solution that verifies patient eligibility for imaging procedures. The Exa Platform is an integrated RIS, PACS and billing solution.  Through a partnership with ImagineSoftware, Exa RIS users can seamlessly verify patient eligibility for an imaging procedure and provide the patient with an estimate for their out-of-pocket costs during appointment scheduling for a more efficient workflow. Konica Minolta chose ImagineSoftware due to the company's high success rate with automated eligibility support and insurance payments.
"With eligibility, it's all about accuracy and timing. You want to get the most accurate results as quickly as you can," Borden said. "In combination with eligibility, the patient estimation helps the patient understand what payment is due at their appointment with no surprises."
The recently implemented No Surprises Act now protects patients from surprise medical bills resulting from gaps in insurance coverage for out-of-network clinicians at in-network facilities. The Act removes consumers from the dispute and allows a resolution process for provider and health plans. For many practices, confirming accurate insurance eligibility and payment estimation before or at the time of service helps ensure coverage, reduce eligibility denials, increase reimbursement payments and obtain patient co-pays.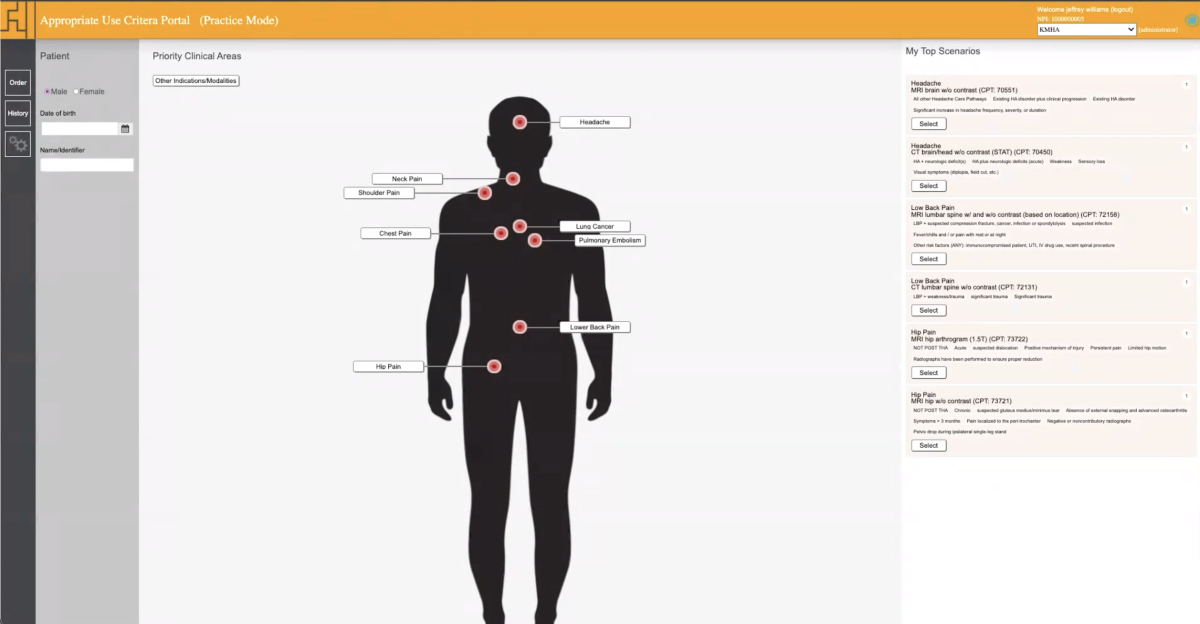 Supporting the CDSM Mandate for Appropriate Use
Beginning in 2023, The Centers for Medicaid and Medicare Services (CMS) will mandate the use of a Clinical Decision Support Mechanism (CDSM), a tool that communicates Appropriate Use Criteria (AUC) for advanced diagnostic imaging to assist in making appropriate treatment decisions for a patient's specific clinical condition.
"CDSM will become mandatory in January 2023, and we're giving customers the advantage of being ahead of the mandate," Borden said. "We can start implementing and training now, so that once the mandate is in place, providers can continue to order exams appropriately without any hiccups or dips in volume."
To meet this mandate, Konica Minolta has partnered with LogicNets to integrate its LogicNets AUC Solution into the Exa Platform. Orders placed through the Exa Physician Portal will automatically be validated electronically with the LogicNets solution.
Adding Efficiency Through Automated Scheduling
Similar to how the Exa platform can now leverage automation to enhance the patient eligibility and responsibility process, Exa can also automate scheduling capabilities, to help bring added efficiency and optimization to an imaging center's schedule.
"Things that happen manually today can now be automated, so that instead of performing tasks one at a time, you do that task 10 at a time or 100 at a time," Borden said. "Whether it be offering a patient an earlier exam time or shifting around the schedule to minimize openings, we can now use automation versus someone having to physically pick up the phone and call the patient."
Editor's note: This blog is the second in a two-part series on Leveraging Innovative Technologies to Enhance Clinical Productivity. The first blog, Integrating Speech Recognition into Radiology Platforms to Improve Workflows and Patient Care, can be found here.
Related content: Talking Trends with Konica Minolta: Enhancing Productivity Through Automation
Subscribe Now