Greg Freiherr has reported on developments in radiology since 1983. He runs the consulting service, The Freiherr Group.
BLOG: How the Cloud and AI Can Elevate the Standard of Patient Care
Image courtesy of Pixabay
Through its structure and scalability, the cloud makes data usable, even when there are volumes of it. A modern form of artificial intelligence (AI), exemplified by deep learning (DL) algorithms, crunches this data so people can make sense of it.
By processing data in the cloud, DL algorithms provide the information that people need to improve workflow and image quality and to optimize patient radiation dose, which directly impacts patient safety. Improvements can elevate the standard of care. But people make it happen.
As exams become more consistent in image quality and radiation doses, both provider and patient may benefit. The common thread running through these two benefits is increased efficiency. It is known, for example, that misaligning patients by just 3 to 6 cm can drastically impact the radiation dose received by the patients during computed tomography (CT) exams. This increased radiation can impact patient safety and negatively affect image quality.
"Providers need to get to a definitive and accurate diagnosis as quickly as possible," said John Heil, founder and CEO of Imalogix, which leverages the cloud and artificial intelligence to analyze the performance of imaging providers. "You don't want to compromise image quality for a lower dose and miss something."
Delivering the analysis to improve patient positioning is one of the key provisions of the Imalogix platform, whose DL algorithms process cloud-based data can identify substandard operations, predicting, for example, how improved alignment may boost performance. Competency reviews of CT techniques such as patient positioning can help improve image quality and protect patients, while ensuring diagnostic accuracy. They can also help streamline operations, making workflow efficient and schedules reliable.
These analyses are done in the cloud as is an overall assessment of whether exam protocols are actually being performed. This is essential to the quality, efficiency and consistency of patient care.
"We help you make sure protocols are being followed and what the breakdowns are," said Heil, noting that Imalogix was founded with the goal of "helping people get better at imaging. And (the platform) can tell you what you can do to make things better."
How DL Analyses Can Help
Imalogix leverages DL to assess provider performance on specific factors that may be affected by technologists, imaging equipment and exam protocols. Its algorithms might examine whether protocols are being performed routinely and whether these protocols are being implemented properly for all patients and for all exam types. The objective is to give providers what they need to be efficient, make patients as safe as possible, and deliver care more consistently.
A particular protocol, for example, may require the technologist to adjust parameters based on a patient's age or size. Using DL algorithms, the Imalogix system might find that:
one CT scanner delivers a higher radiation dose for one protocol compared to another scanner running a similar protocol;
a particular technologist struggles with a one or another protocol on a specific CT scanner; or
one scanner performs a protocol slower compared to others (the slower speed may be the root cause of patient scheduling delays).
"I can pull patient dose information from all four campuses from wherever I am," said Tara Bachman, a medical physicist with Bio-Med Associates, which is headquartered in Flemington, N.J. (Under contract, Bachman serves as radiation safety officer for Main Line Health, which provides hospital and outpatient imaging services at campuses in the Philadelphia area.) "I can individualize (this information) to a certain campus; to certain patient populations; even separate the data as being male or female or by age."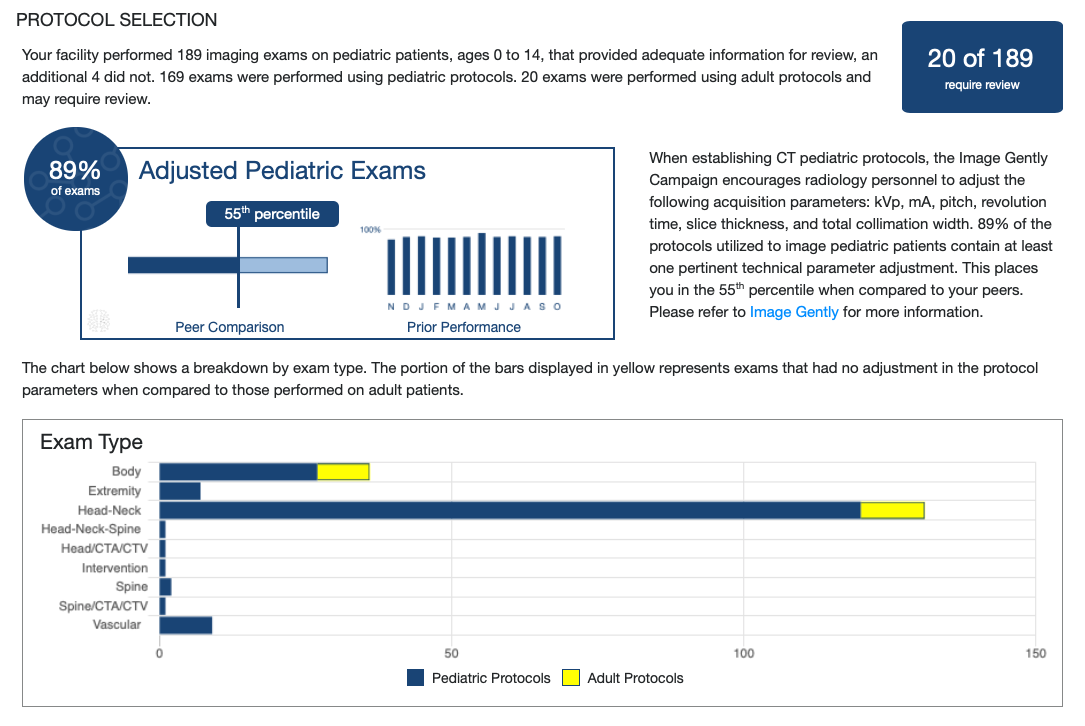 The Imalogix platform can show the percentage of patients who are being examined specifically under pediatric protocols, for example.
Similarly, an Imalogix assessment might document that several technologists at a certain location are struggling with a specific task, such as scanning off scout when the automatic exposure control is triggered.
Radiation doses can be tied to data about patient demographics and across the enterprise, according to Diane Bernd, senior systems analyst at Main Line Health. "It can tell you how much radiation a patient has received individually and at different facilities at specific times or during certain periods," Bernd said.
Main Line Health uses the Imalogix platform to compare the radiation profiles of its 21 CT scanners, which differ in age, as well as the number of slices per rotation. These analyses, for example, have documented major differences between scanners that have recently entered service versus ones that have been in use for several years, according to Bernd and Bachman.
The resulting data is considered when developing thresholds, according to Bachman: "We can set an overall threshold to say what is completely unacceptable under all circumstances."
These thresholds may be set in compliance with mandates from The Joint Commission at Main Line Health facilities as well as others (See "BLOG: Uncovering Patterns in Big Data").Under these circumstance, events that exceed thresholds must be investigated.
Why Providers Must Reduce Variability
Cloud-based AI can also identify staff and facilities whose performance is outside the norm. By reducing variability, general quality, safety and efficiency may be improved.
Leveraging the cloud, providers can see this variability in near real time on Imalogix dashboards and graphics. And they can receive DL recommendations as to where and how changes can be made.
These changes may involve the scanner, exam protocols or the tasks performed by technologists. Insights may involve procedure length, utilization and workflow. Typically analyses indicate how staff or a facility can optimize workflow to be more efficient and, thereby, raise the standard of care given patients.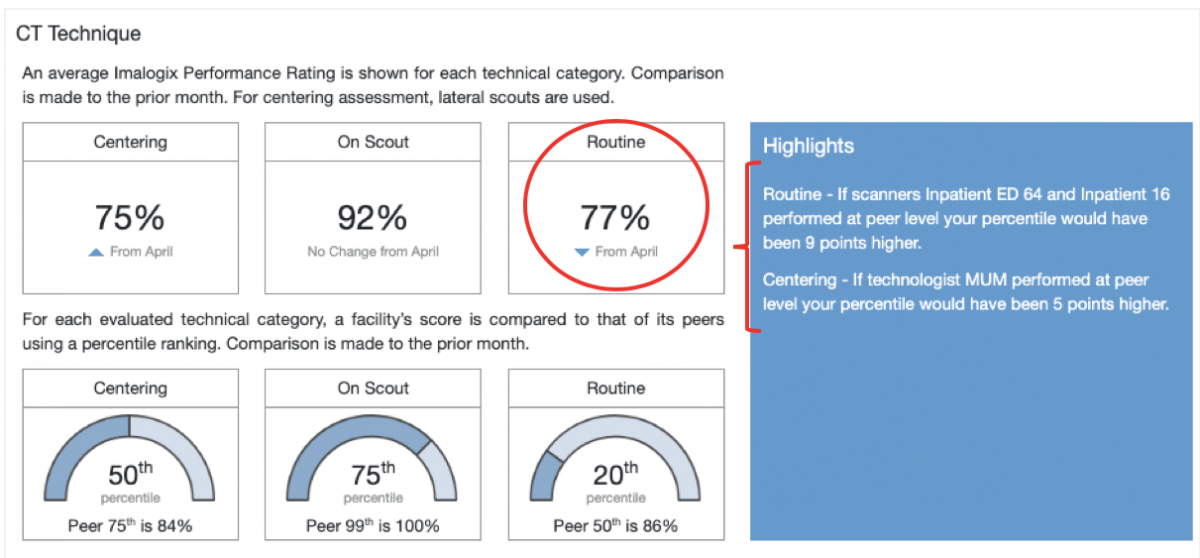 Administrators, for example, may use the cloud based Imalogix algorithms to see the percentage of time that protocols are routinely performed.
The degree to which protocols are routinely and correctly implemented determines the consistency and repeatability of patient exams across the facility. Unnecessary steps (including ones made in error) may be identified. By avoiding or eliminating these steps, providers might reduce the length of an exam without impacting cost.
Striking The Right Balance
Cloud-based analyses such as those available through the Imalogix platform can help providers balance radiation dose and image quality. This is one of the primary reasons Main Line Health uses this platform, according to Bachman.
It's all too easy to get lost in the increasing volume of data being gathered by sites, according to Bernd. "This (the Imalogix platform) really pulls it all together. We can see every scanner and every patient," she said. "And if patients go to multiple (Main Line) sites, you can still look up just those patients. You can see how many different studies they have had and how much dose they were given within certain timeframes."
The information is immediately available on-line through the Imalogix platform as well as through the facility PACS to which it is moved by Imalogix, Bachman said.
Safely making accurate diagnoses depends on striking the appropriate balance between dose and image quality. This helps protect patients from radiation, while making the best use of their time over the short and long terms. This may be done by minimizing the need to perform repeat exams in or outside of the modality.
"You don't want patients to go back for repeat exams for safety as well as patient satisfaction and cost," said Imalogix executive Heil.
Ultimately, striking the right balance between radiation dose and image quality benefits patients by making the best use of their time, while minimizing radiation exposure.
The Cloud's Continuing Dividends
Through the cloud, Imalogix DL algorithms can analyze information quickly and efficiently, comparing and contrasting data from multiple sites. From these analyses, productivity and workflow can improve through improved workflow, exam consistency and dose optimization, each of which benefits patients and providers. These may be expressed through the clinical and operational benefits.
"A true cloud solution marries business partners and technology together, so you can grow your business," Heil said. "This involves seeing how you are operating; looking at the data from your business and other businesses; and figuring out how to help you improve."
The trick is not just finding patterns but acting on them, he noted. AI can uncover patterns that might be masked in a mushrooming volume of data. But It's not just technology – not just the algorithms or the cloud, he emphasized.
The cloud can simplify complexity. But, ultimately, it is people who make sense out of the otherwise incomprehensible.
Editor's Note:
This is the fourth and last in a series of blogs about the value of the cloud in today's health care. The first blog, How Healthcare Can Benefit From the Cloud, can be found here. The second blog, What AI Does in the Cloud, can be found here. The third blog, Uncovering Patterns in Big Data, can be found here.
Related content:
Subscribe Now