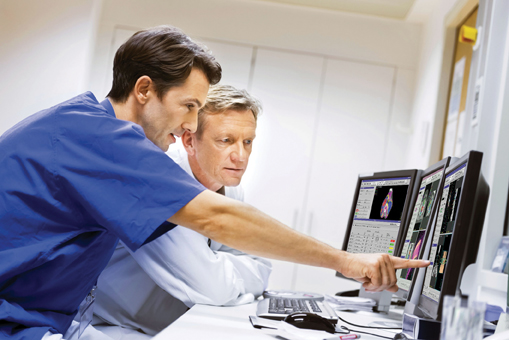 Image courtesy of Philips Healthcare
Of all the departments in a hospital, radiology arguably holds the most and richest variety of data. There's so much data, in fact, that it can be difficult to know what to do with it all and how to handle it. As the healthcare industry continues to shift toward a value-based payment model, utilizing that data becomes even more important as hospitals take a look at their operations and try to improve their performance. For radiology departments struggling with information overload, business analytics can provide a solution. 
Information Overload
One of the biggest challenges in handling radiology data is that the information is often spread across multiple databases — electronic health records, radiology information systems (RIS), picture archive and communication systems (PACS) and a host of other sources. Compounding the problem, different databases store the information in a variety of formats. 
Business analytics tools can overcome these challenges by aggregating and consolidating the data, converting it into a common format and, perhaps most importantly, analyzing and presenting it in an easy-to-digest visual format. The core benefits include visualizing trends, detecting gaps in performance or service and drawing correlations.
There are five main procedures in the process of business analytics, according to Katherine P. Andriole, Ph.D., director of imaging informatics, Brigham and Women's Hospital:
• Aggregation — Collect and validate the data
• Integration — Gather information from multiple databases
• Storage — Move the data into one central location, such as a data warehouse
• Analysis — Mine the data for meaningful information
• Presentation — Share the results via dashboards, reports or other methods.  
These processes remain the same regardless of the application. Some of the most common applications for business analytics in radiology include:
•  Performance assessment;
•  Operations assessment;
•  Dose monitoring; and
•  Predictive analytics.
While similar, each application has its own distinct measures, as well as benefits that can be derived from the analysis.
Performance Now and Later
Like with any kind of analysis, implementing business analytics must begin with the establishment of the metrics by which the data will be evaluated — known as key performance indicators (KPIs) in the world of business analytics. "These do need to be carefully selected, and often this takes the most amount of time when designing your analytics," said Andriole. KPIs can cover a vast array of performance measures, from patients scanned to alerts closed or dose administered. 
When dealing with these types of metrics that involve copious amounts of data, having a visual representation is the key to identifying trends and areas of improvement, said Paul Nagy, Ph.D., associate professor of radiology and radiological science at Johns Hopkins University School of Medicine. For example, analytics software can generate a chart identifying gaps in scanner service; large gaps may indicate that a technologist is overloaded and thus more likely to make an error. "Understanding ... the flow, and understanding the dynamics of this complex environment is really important when you start looking at these dashboards to understand how to attribute accountability," Nagy said. 
These types of trends, once identified, can then often be extrapolated to predict future service, quality or safety outcomes. "I think it's going to open up a window into a previously invisible world that's going to enable you to have deep insights into what is the value of the radiology report and its impact on patient care," Nagy added.  
Dose Monitoring Analytics
Until recently, tracking dose information via analytics has proven challenging, as the majority of dose-related parameters were stored as pixel data as opposed to structured data. Over the last few years, many scanners have begun incorporating DICOM structured reports, which present dose information in a format easily digested by a PACS or other storage system. 
The other challenge with dose monitoring is that there's no consensus among radiologists on the best method for recording dose. Computed tomography (CT) scanners typically record the computed tomography dose index (CTDI) and dose length product (DLP), but both numbers are related more to the output of the scanner than the actual dose absorbed by the patient. 
Tessa Cook, M.D., Ph.D., assistant professor of radiology and chief of 3-D and advanced imaging at the Hospital of the University of Pennsylvania, spoke about the dose monitoring solution that she and her colleagues developed during the business analytics session at RSNA 2014. The system, dubbed Radiance, was created specifically for CT dose monitoring via an open-source tool. The data flow was complex — the three hospitals in the network shared one RIS, and each facility had its own PACS. Cook said that the RIS could be queried in real-time, but each of the PACS sent information at different speeds. 
Shortly after implementing Radiance, which is able to draw from all sources and create a common data format, the data flow began to change, according to Cook, with all three hospitals eventually sharing the same PACS. "As we started to think about where the data was coming from and when the data was accessible, we had to take those factors into account when making decisions about acting on the data we were looking at," she said. 
Analytics in the Future 
While some institutions may opt to build their own system similar to Radiance, numerous vendors are now offering solutions, whether through open-source software, consulting services or even directly through a scanner. 
Analytical Informatics Inc. is one of the newer entrants to the market, emerging on the scene in 2012 from the University of Maryland Baltimore. The company offers a host of Web-based business analytics applications, executed through its AI Bridge platform. Clients can use these tools — which include report search, resident worklist and productivity applications, among others — to quickly generate custom reports and dashboards.
Also at RSNA 2014, Volpara Solutions introduced the latest version of VolparaAnalytics, a dashboard analytics application focused on mammography metrics. On the dose monitoring front, Bayer released version 2.5 of its Radimetrics Enterprise Platform, which tracks both radiation dose and contrast dose analytics for CT. These were just a few of the latest developments from the show floor. 
Whatever the need, radiologists can find an analytics package for the job. As the industry continues to make the shift toward value-based care and radiologists have to prove their value to the hospital, business analytics will likely be a powerful tool for the cause. 
"Quantifying value has proven challenging and I think that's one of the things we're going to see in the next few years, are more innovative and creative ways of quantifying the value of radiologists and radiology," concluded Cook.