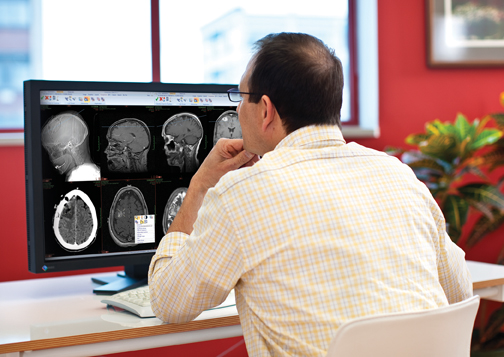 Photo courtesy of Carestream Health
The digitization of medical imaging at hospitals has come a long way since the early picture archiving and communication systems (PACS) of the 1990s, according to Eric Rice, chief technology officer for Mach7 Technologies. With more institutions investing in electronic medical records (EMR) and Meaningful Use criteria driving the push toward even better management and storage of patient images, the enterprise imaging strategy has evolved into a vital necessity for many healthcare organizations. This involves the handling of images not only across certain departments, but also across entire hospitals and healthcare networks. The value of developing an enterprise imaging strategy is inherent to any organization, said Rice, whether they are in the process of implementing their EMR platform or looking for ways to optimize it.
The introduction of the PACS market gave hospitals a framework with which to begin providing outside access to their medical images. For the most part, the decision to select and buy systems lay in the hands of the clinicians who would use them, according to Rice. Challenges emerged early on in the 2000s as newer systems developed and in-house information technology (IT) departments became more involved. "Image files were not backed up or updated, so some data originally stored in the PACS were no longer accurate," said Rice. "If a rack of servers is lost and the data is no longer on film for backup, then patient medical records may be lost as well." Older proprietary PACS also became an issue as departments upgrading their systems or integrating with others found they could not transfer the data to a different vendor's system.
Enterprise Imaging Strategy
Fast-forward to today, and hospitals are now being asked: What is your enterprise imaging strategy? What platform are you using? "We talk about having an enterprise imaging strategy, but what is that strategy? How do we archive and how do we communicate those medical images?" said Rice.
An enterprise imaging strategy "addresses the overarching enterprise need for standardization of clinical image acquisition, management, storage and access," according to the Cleveland Clinic, a multispecialty academic medical center located in Cleveland, Ohio.1 With many disparate systems having been in use across different departments, from oncology to cardiology and ophthalmology, the enterprise imaging strategy should seek to unite all aspects of medical imaging across an entire network or organization.
Vendor neutral archive (VNA) technology emerged as a solution to the issues posed by the use of proprietary systems. It allows hospitals to store and redistribute any of its electronically stored images or documents without the restrictions imposed by a vendor. But the enterprise imaging strategy should evolve beyond that, said Rice, and emphasize the "A" (archiving) and "C" (communication) components of the PACS.
The ever-growing presence of Meaningful Use is driving a lot of today's push toward the enterprise-wide strategy, added Rice. With criteria requiring healthcare providers to better image-enable systems for patients, solutions should provide the capability for anyone, from the radiologist to the referring physician to the patient, to access and share medical images. Decision-makers "need a strategy and a platform that can consolidate all of the needs," said Rice. Solutions should keep in mind — among many features — an infrastructure that keeps the technology running, a workflow that is easy to implement and a universal viewer accessible from anywhere regardless of the type of exam or image.
Communication and Data
To go beyond the traditional EMR, hospitals must also improve the communication of data and images. Enterprise platforms can accomplish more than just storage by also providing a more comprehensive view of the patient's medical history. The integration of the imaging workflow — from ordering to acquisition, to reporting and billing — is key to ensuring that those who may view an examination remotely will understand its context and presentation.
Today's market offers a range of enterprise imaging solutions for hospitals and clinics. Phillips Healthcare's IntelliSpace PACS delivers diagnostic-quality images for doctors who need them on demand, as well as interfaces with third-party applications to enhance programs. McKesson's portfolio includes the Qualitative Intelligence Communication System (QICS), which gives departments a more comprehensive view of the healthcare workflow. The enterprise imaging platform from Mach7 features both a VNA to handle image files of all types, and a Communication Workflow Engine to improve image routing and support telemedicine services. Other vendors with solutions include Toshiba, TeraMedica, ScImage, Agfa Healthcare, GE Healthcare and Merge Healthcare.
The benefits that enterprise imaging solutions provide can give clinicians and department administrators better control over their technical storage capacities as well. Those who may be renewing their PACS or upgrading to a newer system will want scalable solutions and ways to more efficiently manage a growing, and aging, body of images. "Several years on, radiologists may not need so many slices of a particular study," said Rice. Identifying older images — those more than seven years old — that can be compressed or purged can save storage space. The management of an image's life cycle is another item to consider, he added.
Enterprise imaging is going beyond radiology. Getting data of a variety of modalities, from a multitude of departments, to come together will require the cooperation of all members of the healthcare organization. Ultimately, the importance of the enterprise imaging strategy is to ensure physicians have the most efficient and best resources to use for patient care. "We are all here at the end of the day to provide the best clinical care," concluded Rice. "Clinicians still need the right tools to be able to diagnose a patient. If you have the right enterprise imaging strategy and platform in place, the clinicians can actually have more control and flexibility. They don't have to be locked into a single viewer for the next five or 10 years." 
Reference:
1. http://portals.clevelandclinic.org/mis/MyPracticeImagingSolutions/WhatisanEnterpriseImagingStrategy/tabid/7766/Default.aspx. Accessed Sept. 17, 2014.