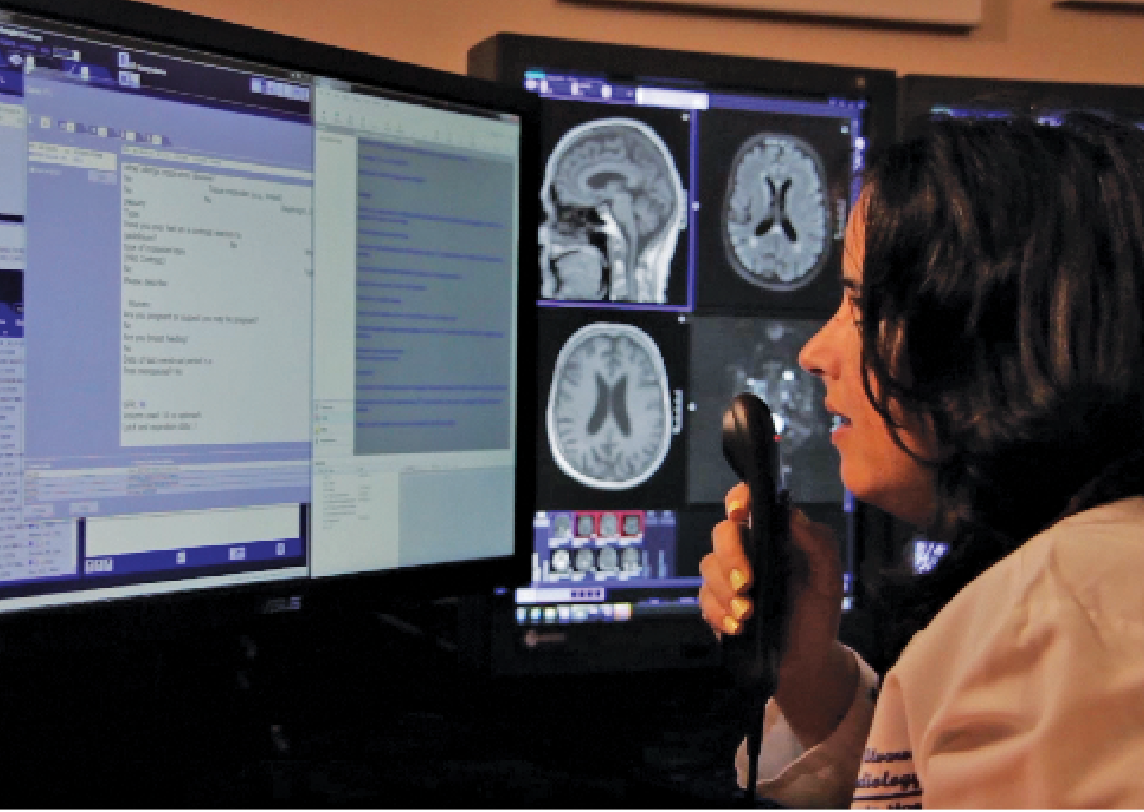 Image courtesy of Bethesda Health
Few professions have experienced the dramatic changes that radiologists have over the past few years. Once considered a profit center, radiology services are now viewed as a cost center due to industry-wide efforts to reduce unnecessary and duplicative imaging tests. These efforts have also sparked a significant rise in the number of radiologists employed by health systems and a reduction in the number of independent radiology practices.
Beyond cost control, one of the primary goals of bringing radiology expertise in-house is to make radiology professionals a more entrenched and collaborative member of the care team. Historically, radiologists received medical images of a patient and recorded their findings on a radiology report they sent back to the requesting physician. There was little interaction between the physician and the radiologist, and the images themselves were ultimately stored in the radiology picture archiving and communication system (PACS), where they were largely inaccessible to clinicians outside of the radiology department and not included as part of the patient record.
While the order-based workflow between referring physicians and radiologists has remained largely unchanged, there is a much different expectation today regarding what should occur after radiology medical images are captured. As always, health providers demand fast turnaround times and accurate image interpretations. However, now they also expect regular collaboration with the radiologist, and accessibility to the images captured and stored as a result of their order.
As such, radiologists are being motivated to look beyond their own corner of the medical world and think more about the larger healthcare enterprise and the entire care continuum. Technology is a key way to address these new demands. For most radiologists, the best place to start is to take a long, hard look at your PACS.
Integrate a VNA With PACS to Extend Functionality
Picture archiving and communication systems continue to be, and likely will remain, the cornerstone of the radiology IT universe. However, as my colleague Sandra Lillie points out in her recent blog post, PACS technology has several limitations that prevent it from meeting many modern-day imaging needs on its own. For example, the technology is rife with proprietary code sets that prevent images from being easily exchanged between PACS systems from different vendors, let alone other hospital IT systems. Furthermore, PACS is designed to manage order-based DICOM images.
However, so much of imaging today takes place outside of this process — whether it be a point-of-care ultrasound performed during a patient encounter in the ED, or any of the non-DICOM images captured in their native JPEG or TIFF formats in dermatology, gastroenterology, ophthalmology or any other image-intensive specialty department.
A truly universal and inclusive medical image archive needs to ingest and manage these non-DICOM assets. This can be an arduous and costly proposition if you confine yourself to working with the PACS alone. A better option is to look for ways to incorporate a vendor neutral archive (VNA) that can strip away proprietary code sets and allow radiologists to more easily ingest non-DICOM images and manage them side-by-side with DICOM assets. Vendor neutrality also allows images to be easily shared with other hospital systems and clinicians throughout the extended enterprise.
Enable Image Sharing and Collaboration With Universal Viewing
Universal viewing is another technology that offers significant promise to the radiology community. With this tool, radiologists can easily put the images stored in their PACS at the fingertips of point-of-care clinicians throughout their enterprise for referential viewing. In most cases, users can access and view these images in the context of the electronic medical record for optimal correlation and visibility. Many universal viewers also provide native collaboration tools that enable real-time interactions between radiologists and clinicians on selected image sets. This capability can help accelerate diagnosis and treatment while ensuring interpretation accuracy.
Finally, some universal viewing platforms provide an advanced visualization option that goes beyond simple referential viewing. These more sophisticated tools can provide radiologists with the ability to access diagnostic quality images anytime on any computer with an Internet connection and a high-resolution monitor. With this technology, radiologists can untether themselves from traditional PACS workstations and perform certain interpretative tasks from just about anywhere, increasing convenience and productivity.
With more than 20 years of healthcare technology and operations leadership experience, Susan DeCathelineau is a leader in providing management and consulting services for health information management, revenue cycle and electronic medical record strategies. She is responsible for developing and implementing a global strategic vision to ensure Hyland Healthcare solutions and services deliver operational excellence and earn customer loyalty.
Related content:
Building the Right Team for Enterprise Imaging Success
VIDEO: Building the Right Team for Enterprise Imaging Success — Part 1
VIDEO: Building the Right Team for Enterprise Imaging Success — Part 2