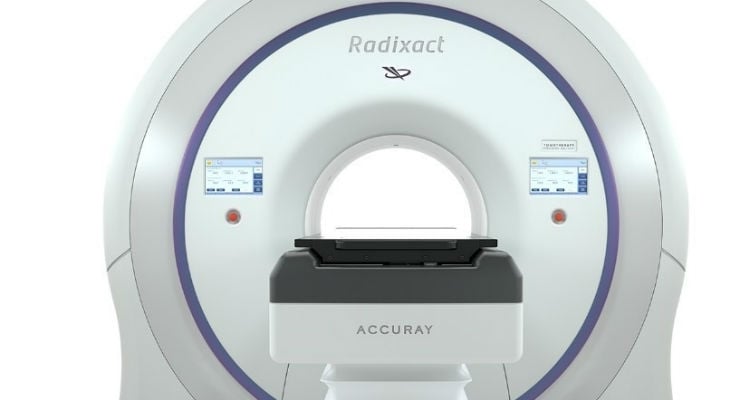 Image courtesy of Accuray
The Mayo Clinic defines radiation therapy as a type of cancer treatment that uses beams of intense energy to kill cancer cells, mostly getting its power from X-rays, but the power can also come from protons or other types of energy. Most often, it is in the form of external beam radiation therapy. In fact, according to the National Cancer Institute, more than half of all people with cancer receive radiation therapy as part of their treatment, making it one of the most common treatments for cancer.
History of Radiation Therapy
The use of radiation therapy to treat cancer has been in existence for more than a century, tracing back to the early days of Wilhelm Röntgen and his discovery of X-rays. Reportedly — and not without controversy — one of the first Americans to use X-ray radiation to experimentally treat cancer was Chicago homeopathic physician and chemist Emil Grubbe.
As science, technology and experimentation developed — thanks also to the groundbreaking research of Marie Curie, who discovered the radioactive elements polonium and radium in the late 1800s — the use of radiation therapy as an integral part of the cancer treatment protocol began to grow. With Godfrey Hounsfield's invention of computed tomography (CT), 3-D planning was made possible, creating a shift from 2-D to 3-D radiation delivery. In the 1970s magnetic resonance imaging (MRI) entered the imaging scene, followed by positron emission tomography (PET) in the 1980s, moving radiation therapy along to intensity-modulated radiation therapy (IMRT), image-guided radiation therapy (IGRT) and tomotherapy.
Today, research continues to make radiation therapy cancer treatment safer and more effective, and also provide real-time imaging of the tumor target during treatment. Technology has improved and the delivery of radiation has become more precise, and radiation oncologists are now able to deliver higher doses of radiation more safely. This has given radiation an even bigger role in cancer care. 
Varian's Trilogy System
Varian's established Trilogy system is a product of ongoing research and dedication to this field. Trilogy has the capacity to shorten patient treatment times, minimize damage to healthy tissues and allow many types of patients to be treated on a single machine. According to Varian, as new technologies become available and clinics grow, Trilogy can be upgraded and augmented. 
Accuray's Radixact Treatment Delivery Platform
Recently, Accuray announced 510(k) clearance from the U.S. Food and Drug Administration (FDA) for its Radixact Treatment Delivery Platform for radiation therapy. Accuray also received 510(k) clearance for its new treatment planning and data management systems, Accuray Precision Treatment Planning System and iDMS Data Management System. These next-generation hardware and software solutions, which together make up the new Radixact system, are said to enable faster, more efficient delivery of extremely precise treatment to a wider range of cancer patients, including those undergoing retreatment.
The system features a more powerful linear accelerator, megavoltage computed tomography (MVCT) imaging and helical treatment delivery. Clinicians can apply highly conformal and homogenous dose distributions to any target volume while precisely sparing normal healthy tissue during each treatment fraction. The new Accuray Precision Treatment Planning System with smart, automated workflows and midcourse decision-making tools enables clinicians to adapt delivery to changes in tumor size, shape and location within the patient.
"The Radixact System builds upon the unique strengths of the TomoTherapy platform," explained Jennifer Smilowitz, Ph.D., clinical associate professor, University of Wisconsin School of Medicine and Public Health, who was involved in the development of the new radiation therapy technology, in a statement issued by the company. "Expanded delivery capabilities enable treatment with image-guided, intensity-modulated radiation therapy (IG-IMRT), an extremely accurate form of radiation therapy, to an expanded range of patients. New database features make the ring gantry-based system even easier to operate and integrate within a radiation oncology department."
Elekta's MR-linac
Recently, Elekta announced its MR-linac will integrate an advanced linear accelerator and a 1.5 Tesla MRI system. Combined, these systems will allow for simultaneous radiation therapy delivery and high-field MR tumor monitoring. During a joint session of the American Society for Radiation Oncology (ASTRO) and the European Society for Radiation Oncology (ESTRO), the potential for adaptive imaging in radiation therapy was highlighted during a session titled "In Room Adaptive Imaging with a Focus on MRI." The session discussed strategies for integrating MR-linac into current RT protocols. It also provided an overview of the development plan that the Elekta MR-linac Consortium is undertaking in order to generate the clinical, physics and quality control data that will be essential for developing and realizing the full clinical potential of MR-linac technology. In another related session, "MRI Linac: Physics Perspective," the potential to leverage the power of MR-linac technology to move from pre-treatment planning to online plan adaptation and, ultimately, to real-time plan adaptation was highlighted. 
Several additional presentations described the potential for MR-linac and adaptive therapy to enable dose painting. This is the precise delivery of varying doses of radiation to specific regions within a tumor in order to account for differences in cell type, location and density from one part of the tumor to another. Elekta's MR-linac is a work in progress and not available for sale or distribution.