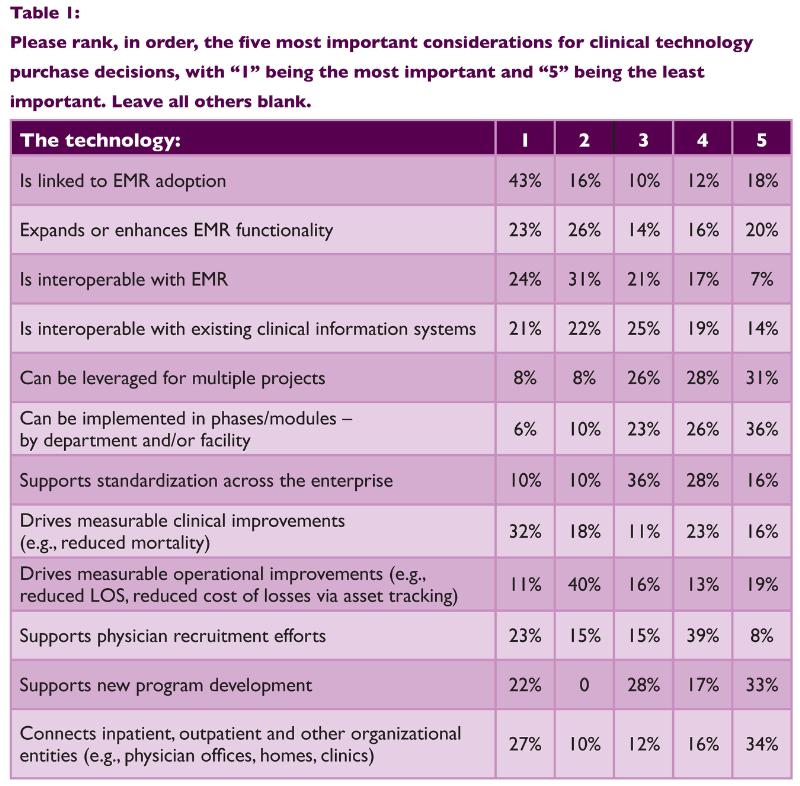 March 6, 2014 — Interoperability, mobile connectivity and technologies that drive real-time actionable information at the point of care will be the focus of health information technology (IT) investments in 2014. This is according to the results of a new healthcare leadership survey released by Philips Healthcare. To date, electronic medical records (EMRs) have been the most widely adopted HIT, with the Centers for Medicare and Medicaid Services (CMS) reporting EMR reimbursements totaled more than $15.1 million as of June 2013. Preparing to meet Meaningful Use Stage 2 criteria, healthcare leaders are looking to expand EMR capabilities to support and improve the quality of care by measuring clinical outcomes and sharing patient information.
The survey of 142 healthcare leaders was conducted by HIMSS Media on behalf of Philips Healthcare and announced at the 2014 annual meeting of the Health Information and Management Systems Society (HIMSS). It aimed to determine how providers are prioritizing technology investment and adoption to address healthcare reform initiatives. Of the 142 respondents, 85 percent represent either standalone hospitals or integrated delivery networks (IDNs). Nearly 40 percent of respondents are in C-level positions, with the predominant position being chief information office, and another 30 percent comprising IT directors and managers.
"EMRs must meaningfully use the information across a hospital's network to improve care and add value for the patient," said Joe Frassica, vice president and chief medical information officer, patient care and monitoring solutions for Philips Healthcare. "One of the major complaints of hospital systems about their EMRs is their inability to access the data that's incorporated into the EMR and use it for meaningful patient intervention."
According to the survey results, 53 percent of respondents selected EMR applications as garnering the lion's share of their healthcare organization's technology purchasing budget. Interfacing and integration applications were selected by 27 percent. Other key findings are summarized below.  
Connectivity and Interoperability
A look at the combined top two rankings for technology capabilities that are important considerations for clinical technology purchase decisions reveal a demand for interoperable solutions and EMR augmentation.
When asked to identify the relative importance in choosing clinical technologies, EMR interoperability, at 44 percent, was by far the most important consideration for survey respondents.

Mobile Connectivity In and Outside Traditional Care Settings
Survey participants reported deploying their IT systems to the following entities to address healthcare reform requirements: physician offices (78 percent), ambulatory surgery centers (47 percent), diagnostic imaging centers (41 percent), urgent care centers (32 percent) and patient homes (30 percent).
51 percent of respondents indicated that their healthcare organization was deploying a new EMR as a new technology to help them meet healthcare reform initiatives.
59 percent and 54 percent identified clinical devices and mobility solutions, respectively, as recent acquisitions targeted to meet compliance.
37 percent of respondents also confirmed their use of other solutions such as home/telehealth technologies to help them coordinate care and meet healthcare reform initiatives.

The findings are titled, "The New Healthcare Enterprise: Leveraging Healthcare IT to Achieve Connected Care, Healthcare Reform."  
For more information: www.philips.com