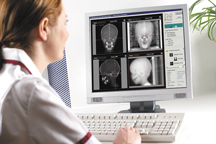 Imaging is playing an increasingly valuable role in all areas of radiation therapy as new image-guided techniques are used for tumor localization, treatment planning and verification of treatment plans. However, the resulting large volumes of image data are inundating radiation oncology information systems (OIMS), which are not equipped to efficiently store and retrieve data at this capacity.
"Radiation oncology is undergoing a rapid and dramatic workflow transformation," said Erwin Nell, product manager for Varian's OncoView Image Management and Storage Solution. "Within 3-5 years, the average oncology department will experience exponential growth in the size, complexity and volume of images generated. The increase is due, in part, to the success of image-guided oncology programs, which generate new images at each step in the treatment process — diagnosis, staging, planning, verification, setup, response and follow-up. Storing, managing and providing access to these images long-term will become critical as the giga- and terabyte needs of today expand to the petabyte requirements of the future."
In response to this crisis, OIMS developers are restructuring their systems, offering more efficient data management and archive storage solutions. Radiation oncologists are hopeful that these new systems will iron out their workflow rifts.
Built-in Bottlenecks
Data management in radiation oncology was built piece-by-piece, trapping proprietary systems, images and other clinical data in disparate silos and creating bottlenecks in the workflow. As a patient passes through the treatment process, clinicians have had to struggle to retrieve priors and call up currents in an expeditious way.
"In the past, there were a lot of silos created," explained David Nikolai, business marketing manager for Impac Software, The Elekta Group. "Adding to this problem is the fact that many PACS available for managing images and data were designed for radiology and the radiology workflow, not the more dynamic and adaptive image-guided RT workflow."
Before the Palo Alto Medical Foundation (PAMF), Palo Alto, CA, implementing OncoView Image Management and Storage Solution (OncoView), an oncology management system by Varian Medical Systems, data access had been a constant problem.
"In our department, prior to OncoView, when a patient was seen during or after treatment with a problem, there was no easy way to access image information related to the patient's ongoing or previous treatment. Our EMR/PACS was not oncology specific and could not give us the relevant stored image info combined with relevant clinical and detailed radiation treatment-related details," said Gordon Ray, M.D., chairman of the radiation oncology department at PAMF.
Another major issue before OncoView was interoperability. When a physician needed to compare current and prior images for referral patients, importing priors from a different vendors' system often was not possible.
Rebuilding OIMS
Many existing oncology-specific information management systems are not designed to manage vast amounts of image data. That is why Impac (part of the Elekta group), has engineered its oncology-specific PACS product, MOSAIQ Oncology PACS, which integrates the managing and archiving of RT objects, images and information from within the OIMS.
"What we're trying to do is attack the traditional workflow bottlenecks created by these silo systems by providing all of the image and data management capabilities of our PACS within the context of the patient record," said Nikolai. "This way, the electronic patient record becomes the focal point of the oncology workflow, not separate or stand alone systems."
As an integrated EMR and oncology information system, MOSAIQ is designed to manage all aspects of the oncology workflow, which we refer to as image-guided treatment management. The system archives images, objects and files outside of the MOSAIQ database into the separate MOSAIQ Oncology PACS archive. Because it's integrated with the MOSAIQ EMR, it maintains data pointers to all archived information in the patient record to access images and data sets. MOSAIQ also has an open-architecture design to enable compatibility across linear accelerators and imaging systems.
"We offer systems that work with virtually any other radiation treatment delivery or treatment planning system," said Nikolai. "Our PACS also integrates the archiving of non-DICOM objects such as a PDF, MS Excel and Word documents into the patient archive."
Varian is in the process of collaborating with the radiation oncology department at PAMF on the implementation of OncoView. The system combines the storage capability of enterprise PACS with features designed specifically to support image-based oncology programs. OncoView stores diagnostic, planning and pre-treatment setup images, as well as the associated DICOM RT layers that are crucial to making those images informative, meaningful components to the patient's oncology treatment record.
Currently, clinicians are working with the OncoView database and its toolsets to allow each department to modify and customize the database. "OncoView provides a platform that for the first time in our experience allows us to store, view and manage these images in a manner that is clinically useful," said Dr. Ray. "We no longer have to search multiple image sets to find the most relevant one. OncoView presents an integrated record of archived images matched to relevant clinical information that is patient, case and course specific."
Dr. Ray anticipates that OncoView will "more effectively interface with the patient's EMR record, providing better and quicker integration with other critical clinical pieces of information to allow more integrated and comprehensive medical decision making."
The use of deformation protocols will allow comparison of pre-and post treatment image based responses to treatment. "The use of Oncoview in the follow-up clinics should not only allow more accurate decision making in regards to treatment by comparing pre and post archived images, but it should do this in considerably less time thereby significantly increasing throughput and decreasing patient waiting times and frustrations," said Dr. Ray. "This will help not only us but also the medical oncologist to gauge the effectiveness of treatment, as well as to monitor potential complications and their causes."
In its final form, Dr. Ray expects Oncoview to reduce the time spent in the weekly review of cases, chart rounds, by 25-35 percent. He added, "We would expect that Oncoview would allow us to not only be accurate in our decision-making process, but we estimate we should be able to do it in half the time."
Optimizing Your OIMS
Once an oncology-specific PACS or an OIMS is in place, the next step is optimizing the capabilities of the system to maximize workflow efficiencies, create savings, increase staff and patient satisfaction and leverage a return-on-investment.
To this end, Elekta has recently formed STRATEGIQ Services, a professional services group designed to assist clients in obtaining additional value from the company's oncology programs.
"We found that many oncology departments were only using the software for its basic ability to schedule, verify patient treatments, and print out paper charts," said Terry Oakes, vice president, STRATEGIQ Services for Elekta Oakes. "STRATEGIQ Services 'brings the software to life' by helping our clients realize efficiencies for their unique challenges. We work with our clients to revise their current processes and use of the software. We help them identify and develop new processes, eliminate their dependence on paper and gain the efficiencies of an electronic medical record system while improving the quality of their patient care."
STRATEGIQ Services recently completed an engagement at Lake Regional Health System in Osage Beach, MO, to help the comprehensive oncology department minimize the use of paper through more efficient use of their Impac Software.
Marcy Maxwell, director of Oncology Services, said, "STRATEGIQ Services really forced us to think step by step through our processes. This was a wonderful opportunity for us to clearly define roles and get everyone on the same page. From this process we were able to lay the groundwork for a more standardized, efficient system, which we desperately needed."
Although many benefits are possible, Maxwell said they will immediately benefit from the efficiencies identified in day-to-day activities, standardization of documentation in medical and radiation oncology and instant availability of patient information.
For Impac oncology software users, the ability to take advantage of the software's inherent EMR capabilities offers numerous benefits. "STRATEGIQ is helping radiation and medical oncology departments determine how they can immediately profit by more fully utilizing the software's capabilities," said Oakes. "An additional benefit is that by streamlining processes, a cancer center can gain a competitive advantage in their marketplace."
Reference: The viewing capabilities within OncoView for the image management and storage solution are manufactured by Velocity Medical Solutions.
---
If you enjoy this content, please share it with a colleague