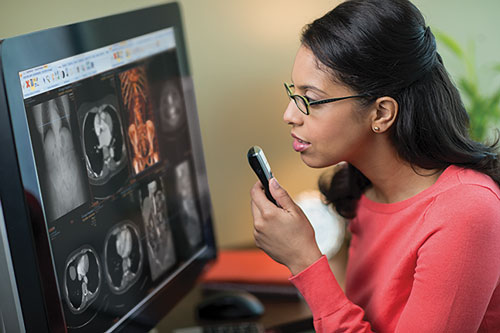 The Carestream Vue Reporting module can help generate detailed diagnostic reports.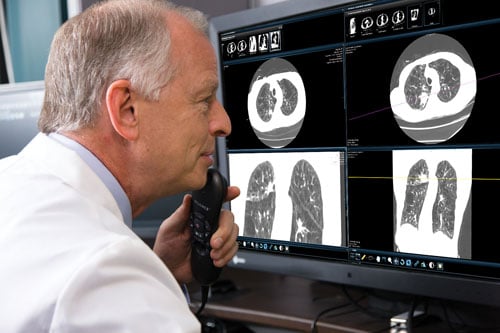 Cerner demonstrated how radiologists can be better integrated into the electronic medical record (EMR) workflow.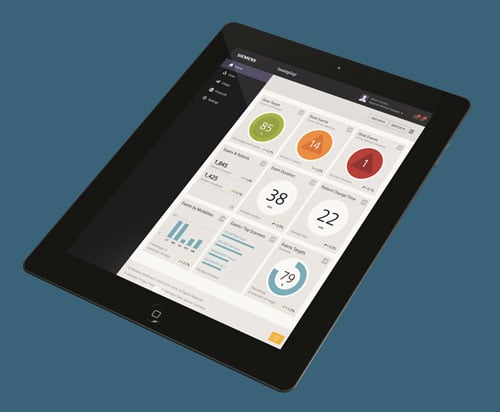 Teamplay from Siemens connects radiologists, physicians and patients around the globe with clinical data to streamline and enhance the decision-making process.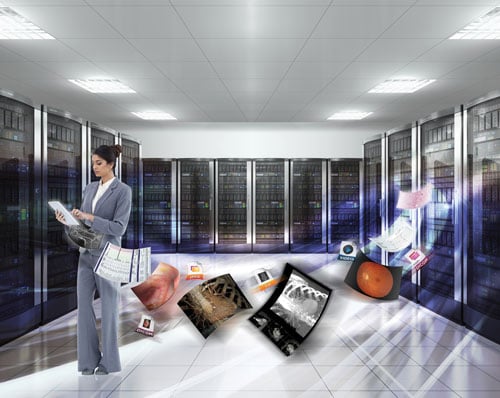 GE's Health Cloud is imagined as a digital space for users across the enterprise to collaborate via a series of applications.
The U.S. healthcare system's ongoing transformation from a volume-based payment model to a value-based one is being guided by one central principle: better coordination of patient care. The ultimate goal is to drive healthcare costs down by limiting the number of repeat examinations. This means exchanging huge amounts of data, both within and among hospitals. A feature video, available on itnTV, shows how leading vendors plan to do so.
Medical imaging makes up a large percentage of that data, particularly as imaging capabilities and responsibilities move beyond the radiology department. Coordination efforts on this front have led to the rise of enterprise imaging — in many ways the hub that connects various disciplines and care providers. During the 2015 Radiological Society of North America (RSNA) annual meeting, Nov. 29-Dec. 3 in Chicago, numerous vendors showcased cutting-edge developments in the field of enterprise imaging.  
Collaboration and Storage in the Cloud 
One way that vendors and healthcare organizations are working to improve data access and collaboration is through the use of cloud archive storage. This approach offers one department-neutral site where all care team members can view and interact with the data and with each other. 
Siemens and GE Healthcare both showcased cloud solutions for enterprise imaging at this year's RSNA. Siemens' offering, called Teamplay, connects radiologists, physicians and patients around the globe with clinical data to streamline and enhance the decision-making process. "We're bringing together their global expertise in order to help the radiologists to face and to solve local challenges they're seeing day by day," Arthur Kaindl, CEO of the Syngo Business Unit for Siemens, told Freiherr on the itnTV video. Such challenges include dose optimization and clinical or operational workflows.
GE Healthcare debuted the GE Health Cloud, imagined as a digital space for users across the enterprise to collaborate via a series of applications. The first apps to be moved into the cloud, according to GE Healthcare IT Chief Marketing Officer Justin Steinman, will be the Centricity Solutions for Enterprise Imaging suite. The company launched three new apps for the suite at RSNA, including Centricity Cloud Advanced Visualization, Centricity MDT Virtual Team Meeting and Centricity Case Exchange.
Eventually GE will establish its own app store for the Health Cloud, which will gradually become populated over the next several years. "Like any good app store, it will be useless without the applications," Steinman told itnTV. "And GE hopes its apps will only be 20 percent of the store, and we want the other 80 percent to come from independent software vendors." To that end, GE has created a software development toolkit for the cloud, along with a complete subscription and billing management infrastructure. 
EMR-driven Workflows 
Traditionally, the radiology workflow has centered around picture archiving and communication systems (PACS) and/or radiology information system (RIS). The primary issue with RIS/PACS is that they pertain only to imaging data.
Electronic medical records (EMR), on the other hand, address a wide range of patient information. For this reason, Cerner believes that an EMR-driven workflow is the key to success. The company is working to better integrate radiologists into EMR functionality. 
In the itnTV video, Cerner demonstrates how that workflow might look to a radiologist. Upon logging in, the radiologist can review any prior documentation or exams. They can use this information, along with the embedded decision support tools, to determine the next appropriate imaging exam; the final choice is immediately logged in the EMR to alert physicians and all other users. The radiologist can also leave notes and comments for the ordering physician, facilitating easy, direct communication among care team members. 
Enterprise Imaging in Oncology
One area where enterprise imaging seems to have a growing influence is oncology. In the itnTV video, Sectra showcased its Enterprise Image Management solution, which can collect imaging data from across the enterprise to help deliver a fully coordinated care experience. In addition to traditional diagnostic images, users can also access pathology and histopathology images, calling up all images at once with a single click. This unique functionality is especially effective for oncology cases, according to Fredrik Gustavsson, chief technology officer for Sectra, and greatly streamlines workflow. "This allows our customers to take that step forward in increasing efficiency and quality in the decision-making process in healthcare," he said. "From a cancer care pathway, this is really unique." 
Philips Healthcare took a different approach to enterprise imaging for oncology applications, focusing on data analytics — an area that has not seen much growth, according to Mark Khalil, global director of solutions marketing and strategy for Philips. "The challenge today is that there's been a lot of optimization around data management, but not really a lot has gone into the interplay between the data management, the analytics and the actionable insights that take it all the way through to how you would change the paradigm for clinical interpretation and how you would curate information in a way that is more consumable for the referrer," he said.  
Philips looks to address this deficiency through its new Measurement Assistant and Oncology Dashboard applications for IntelliSpace for Radiology and Enterprise. The Measurement Assistant takes an inventory of all of the measurements performed for patients who have regular follow-up, helping to increase efficiency and reduce error. The results can then be shared through the Oncology Dashboard, which can provide the oncologist a longitudinal view of the cancer along with easy access to the images themselves. After review, the oncologist can add any treatment information and notify the radiologist of next steps.  
Enterprise-enabled Reporting
While medical images are the primary output of the radiology department, the radiologists' reports on imaging exams are also crucial for shared understanding among care team members. Carestream demonstrated how enterprise imaging tools like its Vue Reporting module can help generate more detailed diagnostic reports. 
The module can create hyperlinks to the necessary anatomical bookmark images directly in the final generated report, saving other care team members from searching out the images themselves. Radiologists can share key non-imaging insights as well, through graphs, charts and other objects included in the report. With a click, users can call up historical images of the same patient and view them side by side with the new image. 
For referring physicians and other parties outside of the radiology department, Carestream's enterprise viewer allows full access and viewing of all necessary images wherever they are, including from a mobile device. "Whether it's radiology, dermatology or cardiology, it's all a single click away," Cristine Kao, marketing and growth operations director for Carestream, told itnTV. 
Managing Imaging Task Lists
As beneficial as enterprise imaging solutions can be, the technology is only as effective as its users. Many solutions now offer some sort of task or rules engine to help prioritize cases and simplify workflow. McKesson and Agfa HealthCare both highlighted such technologies at RSNA.
In the itnTV video, McKesson provides a 30,000-foot-view of patient care by displaying data from multiple PACS, task lists and the day's rotation all in one screen. Tasks can be sorted into interpretation, quality and communication categories, according to Laurie Bergeron, product manager, workflow solutions for McKesson. 
"You can get really granular," said Bergeron, "and identify your stroke cases, your level 1 trauma cases, and pull them out from your other cases to make sure they're easily identified in the worklist." The system allows e-mail communication directly from the main control screen, with pop-up alerts. 
Agfa features a similar functionality in its Enterprise Imaging Platform, which is driven by a task-based workflow and powered by a rules-based engine. Users can create a series of rules, or "logic gates," through which tasks can be assigned and workflows can be created. "You have a certain amount of time that goes by, certain locations, certain user groups, certain types of information...all of these can be triggering events that can cause a task to be assigned to somebody," said James Jay, global vice president of radiology IT.
Optimizing Efficiency
In some cases, increasing efficiency is as simple as reducing the amount of time needed to complete a given task. Fujifilm focused on this concept in version 5 of its browser-based, zero-footprint Synapse RIS, which debuted at RSNA. According to Division Vice President Bill Lacy, the updated system boasts subsecond response times for image retrieval. 
"The challenge today is datasets are getting larger and larger," Lacy told itnTV. "That's a challenge for network utilization, and desktops are unable to handle these large datasets." Synapse is able to circumvent these challenges as nothing ever resides on the desktop; even a 20,000-image study can be opened and viewed within seconds. "I get the performance, but at the same time I'm using half of the network capacity that was required for legacy PACS systems," Lacy added. 
Siemens emphasizes similar concepts in the latest release of its syngo.plaza enterprise imaging system, which features modules for reading and reporting, viewing and archiving images. A new user interface drives an improved reading experience through fewer on-screen elements, calmer button style and a cleaner navigation tool area. syngo.share forms the backbone of the viewer, acting as a multimedia vendor neutral archive (VNA) supporting up to 300 document types. 
Deep Learning Diagnostics
For those wondering what the future of enterprise imaging will look like, startup Enlitic gave select RSNA attendees a preview with a demonstration of its deep learning algorithm. The algorithm assesses PACS data — including medical images, lab reports, pathology and radiology reports — by looking for patterns in the user's archive of historical data to properly interpret it. With each new addition, the algorithm can more quickly identify, interpret and classify each incoming piece of data. 
Ahna Girshick, Ph.D., head of product for Enlitic, described for itnTV the algorithm's learning process as similar to that of a medical student. "They need a lot of examples of what looks normal, all the varieties of human anatomy and modalities. They also need an example of each type of abnormality and how they're presented," she said. 
Enlitic has not yet received U.S. Food and Drug Administration (FDA) approval for the deep learning algorithm, but the software is currently being implemented at several clinics and hospitals outside the United States. 
Editor's note: Watch the video "RSNA Technology Report 2015: Enterprise Imaging" for additional information.
Related Enterprise Imaging Content
RSNA Technology Report 2015: Enterprise Imaging
VIDEO: Creating an Enterprise Imaging System
Strategy is Key to Enterprise Imaging Success
Deconstructing PACS in Developing Enterprise Imaging
What is Vendor Neutral Anyway?
An Ounce of VNA Strategy is Worth a Pound of Remediation
Users Will Determine Whether Enterprise Imaging Succeeds
Deconstructing PACS: Point/Counterpoint
Enterprise Imaging Will Help Industry Achieve Patient-centric Care