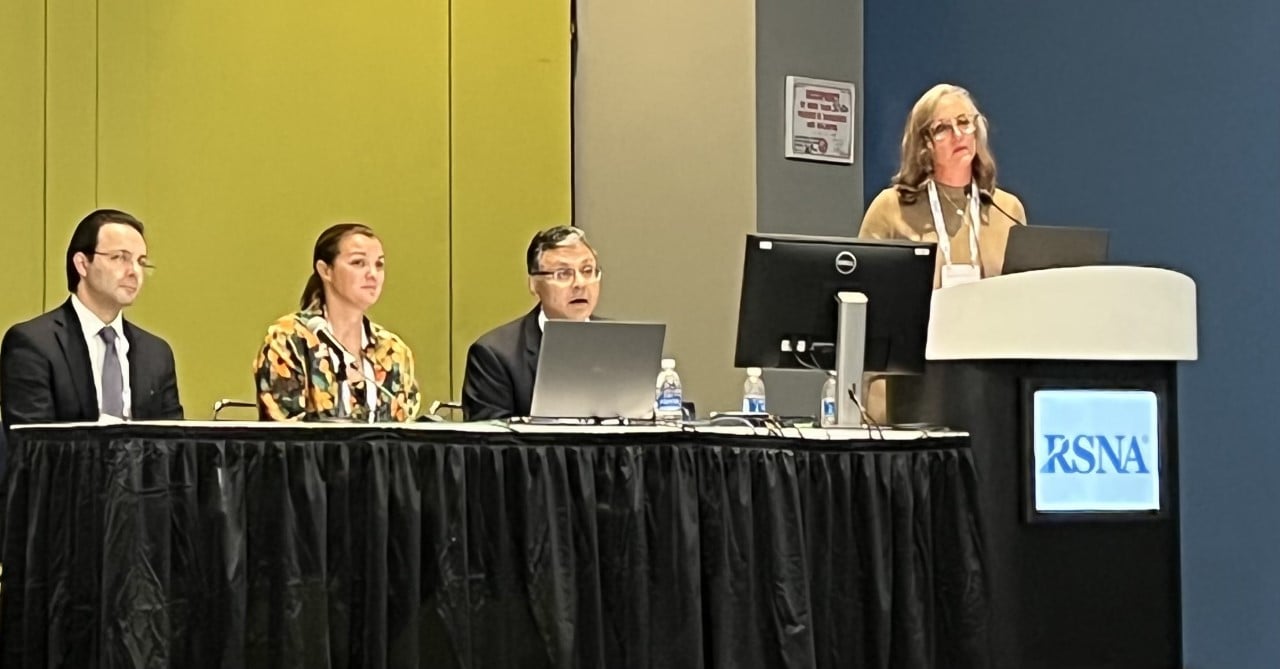 Moderated by Cheri Canon, MD, FACR, Radiology Chair University of Alabama, Birmingham (UAB), "Mentoring, Sponsorship and Coaching: Not Just for Early Career" presented three panelists who addressed each component separately.
November 29, 2022 — Two panel discussions held Nov. 29, during the second day of the 108th Radiological Society of North American Scientific Assembly and Annual Meeting (RSNA 2022) delivered valuable insights to participants. While held separately on different topics, each offered forward-thinking visions, first on what radiologists can expect to see change in five years, and how to develop mentors, sponsors and coaches to move their careers forward.
What to Expect in 2027
In a Fast-Five Session on "How Your Life Will Change in the Next Five Years," multiple panelists were given five minutes to share their ideas of how radiology may look different in 2027. A few  comments that signify the growing leadership role radiologists can and should play follow, with perspectives reflective of panelists' experience and focus areas.
Reed Omary, MD, Vanderbilt University Medical Center (VUMC) Department of Radiology Chair, was laser-focused on how radiologists can help stem the devastating impact of climate change. He spoke of, and illustrated, multiple weather-related crises around the globe, from wildfires, floods, hurricanes. He reminded those in attendance what the World Health Organization (WHO) has said directly:  "Climate change is the biggest health threat facing humanity."  
Omary added, "We in healthcare are a major contributor to greenhouse gas emissions," adding that "If we (the health sector) were a country, we'd be ranked #5." The direct cost each year right now of climate change to health, from carbon emissions, are over $2 billion. When we look to see  whether we have been successful five years from now, we should see a headline in the RSNA Daily Bulletin that reads 'Ecoradiology Coming to RSNA 2027.' We would learn about an overview of green resources and even be able to share our favorite plant-based restaurants. I'm confident this can happen, I'm confident it will happen, just like it did with diversity, equity and inclusion. And I ask everyone in this room when you go back home, think about the contributions you are making at work, and how we in radiology can be leaders in healthcare for combatting climate change."
With a focus on the future of teleradiology, Bethany Casagranda, DO, with Allegheny General Hospital in Pittsburgh, PA, addressed the changes in the way radiologists work, and why. She recommended making the academic environment more flexible, including work from home days, and reinforced the importance of engaging junior staff early in leadership roles and passion projects. Calling on the audience to challenge themselves to remain open-minded and optimize outcomes for patients and providers, Casagranda noted, "The secret sauce is inclusivity."
Don Resnick, MD, is Professor Emeritus of Radiology and Former Chief of Osteoradiology at the University of California, San Diego (UCSD), and has devoted more than three decades to musculosketal radiology education. He contributed to the well-received feature program with a light-hearted but impactful overview of the history of radiology, where he and his father, Benjamin, spent their entire careers. He summarized how far radiology, equipment, logistics and workloads have come, even showing a montage of photos from his youth, when he would drive his father's  reports to the appropriate facilities. In looking forward, Resnick, who started his career as a clinical researcher at a Veterans Administration (V.A.) Hospital, urged attendees to consider the necessity of redefining radiology to better reflect the powerful impact it has in healthcare's future.
Enthusiastic about the growing role radiologists can play in sports imaging, Bruce Forster, MD, foresees a positive change in the next 5-10 years. A Professor in Department of Radiology, Head of MRI, University of British Columbia (UBC) Hospitals, who has directed diagnostic imaging for the Olympics/Paralympic Games, Forster has leveraged his vast experience with athletes to author studies, write papers and lecture on "Radiologists as Team Leaders in the Care of Athletes." Reflecting on injuries spotlighted in the media of well-known athletes, he is hopeful that the importance of scans, screens and diagnoses radiologists provide to athletes and active youth and adults will help reinforce the value of the role of radiology in coming years.
On Mentoring, Sponsorships and Coaching
Among the hundreds of featured programs at RSNA 2022, a session that spoke to the impact of workflow, burnout, career growth and leadership was presented on Nov. 29 to a captive audience. Moderated by Cheri Canon, MD, FACR, Radiology Chair University of Alabama, Birmingham (UAB), "Mentoring, Sponsorship and Coaching: Not Just for Early Career" presented three panelists who addressed each component separately.
On mentorship, Jay Parikh, MD, FACR, FACPE, Professor of the Division of Diagnostic Imaging at the University of Texas MD Anderson Cancer Center; on Sponsorship, Lucy B. Spalluto, MD, MPH, Vice Chair of Health Equity, Associate Director of Diversity and Inclusion at Vanderbilt University, Radiology; and on Coaching, Scott F. Cameron, MD, of Atrius Health in Boston, MA.
Parikh identified characteristics of ideal mentors, including: experience and temperament; non-judgmental listening; support/resources/knowledge and guidance; as well as personal and professional attributes such as altruism, honesty, compassion, collaborative, intellectual and skilled. Ideal mentees should be good listeners, open to feedback, responsible, respectful of mentor's time, and engaged, he added.
Addressing research on the matter of mentors, Parikh identified beneficial outcomes for each. For the mentee: better career opportunities; higher clinical productivity; publish more papers, research grants; higher promotion rates; greater career satisfaction; and increased retention.
And for the mentor, reported outcomes include the situation being personally rewarding, professionally stimulating, altruistic, with an opportunity for reverse mentorship, as well.
Spalluto spoke directly to specific ways those looking to enhance their careers can tap sponsors. She noted an article published in the journal, Academic Medicine, in 2019 by Manasa S. Ayyala, et al, which offered primary definitions of the relationship. Of the benefits, the report noted that sponsorship is critical to career advancement, noting effective sponsors are career-established and well-connected scouts. It further added, and Spalluto reinforced, that effective proteges rise to the task and remain loyal, and that trust, respect and weighing risks are key to successful sponsor relationships. She recommends those looking to establish sponsors stay focused on networking, outreach, follow through and finding the right prospective sponsor partner
Atrius Health's Scott Cameron identified ways coaching differs from mentors and sponsors, noting that it closes a skill or needs gap more than anything. Like his co-panelists, he also referred to published research on the issue, including a 2022 article in Academic Radiology, by Gowda V. Jordan et al on coaching as a way to enhance radiologist well-being and practice. Another piece published in the Journal of the American College of Radiology (ACR), "Coaching: A Primer for the Radiologist," reinforced the focus on health and wellness, noting coaches help enhance self-motivation, identify strengths, and implement a framework for change.
A question and answer session followed the presentations, and allowed individual participants to ask detailed follow-up inquiries on specific recommendations the moderator and panel had.
Canon noted that sponsorship often evolves from mentoring, and encouraged those seeking to advance their careers to identify projects, organizations, committees, research and other ways to connect with prospective mentors, sponsors or coaches to ensure desired outcomes for all.
As noted by Parikh, understanding the differences between each is important: a mentor speaks with you, a sponsor talks about you, and a coach talks to you." Spalluto and Cameron agreed with Canon and Parikh in urging open and honest communication which can prove vital to such relationships within radiology community.  
For more information: www.rsna.org
---
If you enjoy this content, please share it with a colleague