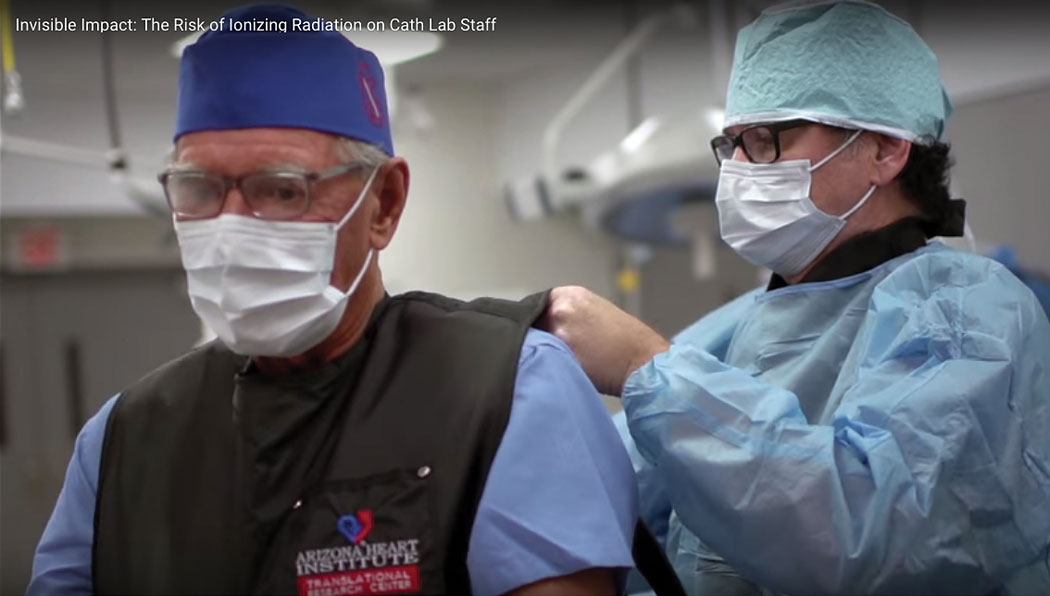 My career has been an incredible journey; one that has presented me with wonderful opportunities to do the work I've absolutely loved while at the same time, bringing me face-to-face with a serious illness that has changed the course of my journey. Would I have done things differently if I understood the health risks involved in working with radiation? Probably not. I loved so much what I was doing; I was engrossed by it, from early morning until late at night. It would have taken an atom bomb to deter me. I was in the water and I was swimming hard.
What I have learned from my personal experiences, though, is that education is key to understanding the choices interventionalists need to make concerning chronic, low-level exposure to ionizing radiation, and how to remain safe and healthy doing what we love to do as interventional physicians. It is a group effort. It takes a partnership among physicians and hospitals to foster an environment of radiation safety for everyone in the room.
My experience with fluoroscopy began in 1971, while doing heart and endovascular surgery. During a visit to the University of Munster in Germany, I became enamored with a piece of equipment called the ceiling-mounted C-arm; so much so, that I brought the first one ever used in the United States back to the operating room at St. Joseph's Hospital in Phoenix. I was performing coronary bypass surgery there at the time and, among other things, wanted to be able to get a picture of our result before the patient left the operating room. That was the first inspiration for me to get angiography into the operating room.
I had become aware of the issue of occupational health hazards related to working in an environment with ionizing radiation from the work I did as a cardiovascular surgeon. As I traveled around the world for my work, my peers would ask me, "Won't you wear the lead glasses?" or "Don't you always wear the collar?" and I'd say "No." So, while I was aware that physicians were thinking about radiation-related health risks and some were trying to protect themselves from the problems associated with fluoroscopy use, I really wasn't convinced that a problem existed. Ten years into my work with radiation though, I developed cataracts and needed bi-lateral lens implants.
After my experience with cataracts, I continued to work with radiation without taking precautions. In fact, I worked harder. As the years passed however, I noticed other things starting to happen, both within the industry and to myself as well. For example, spine and muscle problems were becoming more prevalent among endovascular surgeons as a result of wearing the heavy lead aprons that had become standard protocol in hospitals. From my own personal experience, I found that conditions such as cataracts and arterial damage — like my carotid stenosis — were one thing. But when you are diagnosed with a brain tumor as I eventually was, an oligodendroglioma, it takes one's level of interest in radiation-related health issues — and worry — to a different level. And it was not just about me. I became aware of other physicians and fluoroscopy lab staff who had been impacted by radiation exposure as well, and by wearing the lead-lined protective gear.
A Movement Toward Awareness
As more and more clinicians suffer the health fallout from radiation exposure, there needs to be a positive movement that begins with awareness and hospital support. Take radiation badges, for example. These have been around for years. In fact, there is a picture of me from a Life magazine article with the radiation badge around my neck. But wearing the badges is one thing; better monitoring of exposure levels is another.
Recently, I was asked the question: "As attention to the issue of occupational hazards in the fluoroscopy lab grows, do you think it could/will deter others from entering the field of interventional medicine?" I would imagine that some of the younger people might make the choice of a career without radiation and reduce the risk altogether. Now ask me the follow-up question: "Dr. Diethrich, had you known about the risks, would you have chosen another career?" My response is a resounding "No!", but I would have been more careful about radiation protection and monitoring, and taken heed when I saw my radiation doses increasing. 
I haven't been performing surgery since my brain tumor diagnosis. What I miss the most — the best and most rewarding part of my practice — are the patients I've cared for, both in the U.S. and around the world. To those physicians still practicing, my advice would be that there needs to be another round of education about the untold effects of radiation, both from the orthopedic as well as the tissue damage perspective. Along with education, new surveillance programs should be established so that everyone on the team sees what the badges are reading and makes it a group effort to determine how best to reduce radiation exposure levels. Maybe rotate shifts; maybe move from room to room; maybe consider new protective technologies like robotics. Most importantly though, it needs to be a group effort from the start. We need the support of hospitals to be the information providers for physicians and staff. It needs to be viewed as a partnership.
Edward "Ted" Diethrich, M.D., is a noted heart and endovascular surgeon and founder of the Arizona Heart Foundation.
Editor's note: To see more of Edward Diethrich, M.D.'s, story, and the career-altering health issues he has faced as a result of chronic, low-level exposure to ionizing radiation through his work, watch:
http://bit.ly/1UJmKOb