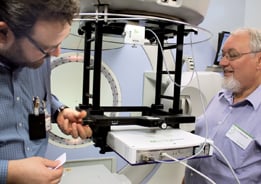 Training at the new International Competence Center.
August 21, 2012 — IBA (Ion Beam Applications S.A.) officially opened its International Competence Center (ICC) in July in Nuremberg, Germany. The ICC provides high-level practical training to promote safer radiation therapy to healthcare professionals, using the latest software and hardware radiation treatment and specialist measurement tools.
Exceptional accuracy and reliability is necessary to deliver safe and effective radiation treatment. Recent developments to radiation delivery platforms and other new technologies have allowed greater control of radiation dose distribution and the delivery of a higher, more targeted, radiation dose to tumors. However, as technology becomes more complex, the risk of errors and the adverse effects of radiation also increase.
Dosimetry training at the ICC will provide healthcare professionals with essential knowledge and skills necessary to minimize radiation errors and maximize accuracy and efficiency in their daily checks, contributing to significantly reducing treatment downtime.
"The idea behind the establishment of the ICC is to improve cancer treatment outcomes by providing high-quality dosimetry training to healthcare professionals involved in the planning and delivery of radiation therapy," said Rob Plompen, president of IBA Dosimetry. "With the ICC, we have created an environment that promotes an international exchange of knowledge and experiences among those involved in measuring radiation dosage. Our comprehensive training courses will include topics such as efficient and effective linear accelerator (linac) and RTPS commissioning, verifying complex intensity-modulated radiation therapy (IMRT) and rotational treatments in 2-D and 3-D, and regulatory and quality assurance matters in radiation therapy."
For more information: www.iba-group.com
---
If you enjoy this content, please share it with a colleague