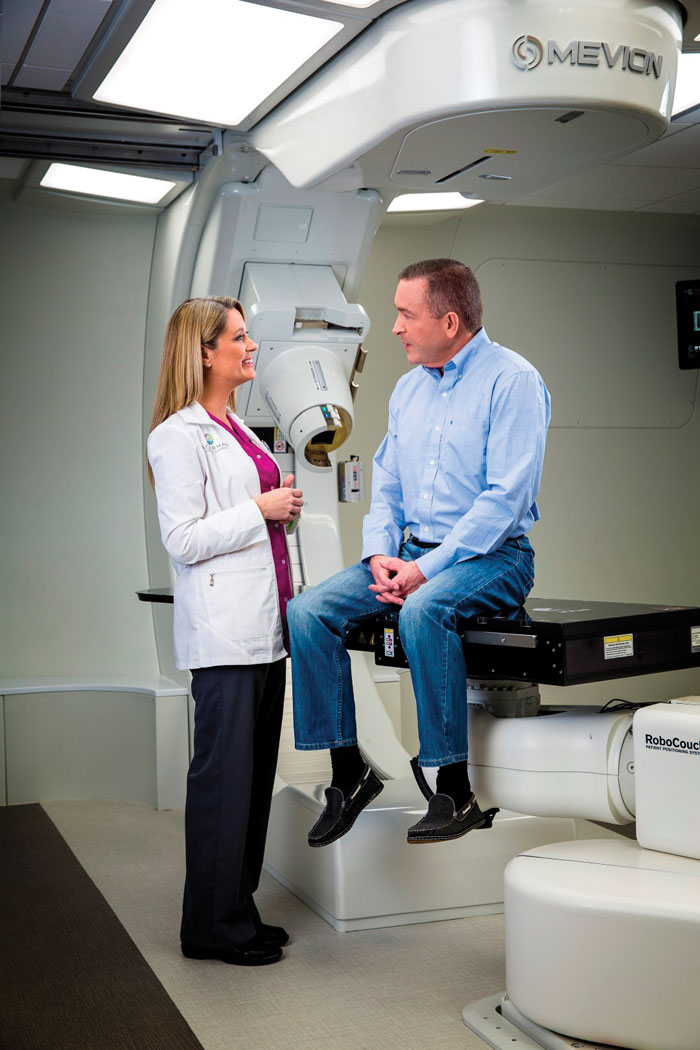 Image courtesy of Ryan Ketterman
The use of radiation therapy to treat cancer has been in existence for over a century, tracing back to the early days of Wilhelm Röntgen and his discovery of X-rays. Reportedly — and not without controversy — one of the first Americans to use X-ray radiation to experimentally treat cancer was Chicago homeopathic physician and chemist Emil Grubbe.
As science, technology and experimentation developed — thanks also to the groundbreaking research by Marie Curie, who discovered the radioactive elements polonium and radium in the late 1800s — the use of radiation therapy as an integral part of the cancer treatment protocol began to grow. With Godfrey Hounsfield's invention of computed tomography (CT), 3-D planning was made possible, creating a shift from 2-D to 3-D radiation delivery. In the 1970s magnetic resonance imaging (MRI) entered the imaging scene, followed by positron emission tomography (PET) in the 1980s, moving radiation therapy along to intensity-modulated radiation therapy (IMRT), image-guided radiation therapy (IGRT) and tomotherapy.
Today, research continues to make radiation therapy cancer treatment safer and more effective, and also provide real-time imaging of the tumor target during treatment. In addition, radiosensitizers and radioprotectors are being studied, as is the use of carbon ion beams. According to the National Cancer Institute and the National Institutes of Health, researchers hope that carbon ion beans could be effective in treating some tumors that are resistant to traditional radiation therapy.1 
Several facilities around the country are taking new approaches to the use of radiation therapy to help treat cancer. For example, researchers at Memorial Sloan Kettering are working to further improve the precision of radiation technologies for people with lung cancer. Using techniques such as stereotactic body radiation therapy (SBRT), clinicians can deliver very high doses of radiation to lung tumors, shortening the treatment period down to three weekly sessions.2 
Personalized Therapy
New York-Presbyterian/Columbia University Medical Center is finding new ways to use individualized, internal radiation delivered in the operating room immediately after a cancer tumor is removed through intraoperative radiotherapy (IORT), which attempts to reduce the chance of a recurrence, shorten the duration of conventional postoperative external radiation and reduce the risk to healthy tissue.3 
In 2012, it became the first hospital in New York City to offer IORT to women with certain breast cancers, using a spherical applicator to deliver a single, even dose of radiation to the inside surface of a rounded cavity after a lumpectomy. Today, physicians continue to pioneer efforts by offering IORT for other types of cancer in the abdomen and pelvis. According to researchers, unlike that in the breast, the tumor bed in the abdomen and pelvis may not be as clearly defined after surgery, and several sites at risk for recurrence may need to be treated.
The hospital's first case of using IORT for a cancer other than breast cancer was in 2014. A woman with recurrent colon cancer in the pelvic cavity needed to have treatment to separate areas of her body. The surgeon was able to remove the tumor, but couldn't cut too close to her vital blood vessels and other organs. Due to the limitations of surgery, and because the patient already had received a high lifetime cumulative dose of radiation therapy, the radiation oncologists decided to use IORT to clean up any leftover tumor cells. A flat radiotherapy applicator was used to deliver radiation to areas close to blood vessels along the pelvic wall and a spherical applicator to treat a region lower in the pelvic cavity. 
Its second case involved a 23-year-old woman with a bile duct tumor. Two differently shaped applicators were used to deliver IORT to the retroperitoneal tissue after the tumor was removed, along with nearby lymph nodes. This surgery was the first case nationally to use Zeiss Intrabeam flat applicators after removal of a bile duct tumor. According to New York-Presbyterian/Columbia University Medical Center, the flat applicator was used to deliver radiation to the surface where the retroperitoneal aortic lymph node had been. A sphere-shaped applicator was inserted into the right lobe of the liver near the hepatic artery, where the soft organ could completely surround the tiny globe and absorb a 20–30-minute, low-dose IORT treatment.
In some breast cancer cases, IORT has eliminated an additional six to seven weeks of radiation therapy and, according to a 10-year randomized trial published in 2010, yielded the same results as conventional full-breast radiation. Clifford Chao, M.D., the Chu H. Chang Professor of Radiation Oncology and chair of radiation oncology at Columbia University College of Physicians and Surgeons and radiation oncologist-in-chief at New York-Presbyterian/Columbia and New York-Presbyterian/Weill Cornell, is hopeful that similar benefits will be seen in other types of cancer cases, and he sees this as another step toward personalized cancer care.
"The possibilities are encouraging," said Chao. "We could see patients ahead of time and then work with the surgeon to develop a personalized radiation treatment for the specific tumor.
"When you open up the abdomen to remove a tumor from the liver, bowel or pancreas, the terrain of the surgical bed is a more open, uneven surface," he continued. "So we need radiotherapy applicators that suit the specific anatomical terrain. In some areas of the body, the applicator could be a half sphere, an irregular shape for uneven surfaces, or a tiny device that fits into a small space where we have anatomic challenges. We can devise personalized therapy based on a patient's specific anatomy."
Chao is currently working with engineers and physicists from New York Presbyterian/Columbia and New York-Presbyterian/Weill Cornell Medical Center to design and develop applicators for colorectal, head and neck, lung and gynecologic cancers.
Physician-owned Centers
In April, Ackerman Cancer Center in Jacksonville, Fla., treated its first four proton therapy patients, becoming the first private, physician-owned practice to offer this advanced form of radiation therapy. Within the first week of operation using its new system, a Mevion S250, eight patients began proton therapy, with cancers affecting the parotid, prostate, tongue and base of the skull.4 
With today's changing technology, proton therapy systems are no longer the size of a football field and cost hundreds of millions of dollars to build and operate, making them relatively untouchable to most institutions. This system was installed in a single room with a footprint similar to a conventional radiation therapy unit, making it easy to integrate with any size cancer facility. 
"We are a full-service cancer center, offering a complement of treatment options — allowing us to choose the modality that is most appropriate for each patient," said Scot Ackerman, M.D., radiation oncologist and medical director of Ackerman Cancer Center. "Proton therapy is an important radiation oncology treatment and one that our patients deserve to be able to access as we help them fight their cancers."
References
1 National Cancer Institute at the National Institutes of Health, "Radiation Therapy for Cancer," www.cancer.gov/about-cancer/treatment/types/radiation-therapy/radiation-fact-sheet#q11. Accessed Aug. 5, 2015.
2 Memorial Sloan Kettering Cancer Center, "New Approaches to Radiation Therapy for Lung Cancer," www.mskcc.org/videos/new-approaches-radiation-therapy-lung. Accessed Aug. 5, 2015.
3 NewYork-Presbyterian, "New Approach to Treating Cancer: Personalized Radiation Therapy During—Instead of After—Cancer Surgery," www.nyp.org/news/hospital/2014-iort.html. Accessed Aug. 5, 2015.
4 Imaging Technology News, "World's First Physician-Owned Proton Therapy Center Treats First Patient," www.itnonline.com/article/world's-first-physician-owned-proton-therapy-center-treats-first-patient. Accessed Aug. 5, 2015.