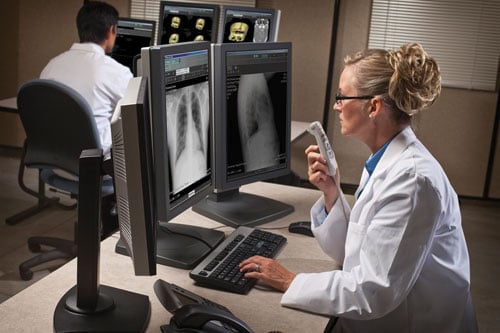 Real-time speech recognition lets physicians to see their words on-screen as they dictate, meaning fewer steps and increased accuracy. (Image courtesy of Agfa Healthcare)
The last two decades have brought a series of changes in medicine, technology and healthcare legislation that have impacted the field of diagnostic imaging and the role of the radiologist. Coupled with these changes, imaging volume is declining1 due to costs as well as concerns over patient radiation exposure.2 This environment often makes it challenging for radiology groups to protect their financial performance and ensure they deliver high-quality studies and readings. Fortunately, advances in imaging and information technology have emerged, helping radiologists increase the utilization of diagnostic imaging and moving the radiologist into a more central role in integrated patient care.3
Many groups are updating imaging equipment to operate more productively and efficiently — while balancing financial performance pressures. Through this, they are updating documentation processes to ensure accurate data capture, such as using new mobile voice technology that allows them to capture information through dictation in any location. For example, physicians are utilizing cloud-based technology to transfer dictations from their smartphone that can be easily accessed by a transcriptionist or automatically transcribed by speech recognition software.
By adding mobile voice technology to their workflow, radiologists are discovering they can be more productive and efficient, which drives down costs for payers and patients and ensures their group earns appropriate reimbursement for high-quality care. To decide what type of modern voice technology-driven documentation workflow is the right fit, groups need to consider a number of factors.
Evolving With the Times
Not so long ago, the only choice for radiologists who dictated their readings was using a cassette tape for a transcriptionist to listen to and transcribe the detail-filled results word for word. Although effective for that particular era, there were a number of factors to this workflow that drove up costs and potentially impacted care quality.
First, the cassettes themselves needed to be physically handed to a transcriptionist, whether in the practice or a contractor working in another location. This transfer was inconvenient for the physician, but it also increased the transcription turnaround time and could have compromised security of patient information. 
Analog cassettes were also often unreliable. Depending on how many times the physician had dictated on the cassette, the recording clarity may have deteriorated, making the radiologist's report difficult to understand. Even worse, the transcriptionist may have inadvertently typed a misunderstood word resulting in an inaccurate, potentially unsafe report. Neither of these scenarios is acceptable in value-based care payment environments that reimburse for quality and efficiency.
Although some physicians still use analog cassettes in the industry, fortunately many have made the transition to digital technology, which eases documentation efforts, reduces the margin of error and helps improve the quality of care for patients. 
Changing Payment Models Impact Workflows
Just as digital recording was arriving in the industry, imaging volume was also starting to peak. In 2003, approximately 206 million imaging services were delivered to 34.8 million Medicare patients, according to a 2012 study by the Neiman Health Policy Institute.4 By 2006, the study points out that activity increased 58.4 percent to 326 million services for 35.9 million beneficiaries, which may have been the peak volume year for imaging. Since then, studies have steadily declined. 
Part of the reason for the decrease is the industry's transition to value-based payment. Imaging, a historically costly diagnostic service, has faced and continues to experience reimbursement scrutiny from the Centers for Medicare and Medicaid Services (CMS). 
For example, in 2017, X-ray studies performed on analog equipment will receive a 20 percent reduction in payment from Medicare, the Advisory Board reports.5 Although most groups have replaced analog equipment by now, Medicare reimbursements for computed radiography, a more updated technology, will still be reduced by 7 percent next year and up to 10 percent beginning in 2023. The reductions apply to both the Medicare Physician Fee Schedule and Hospital Outpatient Prospective Payment System.
Another driver for a decrease in imaging volume is growing concern over radiation exposure. As a result, several years ago a collaborative initiative of the American College of Radiology (ACR), the Radiological Society of North America (RSNA), the American Society of Radiologic Technologists (ASRT) and the American Association of Physicists in Medicine (AAPM), formed the Image Wisely initiative.6 As of July 2016, more than 48,000 professionals, facilities and associations had signed the Image Wisely pledge to help limit patient exposure.
Mobile Offers Flexibility and Efficiency
In this tightly regulated atmosphere, radiologists not only need to ensure they are working efficiently, but also capturing as much data as possible so a study does not need to be repeated or evaluated again. The transition to digital audio recording helped streamline the documentation creation workflow, namely by eliminating analog cassettes from the process. With new Internet-connected mobile devices, speech recognition software and cloud server technology on the market, digital dictation has taken another step forward. 
These innovations present several options for radiologists related to creating reports and other documents. While some physicians rely on one main dictation workflow, some use multiple processes depending on the type of imaging study or location. Four popular methods include:
Traditional. This method is where physicians speak into a digital recorder, either handheld or a microphone, then send dictation files from a PC to a transcriptionist. It requires the traditional four-step process (dictate, transcribe, read, sign), but frees physicians from typing or editing text.
Mobile traditional. Similar to the method described above, this dictation method takes advantage of newer cloud deployments by allowing the physician to dictate using a recorder app for their smartphone, or a digital recorder that is able to connect to the Internet, and then upload recordings to a secure cloud server where they are accessed by an employed or outsourced professional transcriptionist. 
Mobile off-line speech recognition. Either using a dictation recorder app for the smartphone or an internet-connected voice recorder, the physician dictates and then uploads the files to a cloud-based speech recognition engine that converts spoken words to text. The final document is then reviewed by the physician for accuracy and entered into the record. 
Real-time speech recognition. This method allows physicians to see their words on-screen as they dictate into a dictation microphone. This means fewer steps — physicians just dictate and sign — but also requires physicians to edit their own notes.
Finding the Right Fit
Speech recognition software has greatly improved in accuracy and reliability in recent years. Most systems still require acclimation time to learn the physician's unique voice and for the physician to learn how to adjust their dictation style to ensure maximum accuracy and fewer corrections.
Many radiologists still prefer to work with a transcriptionist. Thanks to cloud technology, it is easier for physicians to outsource their typing to professional, highly qualified transcriptionists who can access recordings from anywhere through the cloud and usually turnaround reports in less than 24 hours. Even if a physician dictates a report in the middle of the night after an emergency department call, for instance, he or she can still expect the same one-day turnaround time with the right transcription vendor.
Although overall imaging volume may be declining, radiology groups still need to increase their productivity to grow the practice, despite fewer resources. By utilizing mobile voice technology, physicians can offer faster turnaround times on reports, which can help control costs. Through dictation, physicians can also capture far more detail in less time than typing, allowing them to increase productivity. That enhanced level of data can translate to higher quality care, which can boost reimbursement and patient satisfaction for long-term practice viability.
References:
1. www.neimanhpi.org/wp-content/uploads/2014/10/Neiman-Report-1.pdf. Accessed Sept. 6, 2016.
2. www.advisory.com/research/imaging-performance-partnership/the-reading-room/2016/02/x-ray-reimbursement-cuts. Accessed Sept. 6, 2016.
3. www.ncbi.nlm.nih.gov/pmc/articles/PMC2600889/. Accessed Sept. 6, 2016.
4. www.neimanhpi.org/wp-content/uploads/2014/10/Neiman-Report-1.pdf. Accessed Sept. 6, 2016.
5. www.advisory.com/research/imaging-performance-partnership/the-reading-room/2016/02/x-ray-reimbursement-cuts. Accessed Sept. 6, 2016.
6. www.imagewisely.org. Accessed Sept. 6, 2016.
Florian Schwiecker is the global sales director of Speech Processing Solutions, the leading developer and manufacturer of Philips voice workflow solutions, including software, digital and analog hardware.