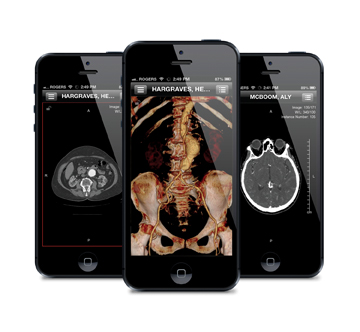 A new era of telehealth has arrived. According to HIMSS Analytics 3rd Annual Mobile Survey, 83 percent of physicians use mobile technology to provide care. Because doctors are so mobile, patient information has to be mobile as well. The goal of telehealth is to eliminate geographic constraints and deliver quality patient care at any time, in any location.1 Many healthcare providers have shown an increasing interest in telehealth because of the benefits it can provide, among them, greater access to patient data and images, lower costs and higher quality of care. Offerings of telehealth include consumer online access to providers for diagnosis and treatment of common ailments, real-time video-based virtual consults between providers and patients, in-home monitoring of chronically ill patients, and primary care physicians' access to specialists for consultation and diagnosis.
Along with these great advantages that mobile technology poses is the reduction of inappropriate use of resources by patients. A parent with a child who is sick in the middle of the night can access a provider via webcam and potentially avoid an unnecessary trip to the emergency room. Telemedicine also has the ability to assist people with diabetes, obesity, heart failure and mental illness, as well as other diseases, by reducing the number of readmissions to hospitals.2 
Mobile Diagnosis
With a growing number of physicians using smartphones and tablets on a daily basis, a mobile-first approach is being implemented with telehealth, now evolving from fixed monitors and communication lines to mobile platforms that enable new levels of information access and sharing capabilities. 
Traditionally, telehealth was defined as a set of three applications or technology areas: video conferencing, store and forward, and remote patient monitoring. Since a smartphone or tablet can be used for both remote monitoring and video conferencing, the store and forward portion of the equation is becoming obsolete. 
Telestroke is another area where healthcare providers have begun to extend use of telehealth to mobile technology with the integration of smartphone and tablet-based virtual imaging. Because stroke care is extremely time-sensitive, the ability to access images quickly and remotely with capabilities such as communication via digital video cameras and Internet telecommunications, robotic telepresences along with smartphones can reduce patient disability and death.3
According to the session "Mobile Devices: Apps, Bandwidth and Integration" presented at the Radiological Society of North America (RSNA) conference in December 2014, viewing medical images on mobile devices requires software applications to display, and possibly manipulate, image data. These applications can be part of the system software or third-party products, picture archive and communication system (PACS) vendor-specific or -neutral, device-specific or –neutral, and independent versus identical to the desktop version.
Mobile devices are used in departments for screening questions prior to magnetic resonance (MR) or iodinated contrast; filling out HIPAA/release forms for records from outside hospitals; and as mobile "buzzers" so patients can be alerted when their scan/procedure will take place, or when they can leave. Mobile devices are used out of department (on the patient's end) for scheduling appointments (this can also allow patients to alert practitioners if they are running late and departments can alert patients if they are running late) and for patient information delivery. Fewer no-shows and late appointments can improve throughput and decrease delays. 
New Year, New Mobile Technologies 
Product advancements in mobile technology was a popular trend at RSNA 2014. A myriad of companies were showcasing their latest advancements in mobile technology with the promises of lower costs for healthcare providers, seamless integration into existing systems and higher quality of patient care.
ResolutionMD from Calgary Scientific is a diagnostic medical imaging software that enables physicians to securely view patient images and reports from computers and mobile devices, collaborate with other practitioners and diagnose from any location. This software can be integrated into any electronic medical record (EMR) and easily plugs into multiple distributed storage systems. ResolutionMD has the ability to allow a user to perform measurements and ROI on their mobile device and users can see and hear each other due to the embedded audio/video function available on Web and mobile devices. Radiologists have the capability to dictate reports through voice recognition and have that dictation converted to text on an Apple or Android device. 
With the ability to exchange images via mobile devices, questions of security come to light. ResolutionMD secures patient data behind a firewall. Keeping data on the server and performing 3-D rendering there means data is never moved or transferred to any device. Users can load from a non-DICOM data source to allow secure viewing of JPEG, PNG, MPEG and MP4 file types. The product has U.S. Food and Drug Administration (FDA) clearance and was showcased at RSNA 2014.
Siemens introduced the syngo.via WebViewer, a solution for viewing images quickly within a hospital network. In the case of stroke or trauma patients, physicians need the capability to see images as soon as they are available from the imaging modality. The ability to display images directly on an iPad means patients do not have to be brought to a reading room to explain a diagnosis. The WebViewer is pending 510(k) clearance and is not yet commercially available in the United States.
Nuance unveiled its PowerShare network at RSNA 2014. PowerShare connects healthcare organizations, radiologists, physicians, government agencies and patients through sharing reports and images on cloud-based technology. Image sharing on PowerShare eliminates duplicate patient testing, images and examinations by giving physicians the ability to review images prior to a patient's arrival. By utilizing this cloud-based technology, the use of CDs is no longer prevalent. This is pertinent for oncology patients who see multiple providers across many facilities because the images are available for viewing without having to wait for data on CDs to be loaded into PACS. Physicians and clinicians have the added bonus of easy access to images without special hardware or access requirements such as virtual private networks (VPN). 
The PowerShare imaging app can be downloaded for use on any iPhone, iPad or iTouch device and users who have smartphones or tablets can access and share images through an Internet connection. Users of the application can view images with zoom, pan and scrolling abilities; handle multi-frame data sets such as echocardiograms and angiograms; support playback at acquisition rates; capture images securely with the device's camera; upload medical imaging to the cloud repository; and share medical imaging with physicians and patients in a network and route to VNA or PACS based on user-defined rules. Patients also have the ability to see the same images their providers do through access to patient portals. 
Why Mobile Technology is Relevant
Mobile technology in the healthcare industry plays a critical role because it is used for information gathering, education, maintaining case files, radiologist-technology interface and patient interaction. Many healthcare providers are making the switch to mobile technology because of the increasing popularity of mobile devices and tablet use in the workplace and an increasing acceptance of private and public cloud technologies that have created cost-effective platforms.4  itn
References:
1. www.americantelemed.org, accessed Jan. 5, 2015.
2. http://democrats.energycommerce.house.gov/sites/default/files/documents/Preliminary-Transcript-HE-Telehealth-to-Digital-Medicine-2014-5-1.pdf, accessed Jan. 5, 2015.
3. http://www.mayoclinic.org/tests-procedures/stroke-telemedicine/basics/definition/prc-20021080, accessed Jan. 5, 2015.
4. http://www.calgaryscientific.com/resolutionmd, accessed Jan. 6, 2015.