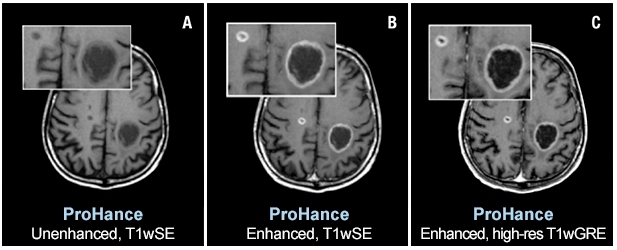 Two brain metastases from primary lung cancer are contrast enhanced in the brain of a 61-year-old male. Speakers at AHRA 2019 will state that ProHance and other macrocyclic MR agents present a very low risk to patients. Images courtesy of Bracco
Macrocyclic contrast agents have the best safety profile of all the magnetic resonance (MR) contrast media that are now commercially available, according to John Karis, M.D., director of neuroradiology at the Barrow Neurological Institute.
Their safety profile is so compelling that the Phoenix -based institute switched to using macrocyclics for the vast majority of its MR contrast-enhanced scans. The institute settled recently on a single macrocyclic agent, ProHance, Karis told Imaging Technology News.
"We switched initially to a different macrocyclic but then switched to ProHance based on hospital contract issues," he said. Although ProHance currently is the "default" MR agent, "there are a few research situations where we might use some other agents," said Karis, who noted that the three macrocylic agents currently on the market "all have extremely good safety profiles."
At The Association for Medical Imaging Management (AHRA) 2019 meeting, on July 21 at 5:30 pm, he and Nicolas Argy, M.D., J.D., a Bracco consultant, are scheduled to describe ways to manage risks from MR contrast media. The goal, Karis said, is to give audience members "all the information they need to make intelligently formed decisions for their site about what would be the best agent to use and, if (they decide to make) a change, what is the best and most effective way to do it."
The name of the AHRA symposium, "A New Perspective on Risk Management in MR Contrast," is based on the short experience that physicians have with these agents, according to Karis. The first such gadolinium-based agent was commercialized in 1987, he said. Since then, millions of doses have been administered with "very, very few adverse outcomes."
Patient Safety First
During the symposium, safety profiles of different MR contrast media will be presented, as well as the pharmacology underlying them. Also addressed, according to Karis, will be complications of MR contrast including NSF (nephrogenic systemic fibrosis); immediate adverse reactions such as allergies, vomiting and feelings of heat or cold; and issues surrounding gadolinium retention.
It was out of concern for patient safety that the Barrow Neurological Institute switched to macrocyclics, he said. Although these agents are more expensive than linear ones, their small cost differential can be offset by improved efficiency, according to Karis.
The switch at the institute did not happen suddenly. Because different workflows in the MR suite accompany different types of MR contrast agents, the Barrow Neurological Institute gradually transitioned to macrocyclics "to make sure that all our technologists and physicians were comfortable with the switch and bought into it," he said.
Key considerations in transitioning to macrocyclics will be discussed at the symposium, in the context of ways to reduce risk from the use of MR contrast. Karis plans to caution attendees against the administration of any IV drugs unless their use is necessary.
Greg Freiherr is a contributing editor to Imaging Technology News. Over the past three decades, Freiherr has served as business and technology editor for publications in medical imaging, as well as consulted for vendors, professional organizations, academia, and financial institutions.
Editor's note: This article is the third piece in a content series by Greg Freiherr covering The Association for Medical Imaging Management (AHRA) annual meeting in Denver. The first article, How Standardizing Protocols Can Save Time and Money, can be found here. The second article, How Artificial Intelligence Might Impact Radiology, can be found here.
Related content:
How Standardizing Protocols Can Save Time and Money
How Artificial Intelligence Might Impact Radiology
Gadolinium-Based Imaging Agent Boasts Safety, Reliability 
FDA Calls for Patient Education, More Clinical Studies for Gadolinium-based Contrast Agents (GBCAs) 
Gadolinium-Based MRI Contrast Agents Linked to Potentially Fatal Disease 
---
If you enjoy this content, please share it with a colleague