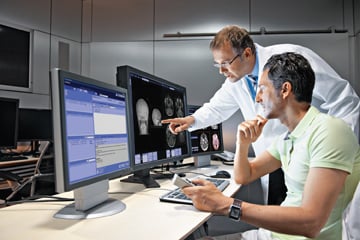 The Toshiba Vantage Titan 1.5T is comfortable, safe and user-friendly. The wide bore and Pianissimo noise-reduction technology make patients more comfortable, helping to produce motion-free images.
Annoyed by the high cost of a tune-up, 30 years ago I took a class on automotive maintenance. Armed with a spark plug wrench, timing light and screwdriver, I thereafter tuned up — far more often than necessary — my 1978 Toyota Corolla. Back then I had the right tools and the knowledge to do what needed to be done. Today I have neither.
Radiologists are in a different ocean, but the same boat.
No one speaks today of soft copy reads. They are the norm. PACS workstations are the new light boards. Developers claim their software makes interpreting images easy and efficient. But not everyone agrees.
In the Sept. 12 online publication of the Journal of the American College of Radiology, radiologists lamented the inadequate design of workstations, their insufficient flow of information and lack of intuitiveness. Their shortcomings cause fatigue and inaccuracy, according to a survey that tapped the opinions of five radiologists, part of an exploratory study commissioned by GE, supported and conducted by ACR Image Metrix. It is arguably too small a sample on which to draw definitive conclusions.  And yet … there was a ring of truth. 
"Radiologists spend a large amount of nonproductive time each day dealing with inefficiencies attributable to their workstations and inherent to their workflow," according to the study authors. 
Adding up the wasted time reported by radiologists, the researchers came up with a whopping 173 nonproductive minutes per radiologist per day — nearly three hours of inefficiencies that frustrate and add to radiologists' fatigue, according to the study.  
Most concerning is the possibility that — pushed by high volumes of exams and limited by their own physical abilities — radiologists may not be as thorough as they could be or as accurate as they need to be. Not good.  
But the first step toward a solution may be the study that uncovered the problem. Recognizing the need to improve workstations and characterizing the weaknesses demonstrates not only the opportunity to design better workstations, but how it might be done.  
Can vendors look at those 173 nonproductive minutes per day and find out what is behind them? Can they involve radiologists in workstation design? It won't be easy. There will be great variability and individuals will each have preferences. But so what? So, develop consensus. Assemble a working group of radiologists, give them all the features they might want, then give them a budget. Make them pick and choose among the features. Do it over and over with other groups until patterns arise. Then lock in what makes workstations better. It's got to be done and soon.
Imaging utilization has leveled off, but harsh economics have led many radiology practices to rein in their numbers, choosing not to replace retiring members. Not surprisingly in this environment, more productivity is being demanded. ObamaCare could lead to a surge in volume. If so, efficiency will be even more important than it is now.
Efficiency will be the key to coping. Working smarter will not be an option.
Greg Freiherr has reported on developments in radiology since 1983. He runs the consulting service, The Freiherr Group. Read more of his views on his blog at itnonline.com.