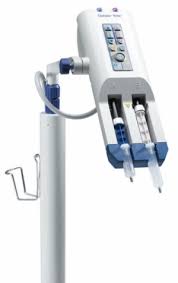 Image courtesy of Guerbet
Contrast media injector technology has seen several recent advances, such as cutting costs by reducing contrast waste and automated data collection for the dose a patient receives. Automated injector systems help to precisely control the amount of contrast used, and vendors have moved into the software/IT arena by offering personalized doses for patients using information pulled from an electronic medical record (EMR) or picture archiving and communication system (PACS). Contrast dose recording software also offers new possibilities for radiology departments looking to streamline and document their contrast media usage. 
In addition, physicians are wanting a safer contrast media option. In a recent survey presented by Ligand Pharmaceuticals at Federation of American Societies for Experimental Biology — Acute Kidney Injury Conference July 2019, conducted by Giles & Associates Consultancy in October 2018, 63 hospital specialists involved in contrast-enhanced angiography were asked about their concerns and decision-making in selecting contrast agents. These specialists had input or decision-making roles in contrast selection, and included radiologists, interventional cardiologists, radiopharmacists and nephrologists. All respondents were familiar with current contrast agent options. According to the results, the need for safer contrast agents emerged as a common theme.
The survey results stated that "98 percent of survey respondents reported pre-screening prospective patients for elevated renal risk. Nephrologists estimate 23 percent of patients have elevated risk, with associated conditions ranging from anemia and hypertension, to diabetes and history of renal dysfunction." Ninety percent of responding clinicians reported deferring patients from contrast imaging because of renal risk with, on average, 12 percent of all patients being deferred. The study cites that nephrologists defer considerably more patients than do other specialties (18 percent vs. approximately 11 percent). Other important results from the survey concluded that:
• When risk mitigation measures are employed for high risk patients, on average 86 percent of physicians reported using hydration protocols, 82 percent use reduced contrast agent volume/reduced repeat dosing and 72 percent use alternative contrast agents.
• Increased safety in general was the most desired improvement for IV contrast agents, followed by reduced cost and effectiveness.
• Renal toxicity reduction was identified as the single most important improvement needed with contrast agents.
Personalized Imaging
Speaking to this need, Bayer recently announced the introduction of the Medrad Stellant Flex computed tomography (CT) injection system. Stellant Flex offers Bayer's CT injection technology with a user-driven design, minimal required technologist training, and automation that drives individualized patient protocols and personalized imaging.
With this new injector, Bayer said it addresses the changing U.S. healthcare environment which has seen an overall decrease in capital funding. This often results in reduced operational budgets for hospitals, creating the need for institutions to work more efficiently and economically while maintaining quality patient care. The Medrad Stellant Flex CT injection system was designed to help address these clinical and financial challenges.  
Market Outlook
The contrast media injectors market is projected to reach $1.83 billion by 2024 up from $1.33 billion in 2019, at a compound annual growth rate (CAGR) of 6.1 percent during the forecast period, according to the "Contrast Media Injectors Market by Product, Consumables, Accessories, Application and End Users — Global Forecast to 2024" report from ResearchAndMarkets.com.
The report cites factors such as the growing prevalence of cancer and cardiovascular disease; a growing list of approvals for contrast agents; and increasing investments, funds and grants by government organizations that are driving the growth of this market. Yet cost plays a factor, and according to the report, the high cost of contrast media injectors, and also consumables and accessories, is somewhat restraining the growth of the market.
Currently, the radiology segment dominates the contrast media injector applications market. According to the report, "Based on application, the contrast media injectors market is segmented into radiology, interventional radiology and interventional cardiology. In 2018, the hospital radiology segment accounted for the largest share of this market. The rising number of radiology procedures using contrast media is driving the growth of this application segment." Diagnostic imaging centers had the second largest market share of the contrast media injector end-user market during the forecast period. 
"Based on end-user, the contrast media injectors market is segmented into hospitals and diagnostic imaging centers," according to the global forecast report, stating that key factors contributing to the growth of diagnostic imaging centers is the increase in the number of private imaging centers — fueled by the rising demand for early diagnosis and diagnostic imaging — and lack of imaging modalities in smaller and mid-sized hospitals.
Related content:
Contrast Media Injectors Comparison Chart
---
If you enjoy this content, please share it with a colleague