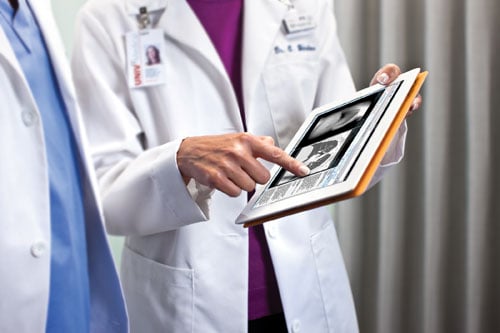 Photo courtesy of Carestream
In May 2016, the British Medical Journal (BMJ) published a startling statistic. The prestigious journal pegged medical error as the third-leading cause of death in the United States. Because medical error reporting is not well-tracked, the paper's authors needed to scour the medical literature and extrapolate the incidence of errors based on the best available data. The authors analyzed information from multiple reports on the subject, including a 1999 Institute of Medicine (IOM) report, a 2004 HealthGrades quality study and a 2010 report by the Department of Health and Human Services (HHS). After analysis, the authors cited a rate of medical errors of 1.13 percent, or over 400,000 deaths per year.
In publishing this analysis, the BMJ authors hoped to open a dialogue about how to collect medical errors data, categorize it and, most importantly, prevent errors from occurring. To achieve this objective, the authors advised developing a strategy that includes "making errors less frequent by following principles that take human limitations into account." Indeed, even the best-trained physicians are not infallible. Human error may never be entirely avoidable, but today's clinicians have more tools than ever at their disposal to help overcome their fallibility. In fact, technology is increasingly aiding physicians by serving as an extension of their own memory and clinical acumen.
The current era of medicine has seen a huge rise in technology usage, from computer-assisted surgery to the advent of electronic medical records (EMR). The next logical step for integrating technology into the practice of medicine lies in advanced clinical decision support (CDS) software. This technology can reduce the incidence of medical errors that result in patient harm by aiding physicians in recalling and analyzing data while leveraging industry best practices. Beyond this crucial functionality, CDS offers additional benefits, including improved patient care and enhanced value. 
Watch the VIDEO "Clinical Decision Support Requirements for Cardiac Imaging," a discussion with Rami Doukky, M.D., system chair, Division of Cardiology, professor of medicine, Cook County Health and Hospitals System, Chicago, discusses the new CMS requirements for clinical decision support (CDS) appropriate use criteria (AUC) documentation in cardiac imaging starting on Jan. 1, 2018. He spoke at the 2017 American Society of Nuclear Cardiology (ASNC) Today meeting.
Reducing the Rate of Medical Errors
Radiologists and other clinicians rely on the accuracy of data to inform their decision making. Enormous amounts of information contribute to diagnosis and treatment processes — from a patient's most recent blood pressure reading to the lung lesion first detected on imaging tests three years prior. However, too often vital information is lost or not fully captured within the EMR. Finding specific data and measurements within an EMR can sometimes be difficult and time-consuming, requiring 10 mouse clicks or more to access said data. Unfortunately, important free text notes are often missed by clinicians because the data cannot be accessed, read or understood by the EMR. In fact, information documented by radiologists is oftentimes stored in the notes section as unstructured data, which are not easily captured and read by most CDS programs. Data that cannot be accessed contribute to an incomplete clinical picture, and raise the possibility for medical error.
Advanced CDS technology helps avert errors by capturing important and relevant data needed by the clinician — including clinical details from ambulatory EMRs and ancillary systems such as labs and radiology departments. Having the full clinical picture enables the physician to accurately assess both the patient's current and past complete clinical profile, and ultimately order the correct required medications, tests, procedures and interventions. Systems that alert clinicians to crucial structured and unstructured information in the EMR are imperative to avoid errors, duplicate studies or reduce potentially harmful events. In this way, advanced technology functions as an extension of the clinician's own skills and judgment in order to analyze the patient's condition and appropriately intervene as necessary.
For radiologists in particular, a primary benefit of advanced CDS is its ability to assist in adhering to best practice guidelines, as following evidence-based best practices can help reduce medical errors. Because advanced CDS software programs continuously read and analyze the patient record, CDS can alert radiologists, for instance, to data that can inform imaging orders. An advanced CDS program might prompt a radiologist to choose a low radiation dosage for a study, based on best practice guidelines and specific clinical information in the EMR indicating the patient has had multiple studies within a relatively short period of time. Without this data, the radiologist could expose the patient to unnecessary radiation, which could have been avoided.
Overcoming Data Overload
While it's true that clinicians rely on data to inform their decision-making today, the sheer volume of data can be overwhelming. Doctors are bombarded with complex information at every click and turn, which can make it difficult to remember every detail required to deliver high-quality patient care. If a critical data point isn't available at the point of care, a medical error may result.
For example, consider, per protocol, that a radiologist phones to relay information to an attending physician. However, the physician at the time of the call is with a patient. Receiving the radiologist's report, the clinician jots a note and returns to the patient. By the time the physician sees the patient the radiologist called about, hours or possibly days have passed and the radiology report is inadvertently overlooked. Without the radiologist's important input, a medical error could occur or an imaging study could be duplicated. Furthermore, the study would not be reimbursed by the payer since its necessity is not supported by the clinical record.
Advanced CDS can salvage this situation by accessing and understanding, in context, the radiology report. The CDS calls attention to the discrepancy at the precise moment it becomes relevant. When the physician logs on to the patient's EMR record to order a duplicate study, the CDS solution generates a visual alert on the EMR screen — reminding the clinician of the previous findings. The CDS, in real time, advises against the duplicate imaging study, and the physician is prompted to re-read the radiology note. The result: The doctor orders a less-invasive diagnostic test, a medical error is averted and delivery of care is back on track.
Improving Patient Safety
Beyond reducing medical errors, advanced CDS technology can improve patient safety in other ways. As advanced CDS continuously reads and analyzes all of a patient's health data in real time, this technology can identify trends earlier than the clinical eye may detect them. As Machiavelli wrote in 1513, "Hectic fever at its inception is difficult to recognize, but easy to treat. Left untreated, it becomes easy to recognize but difficult to treat." Today's medical clinician can rely on CDS to help peer into the future and recognize "hectic fevers" and more. 
Think about the patient in the ICU who appears to be stable but is, in fact, brewing pneumonia. Before the patient exhibits overt signs of sepsis, advanced CDS, with its ability to read vital signs and lab trends, is programmed to alert clinicians to subtle clinical changes indicative of infection. Armed with this reliable data, the clinician can initiate sepsis protocol early and successfully treat the patient before the situation becomes critical. For instance, an early diagnosis of pneumonia leads to initiating early treatment, when it benefits the patient more and costs less. 
And, consider adverse reactions. Perhaps a patient had a serious adverse reaction to CT contrast medium five years prior. Since the reaction did not represent an allergy per se, the information may not be presented in the EMR. In fact, this event may be recorded only in a historical, free text note that is inaccessible, or buried in the current patient record. 
A busy clinician may not see this note at all — despite careful review of the patient record that could possibly lead to an error and a serious adverse event. However, advanced CDS technology can proactively call this information to the clinician's attention at the moment a CT with contrast is ordered, ensuring patient safety.
Another common example to consider is when a patient chart contains notes from a provider that the clinician is unaware the patient has seen. Clinicians would not know to search for a note that they did not know existed. One example of such an instance is the case of a patient who presents with a persistent cough of duration greater than three months. The patient is a smoker. She neglects to mention that six months prior, she received a chest X-ray from a different provider within the same healthcare system and for the same complaint. The current physician attempts to order a chest X-ray, but an advanced CDS alerts the clinician about the previous study and the subsequent finding of emphysema. Now, fully informed with the complete clinical picture, the physician withdraws the order for a duplicate imaging study.
Another example of technology helping to improve patient safety by intervening is seen in the case of a patient who presents "emergently" with an altered level of consciousness. The physician may initially think "stroke" and order a head CT. As the scan result is generating, the physician proactively begins to order tPA, per protocol. The CDS solution alerts the provider of radiology notes indicating a "hemorrhagic stroke," not a clot, and a potentially catastrophic medical error is averted.
Driving Value on Multiple Fronts
Reducing medical errors first serves to protect patient safety, but it also has the effect of simultaneously driving value, as medical errors generally result in costly interventions or lost reimbursements. Because an advanced CDS system can reduce the incidence of errors and enable clinicians to confidently initiate early treatment, CDS can be said to drive value on multiple fronts.
Another way the technology enhances value is by reducing the number of unindicated, unreimbursed studies that occur within a healthcare system. Advanced CDS guides clinicians in choosing the most appropriate studies for each patient, thereby establishing the medical necessity of each study. Documented indications lead to improved patient safety and higher reimbursement rates.
Finally, advanced CDS enhances value by meeting the Medicare requirement for radiology use of CDS by Jan. 1, 2017, in order to receive maximum reimbursement. This requirement will likely be pushed back to 2018 or beyond since federal guidelines for CDS software have not yet been developed.
Intelligent CDS Improves Clinician Partnerships
In addition to advanced technology reducing medical errors, improving patient safety and driving value — CDS enhances clinical partnership between varying medical specialties. For instance, with advanced CDS technology, radiologists can be confident that their notes will be captured, read, understood and incorporated into the patient profile and diagnosis instead of being inaccessible in the EMR. This type of technology makes it possible for radiology reports to be available to clinicians in real time and at the point of care to better inform highly accurate decision-making. When clinicians are in receipt of accurate radiology data, they can eliminate unnecessary studies and tests, thereby reducing the possibility of patient harm through adverse events or complications.
As the medical profession works to prevent costly medical errors, it needs to incorporate technology, including advanced CDS, to provide accurate, pertinent information and prompts without workflow interruption. As such, advanced CDS is poised to become a trusted resource for radiologists, neurologists and cardiologists, as well as other specialties. 
Ami Mayo, M.D., chairman of medCPU's medical department, has more than 25 years of clinical experience in surgery and critical care medicine. His medical career has focused on emergency surgery, and management of the most complicated trauma and surgical patients in need of critical care. He has practiced in major Israeli hospitals and been involved in medical research focusing on disaster medicine, disaster preparedness, multi-dimensional injury patterns of blast trauma, critical care in extreme scenarios, sepsis management, coagulopathy in the trauma patient and surgical education.