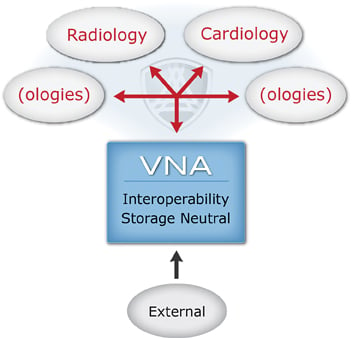 One of the emerging health information technology (HIT) initiatives being considered and evaluated by providers across the country is the transformation and modernization of medical imaging strategy — or subsequently —architecture. The promise of a vendor neutral archive (VNA) or an equivalent medical image-object management solution is one of interoperability and rapid, simplified access to all medical imaging assets. This is further enhanced by the ability of the platform to act as a disaster recovery or the backbone of a health information exchange (HIE) with image management capabilities for patient data.
Medical image-object management provides an incredible business opportunity, but many healthcare executives have yet to define the requirements, benefits and costs in a manner that justifies the investment. Many provider organizations have delayed efforts and initiatives to the next budget cycle simply due to the lack of a viable, compelling business case. This can be the result of many different factors including long-term existing contracts, sacred cow systems, opportunity costs and exorbitant costs of starting up electronic health records (EHR). Organizations that value preparedness and creativity, however, are finding plenty of ways to find a positive ROI and business case for this effort.  
The business objectives for pursuing a long-term, future-minded medical image-object management platforms are very clear either as a consideration for a single-standing hospital or an integrated delivery network (IDN) as they plan for mergers and acquisitions (M&A), modernization, picture archiving and communication systems (PACS) replacement, centralization, support simplification, increased user (referrer and patient) satisfaction, and greater integration with EHR and HIE solutions. The business case effectively choreographs strategic objectives with the investment abilities of an organization to execute across people, process, organizational change and technology. 
An enterprise solution will enhance medical imaging capabilities across clinical image data flow, work flow and integration between existing EHR and EMR solutions. The business case requires:
•  Identifying the technical and functional requirements of an enterprise imaging platform;
•  Types of VNA to consider (full, hybrid, PACS-neutral, other);
•   Software stack strategies and considerations;
•  Developing and delivering education to technical, clinical and executive leadership;
•   Conducting a robust vendor selection process;
•  Creating a design, build, migration and implementation strategy that includes image-enabling their EHR (Epic, NextGen, Athena Health, etc.); and
•   Other strategic and organizational considerations.
The business case is the comprehensive roadmap to develop and drive objectives and codify costs and timelines. A growing organization must consider the potential of unique needs based on existing technology, processes and organizational requirements. Additionally, the final solution may need to provide HIE, ACO and disaster recovery capabilities as well as business continuity across existing silos of data. The evaluation and subsequent business case should provide a complete picture of how a VNA solution would drive clinical integration, enterprise-wide image management, reduced costs over time, and image access and sharing in a unified context.
Considerations 
Imaging Strategy. Simply purchasing and starting up a VNA will likely not provide enough opportunity to reduce costs nor provide the type of environment that will bring the value needed for positioning for growth, expansion or changing paradigms. Image and object management that meets the coming challenges of enterprise interoperability (no matter where the image was captured), accounts for non-standard image file types (non-DICOM), and accommodates existing hardware and data center environments without creating disruption or incurring additional costs requires a detailed and informed long-term strategy. Simply buying to keep up with the industry is no longer a viable business decision. Those who succeed will understand the importance of market leadership, capabilities and differentiation. While some of this can be difficult to quantify in true dollars, each must be considered and monetized in a manner that meets the demands and values of the organization. 
Market Awareness. Knowing the market options takes considerably more effort than ever before. Historically large vendors with multi-layered sales forces managed the market proactively. Most buyers could expect a visit regularly from account and sales managers providing cut sheets, demos, lunch and learns, and even customer events at large association events  such as RSNA, HIMSS, AHRA, RBMA, SIIM, AHIMA and MGMA. For reasons related to both market forces, and legislation and policy, those days are now gone. But an even more important shift has occurred. Much of the leading technology is being created and marketed from smaller firms. And there are many viable options outside the "big iron" companies. This means there is much more effort required in knowing the industry. Yet a full discovery effort must be completed for a fully informed business case. This means looking at the options in all areas of image-management including viewers, VNAs, workflow engines, advanced visualization, voice recognition and reporting, as well as the many subspecialty solutions and widgets. This may require site visits, booth visits, on-site demos and a codified selection process (RFI, RFQ, RFO, RFP) as the sales forces in these emerging solutions are smaller and less funded for providing market-wide initiatives around education.
The One-third Rule
Unfortunately there is an axiom as old as the healthcare industry: When implementing a new healthcare solution … one-third will succeed, one-third will muddle through with some return on investment, and one-third will fail miserably. Armed with a business case and the quantitative and qualitative components inherent for this enterprise solution, there is a much better chance of making the case and finding yourself and your organization in the successful third. 
Jef Williams is the chief operating officer at Ascendian Healthcare Consulting and a frequent speaker and writer on healthcare technology topics and enterprise imaging solutions. 
Hjalmer Danielson is a VP at Ascendian Healthcare Consulting and a frequent contributor to the subject of health information technology.