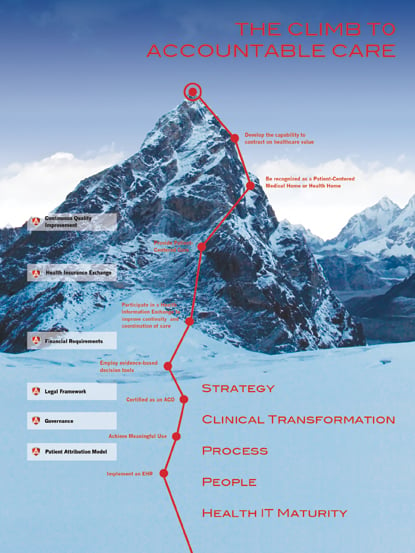 The road to accountable care can seem like an uphill climb, but it can be reached by following clearcut steps.
It's difficult, they say, to accurately gauge the impact of change without the benefit of time and historical perspective. Yet, some change brings a sense that nothing will ever be the same. Much of the discussion surrounding accountable care organizations (ACOs) has fallen along typical party lines of resistance — referencing formerly failed reimbursement and payment initiatives and arguing that the cost of entry is prohibitive, while realized savings are minimal.
Whether the ACO model currently approved and in pilot phase will stand up over time is difficult to predict, but most agree that the changes sought with shared savings are here to stay.  And these changes are the lever that will change the way healthcare is managed and delivered — from provider to payer to patient.  
The Information
Patient-level data, as it's gathered and aggregated, will culminate in large datasets that will propel the way we manage health and treat illness. Recently I was asked to speak at a fundraiser and participated on a panel that included a physician and a cancer survivor. We were asked to address the wave of change as it intersects with cancer research and treatment. What became glaringly clear as we interacted was the incredible benefit empirical aggregated data would have on research and discovery.  
While the world is changing at the molecular level for research so, too, is it expanding at the global level. With expansion comes aggregation and intelligent tools for data mining. These will provide thought-leaders with the tools to analyze and discover trends, monitor and even predict population health, streamline clinical trials and access to those trials, and enhance treatment and prescribing.
In the face of this trend, I'd ask:
"How much of your IT strategy reflects designing your data warehouse and business intelligence/analytics tools?"
The way this information is managed is changing drastically. Historically we have used the term "patient information" to mean information about the patient — not information owned by the patient. Patient records and results have long been the property of providers and payers and managed territorially.
We've all heard enough stories about the difficulty patients have had in gathering their patient data in a timely manner from those who were paid to provide that information. In the new paradigm, this long-held model of hoarding and protecting patient information as a way to capture patient loyalty will disappear. The ACO model, coupled with mandatory requirements of meaningful use addressing shared data, shifts the model to patient-owned data. Providers will still be paid to gather and store patient data, but the patients will own access and distribution rights.
So, I ask:
"What steps are you taking to ensure your patients' data are available for access, tracking, trending and distributing – safely and securely?"
I predict that patient access and ownership of their health data will lead to healthier living. The old adage in business is, "What gets measured, gets done." As the population begins to track its health and is able to trend its vitals, there will be renewed understanding of the effects of lifestyle choices — diet, smoking, exercise.  Rather than waiting until there are physical symptoms related to lifestyle choices — which is reactive — patients will become collaborators with their physicians in managing their own health, even from a young age.  
The paradigm of the "wise sage" will give way to "expert consultant." It will be more about the relationship than the office visit. The next question is:  
"What are you doing to build a collaborative communication model to your patient population?"
This leads me to another significant area of change — the relationship.
The Relationships and Interoperability
The first relationship that will change will be the relationship between clinical information systems. Typically we categorize systems and IT as data and infrastructure. I would argue that not much will change in the ways systems gather and store patient data. Even with the advent of the electronic health record/electronic medical record (EHR/EMR), the importance and position of clinical information systems has not diminished or necessarily changed.  
Departmental and specialty-related systems are still used to capture and present data specific to the needs of the clinician. Radiologists, surgeons and orthopedists all have specific information that must be captured and presented in a way that meets the workflow and diagnostic requirements of the specialty. But what will change is the relationship between these systems. Interoperability is still a mountain most organizations have yet to summit internally — yet the real challenge is true exchange of data beyond the organization.  
Health information exchanges (HIE) have proven successful geographically. The next exciting step will be the point where technological advances intersect with true exchange of data, and patient information is available on demand, as required, regardless of the provider or location.
"How are you designing your infrastructure to simplify enterprise, and ultimately global, clinical systems relationships?"
The relationships between physicians will continue to shift and collaboration will continue to advance.The ACO requires a team approach to patient care, both vertically and horizontally. Not only will care be managed from payer to provider to patient, care will be managed from primary care physician to specialist to home healthcare provider. Territorialism will give way to blurred lines, as shared savings replaces fee for service.  
Remember, shared savings means shared risk! The mindset is shifting from "stay out of my yard" to "we're in this together." For a field that is used to doing business the same way for nearly 100 years, this may be one of the most difficult changes to embrace.  
"How are you shifting your thinking as a provider to bring collaboration to your organization — both vertically and horizontally, internally and externally?"
And finally, the organization will change.
The Organization — ACO Requirements Are Just the First Step
It seems obvious that organizational change will occur as it is inherent in the ACO Final Rule. The governance, structure and requirements are all addressed specifically in the ACO model. There is plenty to do for every organization that is pursuing ACO certification to meet the criteria, metrics and reporting requirements as legislated. Meeting these requirements is simply the first step and focusing solely on these will not address and position an organization for long-term success.  
Beyond the metrics are the systems and culture. Healthcare organizations are beginning to understand the importance of learning transferable best practices from other industries. Six Sigma, Lean and other process and quality improvement models are gaining traction in our world. Over the last 15 years, nearly every other industry has figured out how to do more with less. Greater output and higher quality while utilizing fewer resources is how the best companies have differentiated themselves.  
These same efforts must play a critical role in the development of your organization if you want to be positioned for success in the new landscape. This approach is as much about culture and systems as it is about roles and responsibilities.  
"How are you providing leadership to become a better and successful organization?"
The landscape is changing. As I've said previously, you don't have to be first, but you'd better not be last. Not everyone will succeed in an ACO paradigm. Those who thrive will be nimble in their adoption of change. They will move, not to where things are, but to where things will be.  
"What are you doing to prepare yourself, your organization and, ultimately, your patients for the world of change?"
Jef Williams is a frequent speaker and writer on healthcare technology topics and ACO. He is a vice president at Ascendian Healthcare Consulting, www.ascendian.com.