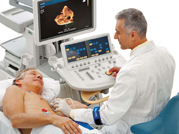 Some ultrasound image processing is now being done in the transducer.
Probably the biggest trend occurring in cardiovascular ultrasound systems today is the adoption of 3-D/4-D echo systems, which offer the benefits of better images, more data, better measurement quantification and faster workflow. Other key trends include: software to speed workflow with fewer keystrokes and to enhance quantification; miniaturization; increased use of tissue strain imaging; and expanded use for operating room and cath lab procedures.
Increasing Speed, Workflow, Accuracy
Workflow improvements are badly needed to help reduce the time studies take to perform. "Twenty years ago, an echo exam took about 45 minutes, and today it still takes about 45 minutes," said Benita Graul, Siemens' marketing manager for cardiac ultrasound. "But, with 3-D echo, we may be able to help lower the time it takes. I think this is the future, along with all the automation."
3-D/4-D volume imaging allows a set of data to be captured for an entire 3-D area of the heart in motion, similar to computed tomography (CT) or magnetic resonance imaging (MRI) datasets. The data can then be sliced through, rotated and manipulated to gain views of the specific areas of heart anatomy in motion along any axis. The advantage of having 3-D volumes is that one volume acquisition can be used to create the three standard echo exam views, saving imaging time. Conventional 2-D echo slices can also foreshorten images, based on the angle of the transducer and the position of the anatomy. The use of a 3-D volume can eliminate foreshortening by making it easier to identify and correct.
"If I give you a slice of bread, you can make an assumption about what the entire loaf of bread looks like," said Herbert Dyal, BHS, RDCS, RDMS, clinical sales specialist, GE Healthcare, comparing 2-D and 3-D echo. "If you are given several slices of bread, it is a lot easier to visualize the entire loaf."
At the American College of Cardiology (ACC) meeting in April, Siemens released the Acuson SC2000 6.1 version of its 3-D volume cardiac echo system. The newest version automates measurements to help speed workflow. Instead of placing dots to delineate the left ventricle, the system uses a database of clinical data and images to automatically determine the borders of the left ventricle in the three standard echo views. It then highlights the ventricle and automatically figures the ejection fraction without user intervention. Siemens coined the term "GPS for the heart" for this new feature.
Once a 3-D volume is acquired, with or without ECG gating, the sonographer can "clip" the optimal image in a cycle to make measurements. One click will enable the software to automatically capture measurements based on three heartbeats.
GE Healthcare recently released its Vivid E9 BT11 (breakthrough 2011) version echo system, which offers several workflow improvements. Among them: fewer keystrokes are needed to get a specific view. The system also uses an algorithm to automatically extract specific views and to automatically define left ventricular borders and determine ejection fractions with very little user interface.
"There is always a drive for better image quality, and there have been some major improvements in the past five to 10 years," said L.J. Gage, director of marketing and general imaging, ultrasound division, for Philips Healthcare. He explained that better images lead to better quantification and improved diagnosis and treatment. While software algorithms have helped produce clearer images, some processing is now being done in the transducer (as in the case of Philips' latest generation X51 transducer). This helps reduce image processing time by eliminating the need to first send large amounts of raw data to the console to process.
Tissue Strain/Speckle Tracking
Using software to track the individual speckles that make up echo images, systems can measure time and distance involved during movement. This allows measurement of strain to show contractibility of cardiac tissue.
"Over the past five years, what I have seen in cardiology is a definite increased interest in tissue strain Doppler," said Gage.
He said this technology allows assessment of ischemia, aids placement of biventricular pacing leads and valuation of heart function.
The most visible electrophysiology trial at the ACC 2011 meeting was on speckle tracking echo to determine lead positioning for cardiac resynchronization therapy (CRT) devices. The Toshiba Aplio Artida is an example of a system suited for this work, using 3-D wall motion tracking to aid in dyssynchrony imaging.
Expanded Use of Ultrasound
"There has been an emergence of interventional ultrasound in the cath lab and in the hybrid operating room," Gage also said. "Interventional use is definitely a growing area to aid in device placement and because of concerns over patient radiation exposure."
Ultrasound is playing a role in earlier detection of atherosclerosis by screening patients for carotid artery plaque buildup. Plaque deposits in the carotid artery generally mirror plaque burden in the coronaries. "That is a big trend we are seeing for earlier detection of heart disease," Gage said.
The population is aging and the number of heart failure patients is growing. Ultrasound has emerged as a primary tool to quantify ejection fraction and wall motion abnormalities to assess these patients. And over the next five years, ultrasound systems will likely see increased use in interventional labs and hybrid operating rooms (ORs). In addition, blended hybrid imaging that fuses ultrasound images with MRI or CT datasets will help improve diagnosis and procedure navigation.
Evidence-based clinical decision support software will be introduced on ultrasound systems in the near future, Gage added. The software can act as a second set of eyes on images to "red flag" values that are out of range and offer suggested diagnoses. This could help guide less experienced sonographers to acquire better images.
There will likely be a linkage with intracardiac echo (ICE) and transesophageal echo (TEE) in the OR, especially for better visualization of valve disease, predicts Al Lojewski, vice president and general manager, cardiovascular ultrasound, GE Healthcare. He said there is increasing use of TEE in the OR and cath lab to better visualize the heart, especially for heart valve function. This will become more important as TEE is used to image transcatheter valve implantation to assess placement and positioning.
Smaller Systems Lead the Market
The compact ultrasound market segment has outpaced the overall ultrasound market in 2010, reaching $276 million in the United States, a 21 percent increase from the prior year. This was according to a 2010 market analysis report from ultrasound market analyst Harvey Klein, Ph.D., of Klein Biomedical Consultants Inc.
His report cites SonoSite as the leader, with 42 percent market share, followed by GE and Philips, for an overall market share of 78 percent. The top-selling compact ultrasound products were the SonoSite M-Turbo, the Philips CX50, the GE Logiq e and the Zonare z.one systems. These four systems accounted for 62 percent of the compact market last year.
With the launch of handheld systems such as the GE Vscan system last year, the handheld segment of the U.S. compact market is expected to gain increasing attention.