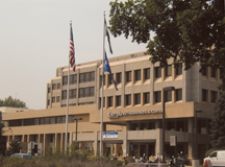 Exempla Lutheran Medical Center is a 409-bed facility whose services span metropolitan Denver.
Increasing System Speed
Exempla Healthcare has a legacy in Denver, CO having provided 130 years of comprehensive medical services. In pursuing their goal of becoming "Best in the Nation", they strive to continually improve every aspect affecting patient care. One area their IT department has focused on is increasing the radiology image transfer speeds throughout their PACS enterprise, so critical information reaches the radiologist and other healthcare providers faster.
After the rollout of their PACS in 2004, many steps were taken to streamline the delivery of images throughout Exempla's enterprise. Decreasing patient wait time is a top priority and necessary to achieve Exempla's goal of improving the patient's experience. As with any new system, there are bugs to be fixed and adjustments to be made before reaching what is believed to be normal.
"We knew things were slow at times, but we had no method or tool of which to measure and visualize our PACS speed," said Tamara Havenhill-Jacobs, manager of Exempla's Imaging Information Systems.
As most PACS Administrators and IT departments can attest to, these slow downs occur randomly. The radiologists would mention, "What is wrong with PACS? The images are arriving too slowly," or "Everything was fine before lunch, now things are crawling." There was no way to measure when image delivery was actually slowing down or when it was just the user's perception. The Exempla Imaging IT department decided to investigate these slowdowns and installed DICOMetrix software tools onto some of their test workstations and DICOM servers.
DICOMetrix is a proactive DICOM image flow and network performance measuring tool. Using this tool gave them a 'dashboard'-oriented way to see into their PACS.
"Due to the use of DICOMetrix, we are now able to see in real time and proactively measure our PACS performance where the slow downs actually occur — on the network, servers and workstations. By using this product to measure the areas that cause slowdowns and having the information easily understandable (images per second), we now easily share our PACS speed analysis findings with other IT and medical imaging staff members," Havenhill-Jacobs said.
One thing became apparent quickly — the overall rate of image flow through their system was slower than anticipated. At this point, Exempla's imaging IT department delved deeper into their PACS configuration. They determined packet size was the biggest problem. From the installation of PACS due to some Windows Server OS defaults, this had been running at 590 byte frames. By making some registry changes on core DICOM servers, Exempla's imaging IT staff have been able to increase this and captured an impressive 87.5 percent increase in image download speed almost overnight. After having tested the DICOMetrix server on their PACS test server, Exempla rolled out the changes to all the DICOM servers enterprise-wide and started base lining their entire multihospital enterprise PACS.
"We also look forward to base lining the speeds of the incoming modalities so we know what a 'normal' speed is when the network is healthy," stated Havenhill-Jacobs.
---
If you enjoy this content, please share it with a colleague