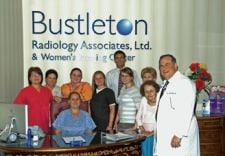 Dedicated Bustleton staff enjoy the benefits of the PACS and other advanced healthcare IT technology.
Maybe it's his personal resolve or dedication to a family business. But while the DRA (Deficit Reduction Act) has many imaging center owners scrambling for cover with its draconian reimbursement cuts, Anthony Limberakis, M.D., is looking the monster straight in the eye and issuing a challenge.
"The DRA demands that we work as efficiently as possible and distinguish ourselves from the competition with a high level of service," said the experienced radiologist, a partner in Bustleton Radiology Associates Ltd., a successful multimodality practice in suburban Philadelphia. Founded in 1960 by Dr. Limberakis' father-in-law, Bustleton is among the oldest freestanding centers in the Philadelphia area. Today, with two radiologists and a staff of 45, it offers modalities ranging from MRI and CT to ultrasound and a full women's imaging center that includes full field digital mammography and bone densitometry. Bustleton also provides X-ray reading services for seven local medical clinics.
Given Dr. Limberakis' proactive style during these lean times, he is investing in significant IT upgrades to drive new efficiencies and provide value-added services to enhance relationships with referring physicians. The IT upgrade follows a major redesign of the facility into an open, inviting space with a patient waiting area that resembles a hotel lobby more than a busy medical facility.
In 2005, Bustleton went filmless using Viztek's Onyx-RAD PACS. "The PACS was easy to install, user friendly and we immediately began realizing a whole new level of efficiency. Really, the changes were revolutionary," he said. "The benefits of the Viztek PACS were based in large part on eliminating film, darkrooms and file rooms, as well as minimizing image re-takes because we could adjust contrast and other display parameters using the PACS."
Before deciding on Viztek, Dr. Limberakis and his radiology partner conducted a thorough 18-month search of a full range of vendors. "We were attracted by the robust features of the Viztek application and its affordable price point," he said. "Additionally, we were and continue to be impressed with Viztek's personal attention and high level of support." When selecting a system, the doctors wanted to partner with a company that shared their commitment to customer service. They were seeking a vendor that was responsive and could be relied on to deliver the high-quality technology that would back up their own commitment to customer service. Viztek fit the bill.
Along with the original Viztek PACS, the practice installed a modest RIS and billing system provided by other vendors. While satisfactory, these applications did not support the integration with Onyx-RAD, which would allow the management of a seamless workflow. This year, desiring an enhanced level of efficiency, Bustleton again turned to Viztek for a state-of-the-art technology. Currently, Bustleton is in the process of installing Viztek's new fully Web-based Opal-RAD PACS and an integrated Viztek RIS that will share a database with the imaging application. The new Web architecture will allow data to move seamlessly through the entire practice and beyond, while the shared database will eliminate the duplicate information input required by separate systems for scheduling, billing and other functionalities.
"With the enhanced Opal-RAD PACS and RIS, patient demographics entered during the scheduling process will automatically populate modality worklists and then become part of the digital study record," explained Dr. Limberakis. Additionally, radiologists are able to dictate a report directly into the study file and enable voice recognition to create a written report. The Viztek system will then automatically fax completed reports electronically to referring physicians and others as needed. Patient exam data will also flow to billing for automatic invoice creation.
"The system will even generate letters to women reminding them to return for their next mammogram," said Dr. Limberakis. "It's thorough, complete and turnkey. The staff efficiencies will be tremendous. And if we can serve the radiology needs of our referring physicians in a more timely manner and see more patients in a day, we can become more profitable—despite the DRA."
Dr. Limberakis believes that this upgrade to a Web-based system will deliver an enhanced service to referrers and the clinical sites the practice serves. "Physicians will be able to log right on to the Internet and see patient images and radiology reports quickly and efficiently," he said. This, combined with dictation and voice recognition, makes transcription unnecessary and speeds report turnaround, resulting in a superior level of service to the referring physicians and their staffs.
With its state-of-the-art fully digital practice, Bustleton handles a large volume of exams. It outsources interpretation of MRI readings, but believes that the new Viztek system will enable increased efficiencies in report turnaround, speeding results to referring physicians, often while the patient is still in the radiology facility.
In addition, with the Viztek technology, the center's offsite MRI reading group will be able to log into the new Web-based PACS, read images and dictate reports directly into exam files utilizing voice recognition.
"Bustleton Radiology has been successful for over 40 years," Dr. Limberakis concluded. "I believe that if you deliver truly excellent service to referring doctors and keep abreast of technology, you can continue to do well despite today's difficult environment, even as a growing number of imaging centers are closing their doors."
To that end, Dr. Limberakis and Bustleton Radiology have made significant investments, from cutting-edge digital mammography equipment for its growing women's imaging center, to the dramatic facility redesign and state-of-the-art Viztek RIS and PACS technology.
"We're here for the duration," said the forward-thinking doctor. With Viztek, he's taking an important step to ensure continued growth.